A worm bin is a quick and easy way to compost your own food scraps. Here's how to make your own organic fertilizer for the garden by composting with worms.
This page may contain affiliate links. Please read my disclosure for more info.
We all know that we should fertilize our gardens regularly, but many of us are unsure of how to do it properly and safely without the use of chemical fertilizers. In this article, find out how to make your own natural fertilizer, with very little effort, by composting food scraps in a worm bin.
Worm Castings—The Fertilizer You Need
Worm castings increase organic content and provide a slow release of nutrients when added to garden soil. They also improve soil porosity as well as its moisture holding capacity.
Their biggest benefit, however, is that the worm composting process can be easily done indoors, focusing specifically on composting food waste.
Manure has a high probably of being contaminated with herbicide, which can destroy soil life and result in crop failures. Backyard compost bins are also becoming contaminated with herbicide in some instances, even when the gardener doesn't use herbicides in their garden. What's more, many gardeners purchase bagged compost, without knowing that even organic-approved compost soils may be contaminated with herbicide.
While hay, manure, straw, and grass clippings tend to be frequently contaminated by herbicides, food scraps are not, which is one reason why I enjoy keeping a worm bin.
Although worm compost is typically made in small batches, luckily, even a tablespoon of castings per plant can improve plant health and vigor in poor soil.
In addition, worm castings add beneficial soil organisms and can help plants resist diseases and pests.
Worm castings can be easily purchased in bags, but it's just as easy to make your own with a worm bin!
Make your own worm bin for vermicomposting!
Vermicomposting is a fancy word for worm composting.
It's a great way for city dwellers to dispose of kitchen scraps because of the small footprint of a worm bin.
However, I think worm composting is a boon for all gardeners, because worm bins are so easy to make and yield such an important soil amendment.
I keep my worm bin in our garage, and when the compost pile outside is frozen in winter, I can continue to compost food scraps. There are many store-bought varieties of worm bins, but DIY worm bins are so easy and inexpensive to make.
Would you like to yield delicious harvests while partnering with nature? Check out my mini guide, The Permaculture Inspired Vegetable Garden.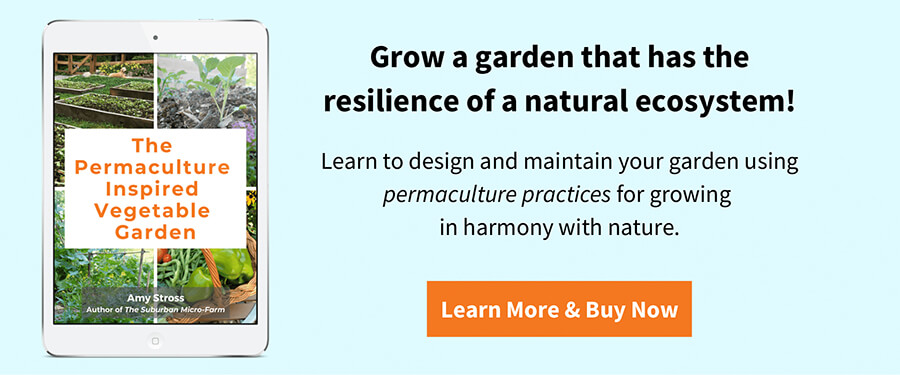 Worm Bin 1.0
One Christmas years ago, my brother gave me my first worm bin made from a plastic tote. He simply drilled two holes in each side for ventilation. I had been wanting a worm bin, but I was afraid I would do it wrong and attract bad smells or fruit flies. Now I had no choice: The worms were in the mail, on their way!
I did, in fact, experience some problems with that first bin, such as fruit flies. However, I learned that I had simply been doing it wrong. A few quick fixes, and I was up and running.
Harvesting Worm Castings from a Worm Bin
After keeping worms for a year, I had gotten the hang of managing them properly. However, I was still having problems with harvesting the castings.
It turns out, harvesting from a single worm bin didn't work for me.
I tried feeding them only on one side, hoping that when that side filled up I could begin feeding them on the other side. In this plan, eventually the worms are supposed to migrate to the new side where the food is, so I can harvest the castings on the first side.
There were always lots of worms in all areas of the bin, and I didn't want to add the castings—with worms—into the garden.
An alternative strategy for harvesting the castings is to spread out a sheet of plastic on the ground and scoop out handfuls of worm castings, placing each in a cone-shaped pile on the plastic (like a party hat!). After a few hours, the worms migrate to the bottom of their cone, allowing you to harvest the top 2/3 of each pile.
This totally works, but it's a lot of work.
So I decided to build a new bin with easy harvesting in mind. After some research, I decided on the following design.
Would you like to learn more about improving the biodiversity of your garden, reducing maintenance, and increasing yield?
You'll find loads of information just like this in my award-winning book, The Suburban Micro-Farm.

Worm Bin 2.0
Here are my step-by-step instructions for the worm bin that has lasted years and has produced many loads of great worm compost.
Materials
How the Bin Works
The worms and the composting happen in one bin (tote). When it gets full, the lid is removed, and the second (empty) bin is placed right on top of the compost surface of the bottom (full) bin.
Bedding and food are added to the new bin on top. Over the next 2-3 months, the worms migrate up through the holes to the new bin, at which point, the bottom bin is 98% worm castings. You'll still want to sift through the finished compost to find wayward worms and return them to the new working bin.
Although this process takes longer, it's a lot less work to harvest the castings than from the single bin.
Constructing and keeping a worm bin is fun for the whole family! This bin is featured in Teri Page's book Family Homesteading. Check it out for more tips on gardening with children!
How to Build this Worm Bin in 9 Steps
Step One
Drill about 50 holes in the bottom of each bin using a 1/4-inch drill bit. This is for drainage and through which the worms will migrate upward to the empty bin.
Step Two
Create ventilation holes by drilling about 60 holes just under the top edge with a 1/8-inch drill bit, as well as about 50 holes in ONE of the lids.
Step Three
Add half of the shredded paper, moistening it with the spray bottle. It should feel like a wrung out sponge. This is the bedding.
Step Four
Add the worms. In my case, I dumped in the contents of the old bin, so the worms went in with some castings and food scraps. You can add a few handfuls of loose garden soil or leaves if desired, but it isn't necessary.
Step Five
Now add food scraps and spread it all out evenly.
Step Six
Top with the other half of the shredded paper and moisten well.
Step Seven
Locate your bin's ideal permanent place. The worms don't like temperature extremes, such as really hot summers and really cold winters. 55-75 degrees Fahrenheit is ideal. I keep my bins in the attached garage.
Step Eight
Place the lid without the holes on the ground and place a brick in each corner, and set the bin on top of the bricks.
Step Nine
To feed the worms, pull away the shredded paper on top, pour in the cup of food, then replace the shredded paper so all food is covered.
Worm Bin Care
Only feed the worms about one cup of food each week for the first few months. As the worms look bigger and more numerous, you can increase the amount of food scraps you give them each week.
Over time, the bedding (shredded paper) will break down. Just add more shredded paper if that happens, moistening it with the spray bottle.
Monitor the moisture level. The contents should always feel like a wrung-out sponge. If lots of liquid seems to be draining out the bottom onto the bottom lid, this could mean that you've added too much water. Just let the moisture levels balance out on their own, perhaps lifting the lid once a day.
If your bin gets fruit flies or mites, the problem is usually related to too much food being added too fast. Just hold back from feeding them for a month to let things balance out.
Learn better by video? Watch me make my worm bin.
Worm castings are an easy, inexpensive, and important fertilizer for the garden. Will you build a worm bin this year?
READ NEXT:
>>> Get my free 19-page Guide to Organic Soil Amendments for more ideas: