Sometimes things go wrong in a worm bin and fruit flies develop. Learn how to get rid of them quickly, and how to avoid getting them again in the future.
This page may contain affiliate links. Please read my disclosure for more info.
When you're learning new skills along your journey to be a homesteader, you're bound to have failures and hiccups. For example, we doted over our first worm bin like new parents, not really sure how things were supposed to be inside that bin. Unfortunately, we made some mistakes.
My brother had given us a homemade worm bin as a Christmas gift. We loved the idea of turning food scraps into worm castings, but so far, we had gotten it all wrong!
First, I added too many food scraps at once, which created too much moisture, a mite outbreak, and bad smells from rotting food. To remedy the situation, we didn't feed the worms for a couple of weeks. This balances everything out by letting the worms eat through the existing food scraps, which reduces the bad smell and mites.
We also added more bedding, which means shredded leaves, paper, and cardboard. This helps to soak up the extra moisture.
After a couple of weeks, I decided I should feed the worms again. After all, I don't want the poor creatures to starve!
I anxiously opened the lid, and whoa! Swarms of fruit flies emerged into the air…in the house. I quickly closed the lid. After consulting with some knowledgeable friends, I dragged the bin outside and opened the lid for a couple of hours.
But the damage was done. What seemed like a hundred fruit flies were now flying around the house.
How to Make a Fruit Fly Vinegar Trap
To attract and catch the fruit flies, I decided to make some vinegar traps. I added a small amount of apple cider vinegar to the bottom of a regular mouth mason jar, and made a funnel out of scrap paper. You might need to tape the paper so the end closest to the vinegar is narrow, while the top end of the funnel stays wide.
Situate the funnel so that it is about a half-inch above the vinegar. Don't let the paper touch the vinegar. If it touches the vinegar, you'll have to start over with a clean sheet.
The vinegar attracts the flies, which fly down, can't figure out how to get out, and drown from exhaustion. It's a horrible way to die, me thinks. If you're feeling compassionate, you could release them outside.
Throughout a period of three days, I moved four vinegar traps around the house to whichever rooms the flies seemed to congregate. There are a few other things to do to make sure that the vinegar traps are the primary attraction for the fruit flies:
Don't leave any food sitting out in the kitchen. Produce, such as bananas or tomatoes, will attract the flies.
Don't leave any dishes sitting out on the counter or in the sink. They enjoy dirty dishes!
They'll be attracted to your compost pail sitting on the counter, so either keep it in the fridge/freezer, or empty it daily.
Pet food will also attract flies, so we covered the cat's food bowl. Molly is accustomed to eating at her leisure, so you would've thought we were torturing her when she started having to ask our permission to eat!
It was a fun three days. (Ha.)
For the first time, I have a harvest that I'm not proud of:
Would you like to grow more food with less effort? Check out my mini guide, The Permaculture Inspired Vegetable Garden.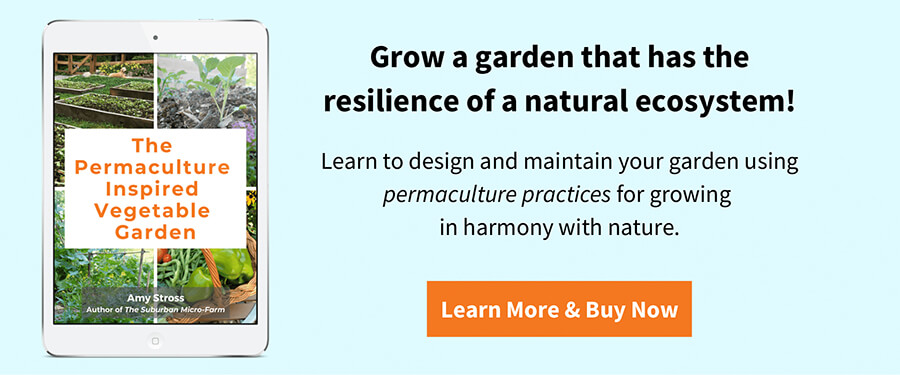 Sorry, it's so disgusting that I have to laugh. Crying over worms and flies just seems too sad!
There's still a tiny population of fruit flies flying around the house. They're either the smart ones who didn't fall for my trap, or they're the dumb ones who can't figure out how to feed themselves. Either way, soon they should die from a lack of food. One has to have hope, doesn't one?
How to Prevent Fruit Flies in a Worm Bin
Here's what we learned to prevent this sort of (horrible, comical) thing from happening again in the future:
Freeze food scraps as you collect them, to kill off any fly eggs that already exist prior to adding the scraps to the worm bin.
When adding food waste to the worm bin, bury it completely in the shredded newspaper or other bedding.
Top the bin off with more shredded leaves, newspaper, and/or cardboard if necessary to make sure food is completely covered.
Set a Venus fly trap near the bin. Genius! (I found this suggestion on the interwebs.)
It sounds like an awful lot of work just to throw away some food scraps. But keeping a worm bin is a good skill to know. And it's just like anything else you've learned how to do in life: Once you have it right, you know.
As new worm bin owners, we didn't know what it looked like when we had added the right amount of food, or when the moisture levels or volume of bedding were just right. There was definitely a learning curve.
Setbacks and failures will occur. Know when to have a good laugh at yourself and try again.
P.s. After a couple of years, we got pretty good at this worm bin thing. Want our tips? Here are our tried-and-true tips for worm bin success!
Do you have any failures you're laughing about?
READ NEXT: