Worm bins are a simple way to compost food scraps. Learn about some of the nuances and worm bin problems facing beginners and how to fix them.
This page may contain affiliate links. Please read my disclosure for more info.
A Lifelong Composter Speculates About Worm Composting
I've been composting since I was little, when my mom had me dump kitchen scraps onto our compost heap. It's a simple process, so when the idea of vermicomposting came up—composting with worms—I figured it couldn't be that hard!
Worm castings are a great soil amendment.
Also, during the cold winter, I'd rather walk down to the garage where the worm bin is, then walk outside to the compost pile!
My brother is a high school teacher who's had a worm bin in his classroom for years. So when he drew my name for Christmas many years ago, he knew exactly what to get me!
The following is my account of receiving this gift and the worm bin problems that ensued for me as a beginner. There isn't a lot of information out there about these problems, so they caught me off guard. If I was less determined, the problems might have discouraged me!
I'm glad I was able to solve these problems pretty quickly.
I've now been composting with worms for almost ten years and haven't had any problems since this first experience. Get my instructions for building a worm bin.
Would you like to yield delicious harvests while partnering with nature? Check out my mini guide, The Permaculture Inspired Vegetable Garden.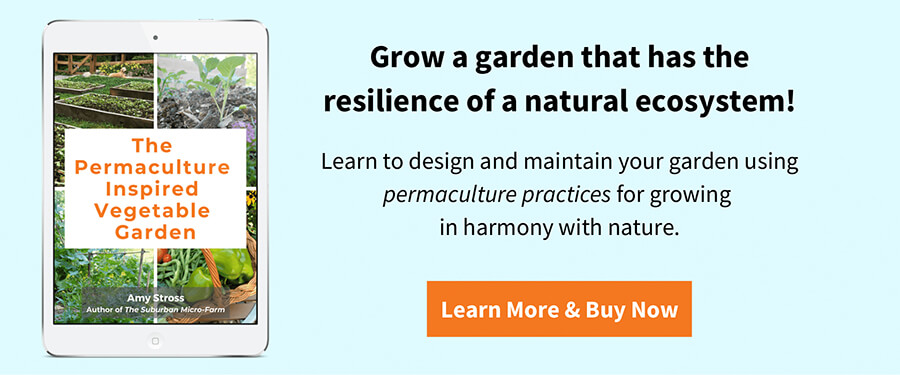 My First Worm Bin
Worm bins can be built from a variety of materials or containers. However, my brother took an 18 gallon plastic tote with a lid (like this one), drilled 2 holes per side, and called it a worm bin. Man, I'm glad I didn't have to do that myself, LOL!
Filling the Worm Bin Container
It was now time to add bedding and food to the bin. I shredded a bunch of newspaper and cardboard and used a spray bottle to moisten it down with water.
You don't want it dripping wet, but if the newspaper/cardboard isn't moistened enough, it will wick moisture from everything around it, including the poor wormies, which could become dehydrated and in extreme cases, die. No pressure!
Getting the moisture right is definitely one of the biggest worm bin problems.
Next, I added the peel and remnants from a winter squash. I thought the worms would enjoy the high sugar content of squash peels since they hadn't eaten for 4 days during their shipment to me.
Worms can eat most fruit and vegetable scraps, egg shells, and coffee grounds. They don't prefer citrus fruit, onions, or hot peppers.
Just Add Worms
Since my brother lives 500 miles away, he shipped me some red wiggler worms.
They ship in bone dry peat moss to absorb all moisture during shipment. This helps keep the worms from freezing in the winter…The worms can lose up to 70% of their body mass and weight during a 3-5 day trip through the mail."
When they arrive, the directions are to immediately pour 1/2 a cup of water on them to begin the rehydration process. Talk about travel stress!
Put the lid on and turn a light on in the room (at first) or they might try to escape before establishing themselves in the bin you've made!
The New Worm Parent Worries
I hadn't been super motivated to have a worm bin prior to this point because I worried about the worm bin problems that might ensue. I worried about bad smells or fruit flies in the house.
My old standby, the outdoor compost bin, is very forgiving!
With the new worm bin, I worried:
Too much water or not enough?
Did I add too much food or not enough?
What about bedding?
Are the air holes sufficient for air exchange?
My Paranoia Led to Real Worm Bin Problems!
Weird things started to happen, and I soon realized that I was worried for a reason!
The day after starting the bin, I was harvesting collard greens in the garden, so I threw a few in the bin.
Too many food scraps leads to a number of problems.
#1 Worm Bin Problem: Bad Smells
After the addition of collard greens, though, the entire house smelled like rotten cabbage for a week…because there WAS rotten cabbage in the house. Evidently I gave them too much food, too fast. They couldn't eat it, so it was just rotting away in there.
What I Did: I threw in a bucket of brown leaves and the problem seemed to go away.
Best Strategy: Nowadays, my fool-proof solution for avoiding this problem entirely, is to fill the entire void in the bin with shredded office paper. EVERY TIME I add more food scraps, I add more office paper on top. I moisten it with a spray bottle to give it that wrung-out sponge feel.
However, my issues with this first worm bin were just getting started.
#2 Worm Bin Problem: Fruit Flies
I started to get a few fruit flies…but at least no smell! I thought that would all go away after the worms devoured that apple core I thew in. No dice. Here's how I dealt with the fruit flies. Hint: It involves apple cider vinegar!
#3 Worm Bin Problem: Mites
Then I noticed the sides of the bin, the underside of the lid, and the top of the pile were all covered in tiny, white specks. After some research, I discovered that these are mites. They're mostly harmless, but show up when there's been too much moist food added to the bin at once.
These guys compete with the worms for food.
Best Strategy: The solution is to not add food scraps for a couple of weeks.
This allows everything to balance out. The mites die back as the excess food and moisture goes away. The worms adapt to their new home and start eating more food, which means eventually you'll be able to add about one pail of food scraps to your bin per week.
So, I returned to my regular outdoor composting for awhile. I just throw all of the food scraps into my regular compost pail which goes outside to the regular compost bin.
I learned a lot by dealing with this debacle of too much food, too much moisture, fruit flies, and mites. This should help you deal with some of the worm bin problems you might have with your new worm bin.
If it seems annoying, please don't give up!
I've been composting with the same worms for almost ten years now, and it's so easy that I don't have to think about it at all. I haven't had any problems since I cleared up these newbie problems.
Have you experienced worm bin problems? What did you do to remedy them?
READ NEXT: