Here we are in the last month of the year. Many of us will ignore the garden as holiday preparations take precedence. Others are looking forward to next year. Either way, there's plenty to do in the garden to make the springtime garden more manageable.
This page may contain affiliate links. Please read my disclosure for more info.
We focused on harvesting, preparing the garden for winter, and planting garlic and fruit crops in November.
This month, we'll continue harvesting and preparing the garden for winter and spring. Spending just a few minutes tidying up now can mean the difference between "fun" and "overwhelming" next spring in the garden.
Following are some ideas for prioritizing what to do in the garden in December.
Click here to see my Year-Round Gardening Calendar. Remember, these December garden tasks are based on my gardening in USDA hardiness zone 6b. You may need to make adjustments for your climate.
1. December Harvest
My winter harvests each year depend on the weather. We've had warm winters where I was still harvesting strawberries in December, while other years our first big snow and hard frost come early in November.
There are many vegetables that can be grown under protection throughout the winter. The following are my favorites to harvest this time of year from the cold frame and from under row cover.
Harvesting Cool Weather Crops in December
Grow a garden that's both productive and manageable with my Complete Garden Planning System, which includes practical tools for planning your season from seed to harvest.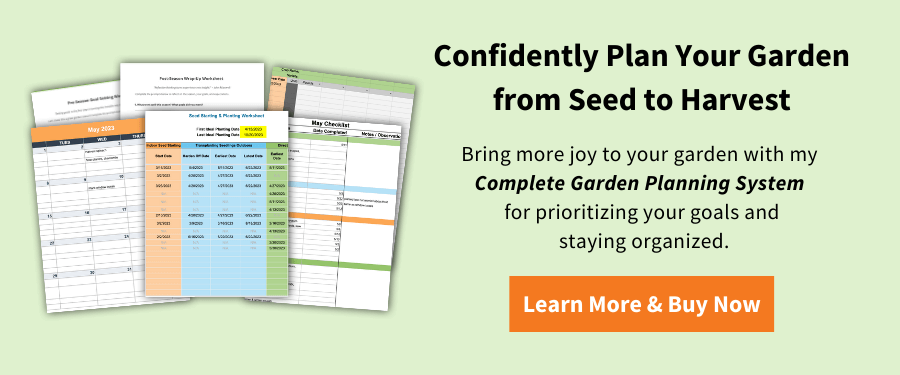 2. December Garden Maintenance
What you can do this time of year will depend largely on your local weather and if the ground is still workable.
Cleaning Up
Cut back dead plant matter. Trash it if it was diseased, otherwise compost it. I like to compost in place by chopping the organic matter into smaller pieces that will feed the soil life and break down easily. Leaving the roots intact will also feed the soil life. See my article Building a Compost Bin (5 Ways).
Rake leaves and make leaf mulch, or save them for composting.
Cover beds with a deep mulch. I like shredded leaf mulch because it's free, but chemical-free straw is good, too. For more of my mulching tips, see Mulching in the Garden.
Extending the Season
Cover any vegetables with a cold frame or row cover. (This isn't necessary for garlic). For more cold frame tips, see this article.
Improving Soil
It's the perfect time of year to improve soil. Add soil amendments to inactive gardens with a digging fork. Now is the time to add compost to the soil.
Weeding
Weeds can overwhelm even the most patient gardener so be sure to spend some time weeding. Here are five weeds you want in your garden and learn more about when weeds are good.
Building New Beds
If you plan to build new beds, now is a great time to do it. There will be so much to do in the spring, why not get this part done? Building them now will allow the soil to settle so the beds are ready to go in the spring. Of course, if the ground is frozen, it's better to wait.
Are you preparing for spring or are you preparing for the holiday this time of year?
READ NEXT: