As summer draws to a close and the cool weather drifts in, it's easy to think that gardening season is over. However, did you know that fall is the best time to plant fruit trees? With a simple planting process, you can set your fruit trees up for success.
This page may contain affiliate links. Please read my disclosure for more info.
Why Add Fruit Trees to your Garden?
Growing apple or cherry trees, for example, can produce high yields with very little maintenance. Budget conscious? Fruit is a high value crop, and the taste of fresh-picked fruit can't be denied.
Tired of generic permaculture design advice that you can't apply to your specific goals? If so, check out my Permaculture Design Program and get the tools and support needed to create and implement your own permaculture design.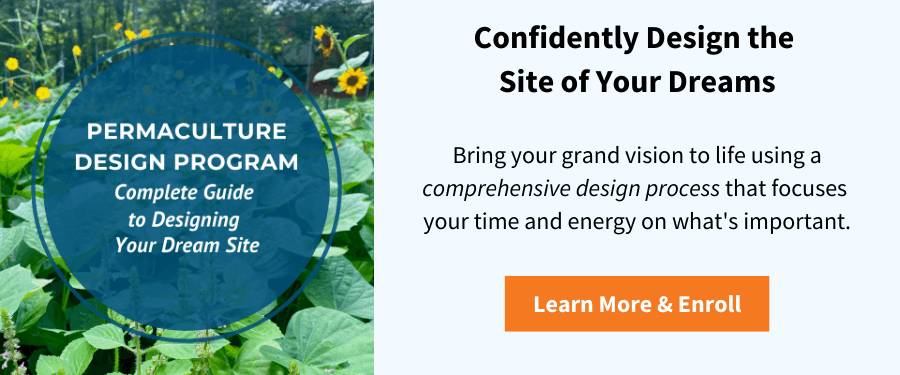 Why Plant Fruit Trees in the Fall?
Fall is a better time to plant fruit trees in climates with hot summers and ground that doesn't freeze until December or later.
That's because summer heat and dry weather can be taxing to a newly planted tree. In a hot climate, summer-planted trees need more water to get established, and rarely get enough to establish a strong root system.
On the other hand, a fall planting of fruit trees follows the natural growth cycle of the tree. During the fall and winter, a tree draws into a dormant stage, and it's far better to transplant a tree during this stage.
I like to plant fruit trees using a permaculture technique called a fruit tree guild, in which the fruit trees are underplanted with plants that benefit them. For example, the under-plantings might naturally fertilize the soil while also providing mulch. Or they might provide nectar for pollinators and attract beneficial insects.
Read more about how I planted my cherry tree guild for pest control.
If your fruit trees will be fairly neglected and won't be planted with compost or supporting plants, I recommend adding fruit tree fertilizer at the time of planting.
See my 5 steps to planting a fruit tree over at The Herbal Academy, and discover some of my favorite tips to help fruit trees thrive.
Hint: Plant them anytime! Though fall plantings are the best, planting fruit trees in the warmer months is still okay. Plant them on a cloudy day and keep them well-watered during their first season.
What fruit trees are you planting this year?
READ NEXT: