Pests can sometimes be a problem with fruit trees. Here's how I planted a permaculture cherry tree guild to reduce pests through ecosystem development.
This page may contain affiliate links. Please read my disclosure for more info.
When I set out to grow cherry trees using permaculture design, I had no idea how many things I would need to consider. It seems like you'd just buy a fruit tree and plop it in the ground!
However, I soon realized that the more I did to develop a mini ecosystem from the get-go around my fruit trees, the more low maintenance and productive they would be in the long run.
When pests showed up in my fruit trees' second year, I had to think quickly about why my mini ecosystem wasn't working. (Hint: This story has a happy ending!)
Selecting The Right Cherry Trees
First, a note about selecting the right type of cherry tree for your climate:
Tart cherries are adaptable to a wider range of climate and soil types than are sweet cherries, according to Lee Reich, garden consultant and author of Landscaping with Fruit.
Additionally, they tend to be self-pollinating, whereas other cherry trees tend to need a companion tree for pollination.
I grow tart cherries because they tend to be hardier, more disease resistant, and tolerant of my Ohio humid summers and clay soil. Humid climates can spell doom for many types of fruit trees. I'm growing the 'Northstar' variety in my yard.
Tart cherries grow well in zones 4-8.
Sweet cherries, on the other hand, according to Reich, grow best west of the Rockies, in zones 5-9, where the air is drier and the soil tends to have better drainage.
Note: I planted my dwarf tart cherry trees in the parking strip between the sidewalk and street. It was a useful way to take advantage of that unused strip of grass, especially because it is the sunniest spot in the yard! Read more about my adventures of planting in the parking strip!
Many people worry that tart cherries will be too sour, but I've found them to be the perfect amount of sweetness. Still, the flavor mellows through cooking or baking.
Planting a Cherry Tree Guild
A fruit tree guild is a permaculture technique in which a combination of plants enhances production of a primary crop. In this case, our primary crop is the cherry tree, and the under-plantings work together to build a healthier fruit tree that may be more resistant to pests and disease.
This ultimately means a bigger, healthier harvest!
Guild plants are chosen for their ability to fertilize, mulch, attract pollinators, deter pests, and more. Often, a plant is chosen because it is multifunctional, i.e., stacking functions to reduce the number of plants needed underneath the fruit tree.
There isn't a one-size-fits-all recipe for planting fruit tree guilds, so it's important to research what plants will support the growth of the fruit tree at hand.
The plants that work well in one cherry tree guild may be different than another due to variations in climate, sun exposure, and soil type, among other factors. Therefore, research what nutrients the fruit tree requires in your type of soil, and what pests and diseases it might be susceptible to.
For example, to attract more pollinators, select flowers that bloom just before and after your particular fruit tree blooms. (More pollinators = more cherry blossom pollination = more cherries!)
See my article How to Build a Permaculture Fruit Tree Guild for more general information, and catch more tips in 5 Steps to Planting Fruit Trees.
Tired of generic permaculture design advice that you can't apply to your specific goals? If so, check out my Permaculture Design Program and get the tools and support needed to create and implement your own permaculture design.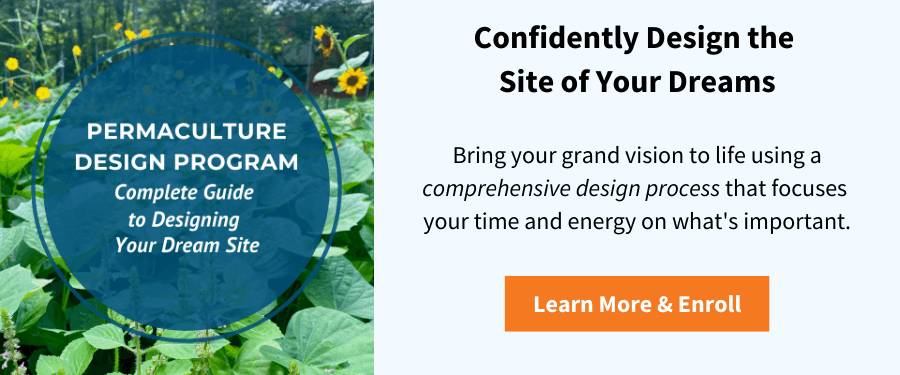 1: Cherry Tree Guild Plants That Fertilize, Mulch, & Attract Pollinators
Many plants are said to be rich in nutrients and make excellent fertilizer or mulch for fruit trees. They dredge up nutrients from the soil and accumulate them in their leaves. When the leaves die back or are chopped and dropped, they fertilize the soil (and thus, the shallow-lying fruit tree roots).
Some plants that I've grown in cherry tree guilds to fertilize, mulch, and attract beneficial insects are:
More helpful articles for selecting cherry tree guild plants:
2: Cherry Tree Guild Plants that Prevent Diseases and Pests
Cherry trees are prone to several types of fungal diseases. Seek out anti-fungal herbs to plant around the tree for support. Some of my favorites are:
The Oriental fruit moth, tarnished plant bug, and cherry fruit fly are common pests to cherry trees. They can be controlled by attracting beneficial insects with plantings like:
Birds
Surprisingly, I discovered that the birds aren't much of a bother for my cherry trees. Learn about how I gardened while welcoming birds to my yard.
However, you may need to net your trees to get a harvest. I like the idea of leaving one tree for the birds and netting/harvesting from the others, then rotating the "giving" tree each year.
Want to grow fruits, vegetables, and herbs in your front yard landscape without sacrificing curb appeal? Check out my mini guide, The Permaculture Inspired Edible Landscape.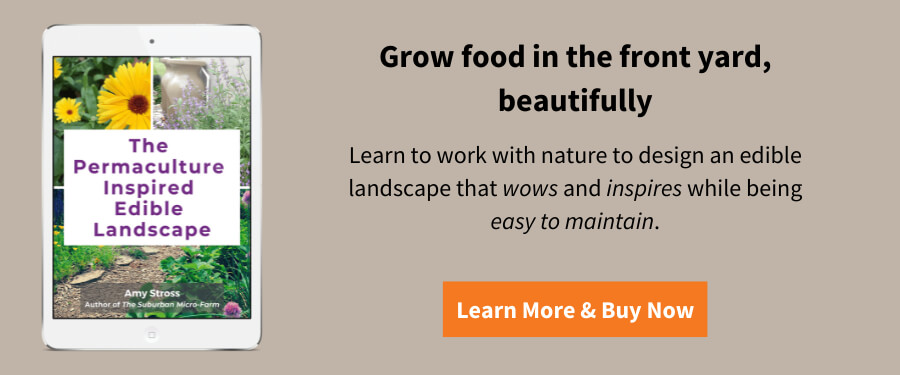 My cherry tree guilds and what happened when I had a pest outbreak
Originally I planted my cherry tree guilds with chives, comfrey, and calendula to perform a number of functions. I didn't consider my guilds "finished" at this point. Rather, I wanted to observe them over time and add guild plants as I discovered what the trees needed.
I got my chance to discover their true needs in the second year when I had a pest outbreak. In early July, the leaves started yellowing, and it appeared something was eating them.
Upon further inspection, there were little insects on the undersides of the leaves with black dots that appeared to be feces.
I consulted many resources, but this pest wasn't a typical cherry tree pest. It turned out to be the Hawthorn Lace bug that was also attacking a nearby hawthorn tree.
A good ole' google search told me that the natural predators for the Hawthorn Lace Bug (bad) are the green lacewing and assassin bug (beneficial good guys).
Here's where I got to become a detective and figure out how to attract the good guys. I noticed my nearby plum tree wasn't affected by the pest, and that it was underplanted with daisies. Daisies are said to attract the beneficial insects I mentioned above.
So I dug some daisies up and planted them under my cherry trees.
I also wondered if a nutrient deficiency might explain why my cherry trees were too weak to fight the pest. So I sowed white clover to give my trees a source of nitrogen.
Then I waited. An ecosystem needs time to establish itself and do its job!
Drum roll, please…
In the fourth harvest year, I pulled 27 pounds of cherries from completely pest-free (and chemical-free) trees!
What to do in case of a pest outbreak in your fruit tree guilds
Your unique growing conditions may mean unique problems that can only be solved through unique solutions. Over time, be on the lookout for pests or disease.
If you see a pest, DON'T PANIC! Don't rush for the nearest pesticide.
When pests took over my cherry trees, I followed the following steps to handle the situation. Not only did I get rid of the pest naturally, I also strengthened the mini-ecosystems to prevent future outbreaks.
1: Identify the pest/disease
Scour the internet, fruit tree growing guides, and contact local fruit tree experts to identify the pest/disease before taking any action. This database of beneficial insects and pests is a good start.
2: Discover the beneficial insects that prey on the pest
Consult your resources above to find the natural predators that prey on the identified pest. For example, you could search for beneficial insect controls for Oriental fruit moth.
There, I learn that ground beetles are an important beneficial insect to attract to my cherry tree guild to control this pest.
In the case of a disease, find the anti-fungal plants or essential oils that you can safely use on your fruit crops.
3: Attract the necessary beneficial insects
After you've identified the pest and the pest's natural predator, research how to attract these beneficial insects to your fruit tree guild.
Searching for how to attract ground beetles turned up some helpful tips.
Provide the food plants and habitat that your beneficial insects require. Feel empowered to be your own detective and discover the nuances that make your unique garden tick!
4: Is your cherry tree guild lacking in a particular nutrient?
Nutrient deficiencies can make plants weak and more susceptible to pests and disease. What are the common nutrient deficiencies for your local soil? Consult your local extension office (free!).
Cherry Tree Guild Shopping List
Summary
Getting your cherry tree guild just right will take observation and trial and error since every situation is unique. Become a detective so you can create a mini ecosystem that does all the work for you!
What have you planted in your cherry tree guild? Have you made any adjustments over time?
READ NEXT: