Observation is an essential first step in permaculture site design. Learn how to use this powerful tool for blending your design goals with your land's ecology.
This page may contain affiliate links. Please read my disclosure for more info.
Permaculture Observation: Not Your Average Glance at the Landscape
The first step in permaculture design is looking deeply at a site before taking action. But don't confuse this step with a half-hearted glance at the land. Permaculture design applies a specific set of passive and active observations to help create a design that is truly in line with both your goals and the ecology of the land.
That is to say, the more you notice before taking action, the more accurate and useful your actions will be, potentially minimizing expensive and time-consuming mistakes.
In this article, you will learn a specific set of passive observations that you can make on your land, no matter if you're looking to create a whole new site design or just wanting to improve your existing garden or landscape.
When it comes down to it, the main purpose of permaculture design is to help you collaborate with nature instead of imposing your desires on it. But in order to collaborate with nature, you have to know what it's doing!
Free Making Observations Worksheet
In that vein, I've created a 13-page worksheet, Making Observations: A Permaculture Activity, to walk you through some exercises on your site. Look for it at the end of this article!
Making Observations (Like a Good Doctor!)
Have you ever gone to the doctor with a specific problem? You probably hoped she would listen when you described how you were feeling, and that through deep listening, she would identify patterns and connections that led to a more accurate diagnosis and treatment plan.
Observation in the landscape, therefore, is akin to working through a patient intake evaluation with an attentive doctor. This step helps you recognize patterns and connections in the landscape, such as where resources are being lost or wasted. Ultimately, you want to learn all you can about the site before jumping to conclusions.
Thorough Observation… For a Whole Year?
The permaculture gold standard is taking an entire year to observe in all seasons, all kinds of weather, and at all times of day. To really get to know the place that you intend to change and interact with.
It doesn't mean you can't grow a garden. Rather, the aim is to slow down and not commit to any lasting, permanent changes during this time.
Observe nature thoroughly rather than labour thoughtlessly." ~Masanobu Fukuoka, The One Straw Revolution: An Introduction to Natural Farming
This concept is illustrated by Eric Toensmeier, author of The Paradise Lot, who shared his account of taking a full year to observe his 0.10-acre city lot before breaking ground:
…seeing the land in all its seasons gave us essential insights, not least of which was understanding the seasonal patterns of sun and shade, which provided the key insight that our design crystallized around."
My Year of Observation: Greenhouse vs. Patio
While observing my first home site for a year (during which I continued growing vegetables), one discovery significantly changed the design I'd planned in my head. At the start of the year, I was certain that turning my backyard patio into an attached greenhouse was the key to growing more food on my tiny site. But by the end of the year, I had no interest in doing it! Here's what happened:
It seemed perfect for a greenhouse—the patio was sunny year-round and included both a water spigot and a door leading into the basement where I kept my gardening supplies, a seed starting room, and a worm compost bin.
I noticed several things throughout the year, however. For one, it was the only place to sit outside privately or visit with guests. In addition, as if declaring her vote on the matter, I often found Molly the old farm cat dozing on the patio table. Furthermore, it's where I consolidated my harvests and cured crops like sweet potatoes and garlic.
It's even where I sat to make observations like the ones I suggest below. From that vantage point, I could feel, see, smell, and hear what was going on in the garden around me. In short, the patio had become the heartbeat of our little homestead; important both functionally and to our wellbeing.
Sure, a greenhouse would likely have increased yields. On the other hand, to lose that (outdoor) space would mean losing connection with the land.
So although permaculture design aims to improve harvest yields, it also helps to consider all the facets of an interconnected site. I'm glad I took the time to observe before diving into that big project!
Passive vs. Active Observations
In permaculture design there are two important types of observations: Passive and active.
On the one hand, passive observations are made by using all the senses (touch, hearing, sight, smell, and sometimes taste). This is the "patient intake evaluation", in which you practice deep listening by asking specific questions, physically being present on the site, and walking around it. It isn't a time for diagnosing, strategizing, or solving problems.
Active observations, on the other hand, are made by collecting data about the site through research and plotting it on physical maps of the property, to give you a visual representation of all the data points that can affect design decisions.
In this article, we're focusing on how to make passive observations.
After you've done that, I suggest making active observations. You can read all about this activity in my article 6 Maps for the Permaculture Site Design.
Would you like to yield delicious harvests while partnering with nature? Check out my ebook, The Permaculture Inspired Vegetable Garden.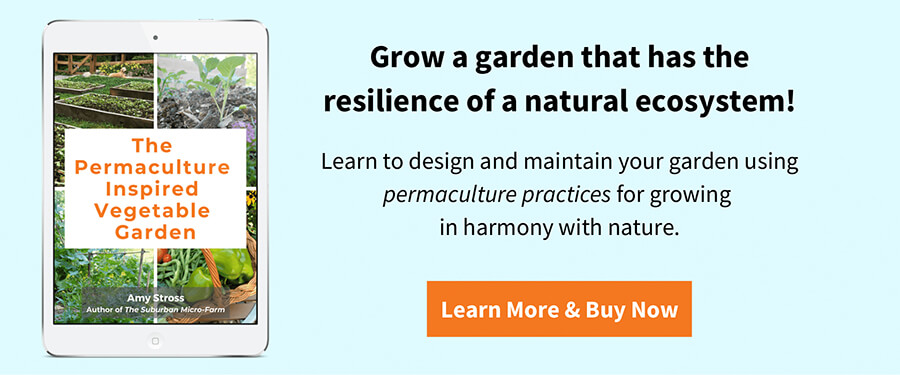 How to Make Passive Observations on Your Site in 10 Steps
Are you ready to listen to your land? Find a spot to sit or stand, where you can see most of the site. Be prepared to use all your senses and take notes.
Remember, observations are neither good nor bad, they just are. Try not to make positive or negative assignments to the facts you collect.
1: The Four Cardinal Directions – Observation Exercise
Identify north, south, east, west. Look north: What do you hear, smell, and see? How does it feel? Repeat this exercise for each of the four cardinal directions.
2: Weather, Climate, and Seasons
What is the weather and climate like in this moment? How might that change with the seasons?
3: Landscape Features and Landforms
What are the main features of the area, i.e., rural, urban, or suburban? Are you surrounded by natural landscapes or manmade features? What types of landforms can you observe (natural or manmade) such as hills, contours, ditches, gullies, etc.?
4: Water
What water sources can you identify? Where does water enter and exit the site? Does water have a healthy flow/relationship with the site, or is it out of balance (erosion, pooling, extreme climate conditions, pollution, etc.)?
5: Animals
What creatures might already live here and what evidence do you see (animal sightings, sounds, tracks, poo, paths, etc.)? Think of mammals, birds, spiders, insects, amphibians, and more. In addition, consider existing domestic animals like dogs, cats, or chickens. What are their patterns and preferences?
6: Structures
What structures already exist, such as buildings, fences, a patio, etc.? How are they used by humans and other species (or not)? How do these structures influence resource flows, pathways, boundaries, or microclimates?
7: Edges and Boundaries
What characteristics do you notice at the property edges? Are there existing fences, hedgerows, areas for habitat, play, or debris collection? How do the neighbors treat the boundaries?
8: Vegetation
What plants/plant communities exist now? What are the most common weeds? How would you describe the soil? Does the vegetation highlight any microclimates?
9: Patterns
Do you see any consistent daily or seasonal patterns—in plants, water, edges, animal or human behavior, etc?
10: Seek a Child's Perspective – Observation Exercise
Reading the land takes time, in large part because we haven't explored it deeply, although we often convince ourselves that we see 'enough'. Interestingly, children are excellent readers of the landscape, because they explore it through play and tactile experience. Invite a child along to do the observations with you, and you may be surprised at how helpful their perspective is!
Summary
Observation is just one part of the permaculture design process, but it is an essential first step. This powerful tool allows you to blend your design goals seamlessly with the land's ecology. Furthermore, using the specific observational prompts in this article can help you take more useful actions while minimizing expensive and time-consuming re-work.
SIGN UP IN THE BLUE BOX BELOW to download my free, 13-page worksheet, Making Observations: A Permaculture Activity, for a more detailed approach to making passive observations on your site!
Did you learn anything new or surprising about your site? What other questions can you think to ask?
What's next after making observations?
Once you have a clear picture of your site via passive and active observations, you can then go on to interpret this data and develop a plan that considers both your goals and the land's strengths, weaknesses, opportunities, and concerns.
However, I will warn you: Analyzing and assessing your data to develop a plan for your site is not an easy task. The steps in this part of the design process can sometimes be confusing or overwhelming, which is why I created my Permaculture Design Program to walk you through it.
Create Your Own Individualized Permaculture Design (with me by your side)!
In my step-by-step Permaculture Design Program, you get the tools and support needed to confidently create your own design and implementation plan.
In this guide to designing your dream site, I'll walk you through:
My detailed, 6-part permaculture design process that you can then apply to all kinds of projects
Evaluating a site for its assets, resources, and limitations
Creating clear and professional site maps
Completing an integrated, whole-system permaculture design for your site
Establishing a realistic plan for implementing your ideas based on your available time, budget, and resources
You'll even get access to discounted coaching sessions with me, so you never have to feel overwhelmed or stuck. I'm just a phone call or zoom session away.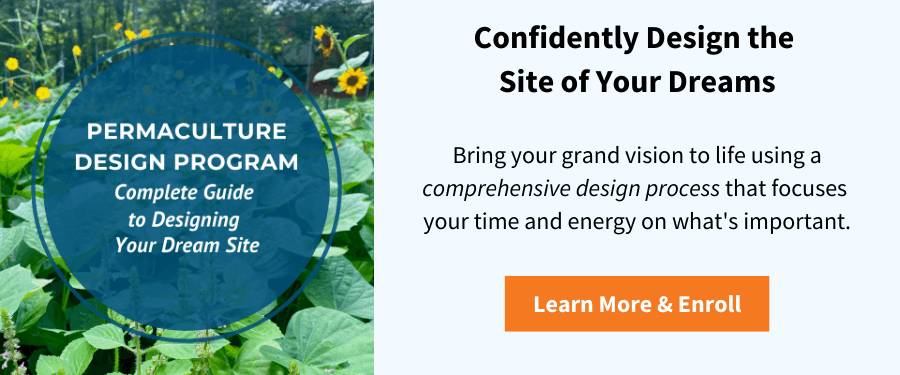 READ NEXT: