Herbal salve is often used for healing skin ailments. Learn how to use herbs from your garden to make a healing herbal salve.
This page may contain affiliate links. Please read my disclosure for more info.
Why make an herbal salve?
The skin is our largest organ. When you mix medicinal herbs with oil, and thicken it with beeswax into a salve, you create an easy vehicle for absorbing the healing properties of herbs to aid in tissue repair.
I have to admit, at first I was a little skeptical about how effective a salve could be at healing and moisturizing. I figured it was just a "nice to have," rather than an essential component of my medicine cabinet.
After all, I had grown up using store-bought lotion as a moisturizer, and antibiotic ointment for healing.
However, with an abundance of herbs from the garden, I decided to make a salve and try it myself. I was not prepared for how gentle and effective it was! Personal care products made from high-quality herbs really can make a big difference. I'm totally hooked!
How to Make an Herbal Salve
Instructions for making a healing salve are simple—there are just two parts to the recipe. First, you'll take dried herbs and infuse them in oil. Then, you'll mix the infused oil with beeswax to thicken it. That's it!
Want all the benefits of a healing herbal salve but don't have time to make it yourself? Here's my favorite source for high-quality, farm-grown and handmade herbal salve.
Step 1: Make an Herbal Oil Infusion
There is a quick way to make an oil infusion and a slow way. Both are easy. If you want to make your salve right away, then you'll have to go with the 'fast way'. However, if you have time, try the 'slow way', as your infusion might pick up more of the herb's healing properties.
The 'Slow Way' to Make an Oil Infusion
You'll need:
2 cups of dried herb (loosely packed)
Up to 2 cups of high-quality olive oil* (see note below)
Sunny windowsill
pint-sized mason jar
Instructions:
Add the dried herb to a sterilized mason jar. Top with olive oil so that all the herb is covered. Use a skewer to stir and release air bubbles. Cap the jar tightly. Set the jar in a sunny window for 4 weeks, shaking gently every day or so.
When the time is up, separate the oil from the plant matter by straining it through a fine mesh strainer lined with cheesecloth. Be sure to squeeze the cheesecloth to release the last bit of oil.
For an example, see my detailed instructions for making a calendula oil infusion.
Would you like to grow food in your front yard without sacrificing curb appeal? Check out my mini guide, The Permaculture Inspired Edible Landscape.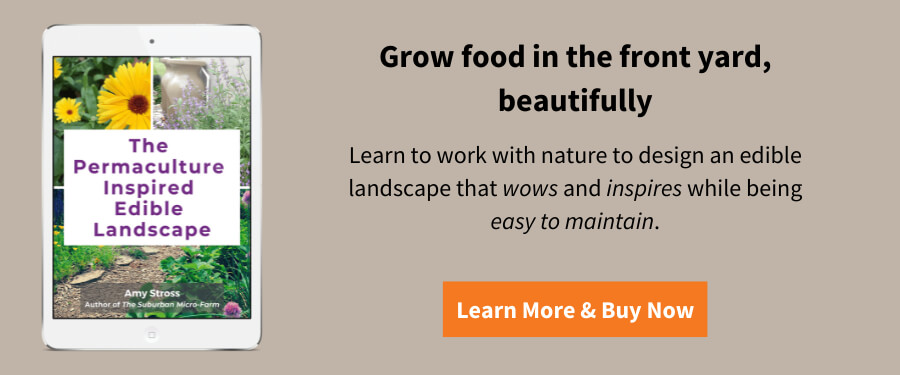 The 'Fast Way' to Make an Oil Infusion
You'll need:
2 cups of dried herb (loosely packed)
Up to 2 cups of olive oil* (see note below)
pint-sized mason jar
Slow cooker (I like this model)
Instructions:
Add the dried herb to a mason jar and top it with olive oil until the herb is covered. Stir well. Cap the jar tightly.
Set the jar in the slow cooker and add water up to one inch below the jar lid.
Turn the crockpot to low and let it sit (without the lid) for 12-24 hours. Once or twice, check the water level and add water if necessary.
Strain the oil through a fine mesh strainer lined with cheesecloth, squeezing the cheesecloth to extract the last bit of oil from the dried herb.
I made 2 jars of herbal oil the quick way: one jar of lemon balm and one of comfrey.
*A note on olive oil:
Wondering what kind of olive oil to use? Jan Berry, author of Homemade Products for Your Skin, Health & Home, says the following:
In the supermarket, olive oil is available in grades ranging from dark green extra virgin to a more refined, light-colored oil. All types of olive oil will work for [this recipe]… Be aware that many store-brand light olive oils are cut with canola oil to reduce costs and are often past their prime. They'll still work in [this recipe], but your [salve] may yellow or go rancid sooner than if you purchased a higher quality product from online shops that deal specifically in soap making supplies. Shelf life is 12 months."
There has been a lot of fraud documented in the olive oil industry. For more resources on this topic, see the following articles:
Would you like to learn more about growing herbs to improve biodiversity, reduce maintenance, and increase yield in your garden?
You'll find loads of information in my award-winning book, The Suburban Micro-Farm.

Step 2: Make a Healing Salve
To make a herbal salve, we'll simply thicken our infused oil with beeswax.
Ingredients
– 1 1/4 cups infused oil (If you followed the instructions above, you'll have about 1 1/4 cups oil)
– 1.5 oz (about 1/3 cup) beeswax pastilles
– Heavy-bottomed pot
– 10-20 drops or more of essential oil (optional)
– Whisk
– Glass measuring cup
– 5 4-oz glass jelly jars or screw top tins
– Spatula
Instructions to transform infused oil into an herbal salve
Add the beeswax to a heavy bottomed pot on the stove, and heat on low. (My stove temperature ranges from 1 to 10 and I put mine on 2.) Use the lowest temperature possible. The low temperature will ensure that the beeswax retains some of its healing properties. Beeswax melts at 140 degrees.
Note: You may want to get a pot that you only use for making herbal preparations in case there's any residue leftover. I don't have any trouble washing my pot and utensils as I do my other dishes.
Wait for the beeswax to melt, then whisk in the herbal oil.
The cooler temperature of the oil will solidify some of the beeswax again, so continue whisking until the beeswax is completely melted and the two are mixed well. Add the essential oil, if using. Add about 10 drops at a time until you've reached your desired strength of fragrance.
Quickly pour the herbal salve the mixture into a glass measuring cup, then fill the jelly jars or tins. I reused a few sanitized, store-bought tins, as well.
Note: The beeswax-oil mixture will sometimes solidify in the measuring cup before you've finished filling the jars. If this happens, simply use a spatula (I love this jar spatula) to put the mixture back in the pot on the stove and melt it again.
Let the jars cool for up to 24 hours, then cap them tightly and label.
Herbal Salve Recipes
The herbs in the recipes below are among my favorite herbs to grow in the medicine garden.
Soothing Herbal Salve with Calendula and Lemon Balm
You'll need:
– 1 1/4 cup calendula infused oil
– 1 1/4 cup lemon balm infused oil
– 3 oz beeswax pastilles (about 2/3 cup)
Follow directions as outlined above in Step 2. You're doubling the recipe, so you'll need approximately 10 jelly jars, rather than 5.
If you prefer, you can make a Calendula Comfrey Salve by substituting comfrey infused oil for the lemon balm oil in this recipe.
Properties: Calendula and lemon balm both have antibacterial properties. Together, they are also anti-inflammatory and antiviral. This salve will help soothe insect bites and rashes, and will help repair cuts and scrapes. Lemon balm is effective at healing cold sores, and calendula is effective at soothing eczema.
Knitbone Herbal Salve with Comfrey (aka Comfrey Salve Recipe)
You'll need:
– 1 1/4 cups comfrey infused oil
– 1.5 oz beeswax pastilles (about 1/3 cup)
Instructions: Follow as outlined above in Step 2.
Properties: Comfrey is also known as knitbone because of its powerful, trans-dermal healing properties. It is best used for ailments without broken skin: broken bones, sore muscles, bruises, sprains, and joint pain.
I use my herbal salve every day as a regular moisturizer. If you prefer, salve can replace store-bought lotions. I always keep a tin of salve in my purse!
What kind of herbal salve do you like to make?
READ NEXT: