Poison ivy is no fun. Here is an eco-friendly, 5-step approach rooted in permaculture principles, for getting rid of poison ivy.
This page may contain affiliate links. Please read my disclosure for more info.
A Poison Ivy…Community Garden?
For five years, I managed a community garden that was surrounded by woods on three sides. Poison ivy formed a barrier at the edge of the forest and caused more than a few irritating itches. It constricted child's play, delayed garden development, and keeping it at bay was beginning to be a losing battle.
We needed a solution that would allow us to build an edible garden instead of spending our volunteer days risking exposure to poison ivy.
Several people on forums stated that they eat the young leaves in the springtime to build up an immunity. I don't think I'll be trying that one!!! 🙂
I developed a five-step removal system based on my understanding of the principles and ethics of permaculture. Permaculture is a design science that helps us solve problems in the landscape by working with nature. You can read more about it in my article What is Permaculture? Designing a Resilient Garden.
Before we take a look at my poison ivy eradication plan, it's important to learn about poison ivy's role in the ecosystem. It is a native plant that actually fills a special niche!
Poison Ivy's Niche in the Ecosystem
This native plant fills two important ecological roles: (1) It provides food for wildlife, and (2) It helps protect the edges of forest.
#1: Poison Ivy Berries are for the Birds
We might see the poisonous berries of the poison ivy plant and think, "Danger!". But to songbirds — most notably bluebirds, goldfinches, warblers and woodpeckers — these grayish-white berries are an important food source.
#2: Poison Ivy Protects the Forest
The edge of forest is an especially vulnerable place. It's where wind can drift in with seeds of potentially dubious plants that could alter the makeup of the forest. The hot sun can threaten to "bake" the soil and change its soil composition to make it less viable for forest.
As such, a healthy forest relies on having a healthy thicket at its edge to capture and buffer threats from the outside.
A healthy forest edge can also make way for forest expansion, which doesn't happen very often in modern times where humans see forests as commodities with development potential.
In general, poison ivy thrives on the edge of the forest: It loves the full sun in front of it, yet it also loves the moist ground from the forest shade behind it.
Thickets, i.e. the edges of the forest, are usually full of brambles and their thorns, too. So brambles and poison ivy are the protectors of the forest — they form a thick wall as if to say, 'This is a healing forest area: Keep out'.
Poison ivy deters entrance to an area and as a ground cover, it protects the soil to retain nutrients and minimize erosion.
When we eradicate poison ivy, we are both removing a wildlife food source and removing one of nature's solutions for forest conservation.
Would you like to yield delicious harvests while partnering with nature? Check out my mini guide, The Permaculture Inspired Vegetable Garden.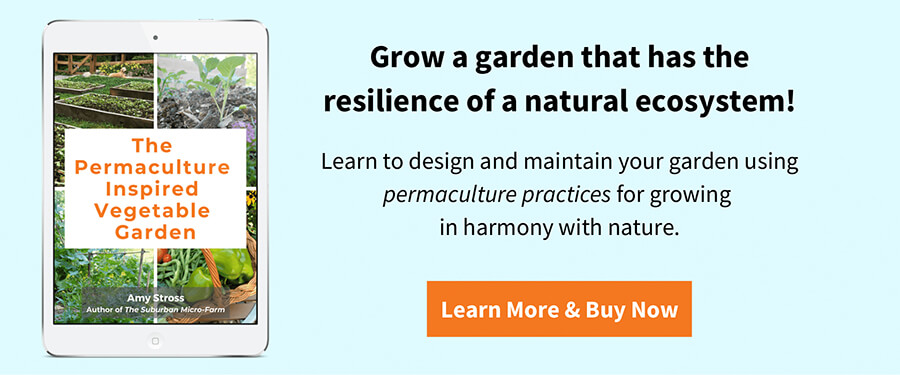 The Poison Ivy 5-Step Eradication Plan
Step 1: Define the area afflicted by poison ivy and decide if eradication is necessary.
Look at where the poison ivy is growing and determine if eradication is actually necessary and worthwhile. Since eradicating it takes quite a bit of effort, trying to remove it from a large area is not realistic. If it's in a forested area, can it be left there?
Stick to the areas that humans frequently use.
Is it getting in your way? Only seek to eradicate that which is directly encroaching on a walking path or other well-used area.
If you're looking to start a new garden and notice poison ivy, ask whether the proposed garden space can be placed elsewhere.
It may take some time to remove the urushiol oil, poison ivy's rash-causing oil, from the area. The oil can remain long after the plant has been eradicated, so growing food crops might not be a wise choice, at least right away.
If the poison ivy is in an already established garden or tended yard area in which humans definitely come into contact with it, then it's wise to eradicate it.
Step 2: Eradicating Poison Ivy
Although I literally do not use chemical herbicide for any other purpose, I do encourage using it on poison ivy that is posing a human threat. That's because other poison ivy removal strategies aren't very effective. They require frequent exposure to the plant to keep it at bay. More exposure = greater chance of developing the miserable rash!
Apply the chemical herbicide (such as glyphosate) directly to the foliage at the highest 'safe concentration' directed on the container. This maximizes its effectiveness while minimizing repeat applications.
Learn more about persistent herbicides that can poison gardens and damage crops, and avoid using them.
Do this on a still, dry day. Do not broadcast spray an area or spray on a windy or rainy day.
A one-time strong application is less detrimental on the ecosystem than many light applications over time. The tendency is to be fearful of over-applying, so you apply lightly, the plant doesn't die back totally, so you hit it again, and again… but this also affects the local flora and fauna.
You want to quickly get rid of poison ivy and get on with the rest of the steps below to restore an area.
If using a chemical herbicide makes you uncomfortable, there are certainly other alternatives. See more of my thoughts on these methods below under the heading, "On Using Chemical Herbicides".
In permaculture, we seek the most permanent solution that requires the least maintenance and has the largest, long-term positive impact.
Step 3: Sheet Mulch
Sheet mulching after step 2 is a fail-proof way to ensure that the poison ivy doesn't return. It also improves the soil and prepares it to be planted with something of your choosing.
Sheet mulching consists of covering an area with a couple layers of cardboard, then topping it with one to two feet of wood chips. Let it sit for a season. This method uses the sun to smother and solarize any remaining live poison ivy roots.
The deep layer of wood chips serves a dual purpose:
It helps to smother the poison ivy, as well as to rejuvenate the soil after the application of herbicide (chemical or natural) in preparation for planting something desirable.
Wood chips neutralize chemicals and heavy metals, improve soil fungal biomass, reduce erosion, and are thirsty absorbers of water, which means that wood chips replace poison ivy's role of protecting the soil.
Keeping the area deep in fresh wood chips lessens the possibility of the poison ivy returning. Be sure you have reliable access to wood chips!
If you chose not to use a chemical herbicide, a thicker "sheet" other than cardboard provides more assurance that the poison ivy does not return.Try laying a piece of plywood or black plastic over the area until you're sure it is eradicated.
You'll need something impenetrable, since the plants are probably not dead.
After a year, you can remove the barrier and begin restoring the area. Don't plant in the area before a year has passed, especially if it's something you intend to eat, because the poisonous urushiol oil or herbicide may still be active.
Tired of generic permaculture design advice that you can't apply to your specific goals? If so, check out my Permaculture Design Program and get the tools and support needed to create and implement your own permaculture design.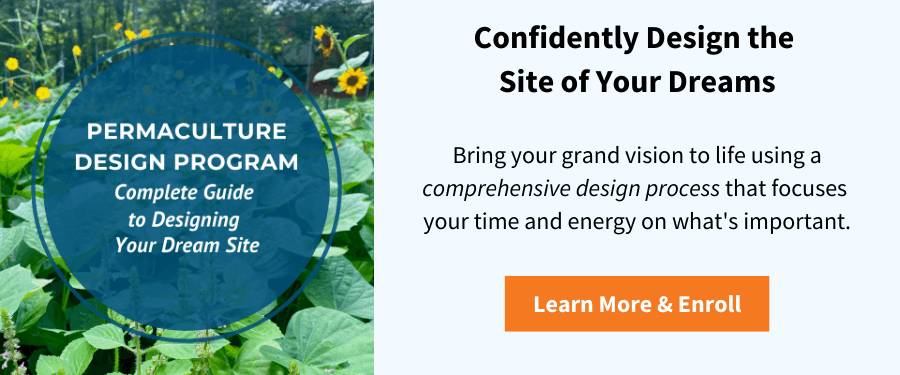 Step 4: Place Physical Barriers
If poison ivy creeps into your living spaces from a forest edge, installing a physical barrier between the two ensures that the poison ivy doesn't creep back in.
In Edible Forest Gardens, Dave Jacke lists some barrier ideas: Try a pond, section of pavement, or a constant mowed area between the encroaching poison ivy and your yard/garden. Or consider burying a rhizome weed barrier.
Jacke prefers solutions that permanently or semi-permanently get the job done without the need for constant management. After all, the goal in permaculture is to be smart about the work you create for yourself.
For this reason he doesn't love the mowing option because life happens, and sometimes the mowing doesn't get done.
Mullein, Sunflowers, Daffodils
It has been suggested that any of these would form a thick root barrier to prevent poison ivy from creeping through. Try this with caution — I didn't see any definitive examples of it working.
Step 5: Replace Poison Ivy with other plants
Once you're sure that the poison ivy is dead and that you won't have to treat the area again, it's time to replace the poison ivy with more desirable plants.
Remember that poison ivy fills two ecological niches that we know of: Feeding songbirds with fall berries and protecting the soil as a ground cover.
Seek out plants that fill these niches.
Identify what you want to plant, whether that's berry-producing trees and shrubs or a ground cover, or both. You'll keep the rest of the area thick in wood chips. The wood chips are important!
Once established, the new plants should protect the area and keep poison ivy from creeping back in.
Berry-Production for Songbirds
Toby Hemenway gives a nice list of plants in Gaia's Garden for wildlife fall berry production. Many of these berries are also edible for humans, so you decide how much to share! You'll have to research whether these plants grow in your area. Here's is a short list to give you some examples. It isn't a complete list of all options.
Ground Covers
Keep the soil covered with one of the following ground covers so the poison ivy doesn't return.
Creeping Ground Covers
It's been suggested that since poison ivy is a creeper, it should be replaced by one. Examples are:
Jewelweed (an antidote to poison ivy)
Virginia creeper (though native, it is aggressive)
Clematis
Wild native grape
Native wisteria
Perennial Ground Cover
A perennial ground cover such as white clover might provide just as much soil coverage without the risk of aggressive spreading from a creeping ground cover. Clover reduces erosion, fixes nitrogen in the soil, and attracts pollinators.
How to install plants
Dig a hole in the wood chips, fill with compost soil, and plant. Water well until established.
On Using Chemical Herbicides
You might be surprised that I support the use of chemical herbicide for poison ivy removal. The reason I do is because it's part of a larger restoration plan. I wouldn't support its use otherwise.
Without the five-step plan, you risk a dependence on herbicide as a management tool and the ongoing addition of chemicals to the soil.
I have always been irritated by the use of herbicides by land conservationists. That's because I don't believe it's possible to micro-manage a large tract of land as if it were a backyard garden.
Without an army of volunteers helping to hold back invasive species and a larger plan beyond the chemical application, the use of herbicides in conservation becomes "institutionalized and chronic" in the words of Dave Jacke.
I don't have a problem with chemical herbicides existing, but rather, I have a problem with how they're generally used. Carpet bombing thousands of acres of Round-Up Ready fields of corn and soybeans is a recipe for ecosystem collapse.
The spot treatment of a few poison ivy plants (with a non-persistent herbicide) in a backyard is not cause for concern.
Want to grow fruits, vegetables, and herbs in your front yard landscape without sacrificing curb appeal? Check out my mini guide, The Permaculture Inspired Edible Landscape.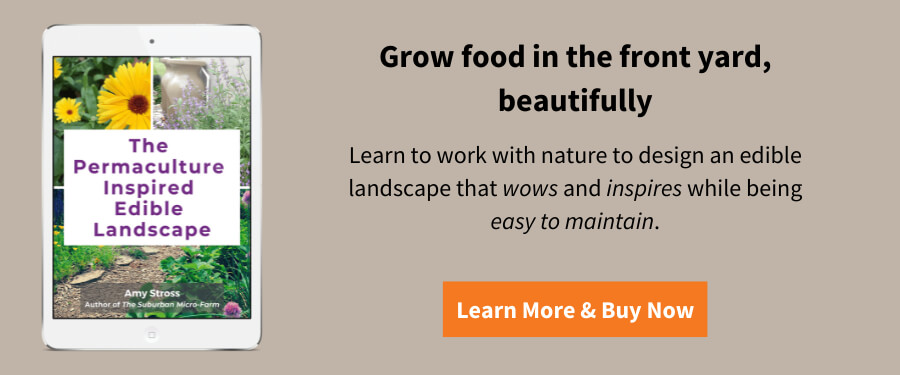 Appropriate Use of Technology
Prior to my community garden project, I would've thought natural remedies would work in all settings, regardless of the site. After all, I have standards, and they don't include using chemicals!
However, a principal component of permaculture design is discerning when an appropriate use of technology (in this case, chemical herbicide) can catapult the design forward rather than hinder land restoration.
However, if you want to get rid of poison ivy, long-term, in your garden, there's more to the plan than a one-time fix with herbicide. Restoring soil life and planting alternative plants that fill the same niches in the ecosystem are an essential part of the solution.
Alternatives to Chemical Herbicide
If the use of chemical herbicide still makes you uncomfortable, here are some alternatives:
Dig it up, or hit it with boiling water, vinegar, or soap solutions.
Graze goats, chickens, or pigs on poison ivy. (They won't get rid of poison ivy roots, so it may regrow.)
Cut it back and then sheet mulch, as in Step 3 above (skipping steps 1 and 2).
Repeatedly pull, mow, graze, spray, and cut it back until the roots are exhausted and die back.
Dig it up by hand
If you're brave enough to try this method of poison ivy removal, wear gloves, long sleeves, long pants, and maybe even a handkerchief over your face. Bag it up for garbage if you don't have a lot of land to throw it somewhere out of the way.
Any roots left in the ground will regrow, so constant vigilance is your best bet with this method.
Boiling Water, Vinegar, Soap and Water Solution
These solutions are frequently mentioned as natural solutions for poison ivy removal. Experiment with them on a small spot before trying them on a large area. Keep in mind that these are all herbicides — they're just natural versions.
They WILL affect the local ecosystem. Natural herbicides also have the potential to damage soil food webs, mycorrhizal fungi, affect soil pH, and neighboring plants.
Spot treat to reduce their effects on the surrounding environment.
Boiling water can send up poison ivy vapors that would be toxic to breathe. Cut back the foliage and only apply boiling water to the root crown. Wearing a respirator is a good idea.
Vinegar and soap solutions are fantastic for drying out foliage and can get rid of the shallow roots of poison ivy. However, poison ivy roots are deep and intricate, and are rarely killed by the application. Frequent applications are necessary to be fully effective.
Summary
This five-step plan is a thoughtful and sustainable way to remove poison ivy, keep it from returning, and replace it with desired and useful plants.
This strategy replaces other solutions that rely solely on chemical herbicides, as well as those solutions that risk exposure to the plant or require an extended eradication time.
Have you transitioned from aggressive or threatening plants to a biologically diverse and productive landscape? If so, what tips can you share?
READ NEXT: