Rain barrels can fill up within minutes. By connecting your rain barrels to a rain garden, you can make the most of harvesting rainwater for irrigation.
This page may contain affiliate links. Please read my disclosure for more info.
Why Worry about Rain Barrel Overflow?
Water is powerful: One downspout can fill a 55-gallon rain barrel in less than five minutes!
My 1,200-square-foot roof, for example, can collect an average of 30,525 gallons of rain per year. It's easy to see that a 55-gallon rain barrel doesn't catch a lot of water in comparison.
Directing the rain barrel overflow into the landscape, however, is one way to make rain barrels more eco-friendly and useful.
It is important to think about what to do with the excess water, because an overflowing rain barrel can flood a basement, damage a foundation, or worse, do the same to an unsuspecting neighbor downhill.
Directing Rain Barrel Overflow into the Landscape
One of the supposed benefits of rain barrels is their ability to keep water out of the sewer system during a rain event. That's because stormwater runoff causes soil erosion, can carry pollution, and can overwhelm municipal stormwater systems, sometimes causing raw sewage to enter local waterways.
We can now see that rain barrels on their own don't keep much water out of the sewer system, but catching water in the landscape will reduce the amount of water that is sent to the municipal stormwater system.
Retaining water on site will benefit the local ecosystem by:
Recharging groundwater (instead of it being whisked away)
Filtering pollution
Reducing surface runoff and soil erosion
Irrigating downhill gardens
Creating habitat and microclimates
That is why in our front yard garden we decided to use a swale to capture rainwater from the roof in the landscape. In our backyard, we directed rain barrel overflow into a rain garden.
What is a Rain Garden?
A rain garden is a shallow depression in the ground, usually bowl- or kidney-shaped, with berms on the downhill sides, designed to capture rainwater. The depression is planted with deep-rooted, drought-tolerant native perennials.
In my article How to Build a Rain Garden you'll learn how to locate the proper site, calculate the size, and get step-by-step instructions.
*Check local regulations for legality. In my city, rain barrel overflow must legally redirect back to the sewer system, while in my county it is legal to send overflow to a rain garden.
Would you like to yield delicious harvests while partnering with nature? Check out my mini guide, The Permaculture Inspired Vegetable Garden.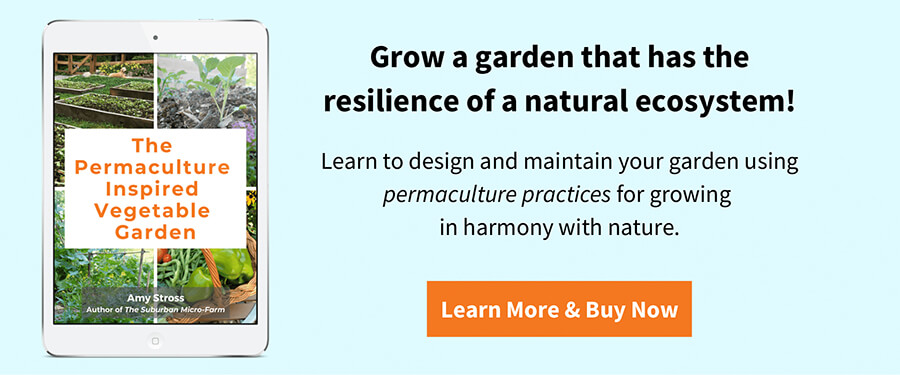 Our Backyard Rain Barrel-to-Rain Garden System, 1.0
In 2008, we installed a rain barrel-to-rain garden system in our backyard.
This is what our backyard looked like before the work started:
This narrow strip, just 4-feet wide between the fence and the house, was not serving any purpose. Sun-baked clay soil hosted a number of random and useless plantings from the previous owners.
What struck our attention, though, was how this long, narrow area already had a somewhat elongated bowl shape. We decided this unused sliver in our tiny backyard was perfect for a rain garden.
We hired a local rain barrel guy to source the used, food-grade barrels and the appropriate plants, and to do the installation. Back then, we weren't confident that we would do it right, and help from a professional on a rain garden that was so close to our house seemed like the smart thing to do.
This is what the rain garden looked like after the installation:
We used flat rocks to carry the water from the rain barrels to the rain garden in order to prevent erosion. The dogwood (Cornus sericea) was a great choice because it loved the extra water. The plantings to the right (including rhubarb and yarrow) assisted during heavy rains, but were otherwise chosen for their drought-tolerance.
The "waterfall" was a rock feature we added as an extra precaution for those times when the rain garden became fully saturated. It is beautiful when the waterfall is flowing with water during a heavy rain and watering the lower plantings that surround the patio.
Here is how the rain barrels connect to one another and the rain garden:
Burying the overflow pipes prevented the openings from attracting mosquitoes.
By 2013, the system was still working beautifully, but the red twig dogwood had grown so large that it completely cut off the pathway that led from the side yard to the backyard. So we decided to give the rain garden a makeover with two goals: Maintain its water-absorbing capacity and make it a walkable through-way.
Would you like to learn more about smart water management to reduce maintenance and increase yield?
You'll find loads of information just like this in my award-winning book, The Suburban Micro-Farm.

Our Rain Barrel-to-Rain Garden System, 2.0
Our vision was to make a long, narrow walkable creek bed that would absorb the overflow and direct excess water to gardens on the lower patio level.
We removed the red-twig dogwood shrub and prepared to lay a more intentional stone walkway.
Lesson learned: Though the end piece on the overflow pipe works fine, we would use a bigger end piece if we were to do it all over again.
We were excited by these new rain barrels because they each hold 75 gallons, so for the same footprint as our old 55-gallon barrels, we could hold 40 more gallons.
Note: This upcycled rain barrel kit is also an excellent choice.
Weedblocker was laid down in the "creek bed" area, and we began to place the rocks. It was like a puzzle to get them to fit together nicely!
In addition to a 3-foot wide walkable creekbed, we installed a one-foot wide, 14-foot long trellis and garden bed along the fence line on the left.
The drought-tolerant plantings to the right of the walkway stayed the same, as did the waterfall overflow to the lower level around the patio.
The Downspout Diverter
A downspout diverter can control rain barrel overflow by allowing you to manually redirect the flow of water when the barrel(s) fill up. The diverter we purchased can redirect the overflow back to the sewer or to anywhere else you want.
This was an important upgrade to our system, because our rain barrels can't collect water in the winter. That's because the plastic may crack when the water freezes. Additionally, our rain garden is near our basement, so if the ground is frozen and can't absorb water, it may pose a flooding risk. Because of these winter complications, we wanted the option to redirect the overflow back into the sewer during the winter.
So we don't use the diverter for individual rains, rather, we use it seasonally. We also installed a downspout filter, which sheds debris and prevents the rain barrel outlets from clogging.
We found our diverter and downspout filter here.
During the warm months, our rain barrel overflow is directed into the creek bed-rain garden.
Here is a video of the system working:
With this new design, we retained the same amount of rainwater in the landscape as the original design, but we gained 14-linear feet of vertical growing space on the fence, and we gained walkable access between the side yard and the backyard.
Note: Even though we have all openings into and out of the rain barrels covered with mosquito screens, we still regularly add mosquito dunks to our rain barrels just to be sure we aren't breeding them. Mosquito Dunks are an organic, non-toxic solution. We wouldn't want to be bad neighbors!
A rain garden is a great way to make your rain barrels more useful and eco-friendly. Irrigate your gardens more efficiently while recharging groundwater and improving biodiversity.
Get all the details for building a rain garden here.
Resources:
I'm curious to know: Do you have a rain garden? Where does your rain barrel overflow go?