Get the most out of berry-producing wild and ornamental bushes and trees, and learn how to transform them into delicious jelly and other treats.
This page may contain affiliate links. Please read my disclosure for more info.
Does your yard contain unappealing (yet edible) fruit?
Many of us purchase properties that include at least one tree or shrub that produces seemingly pointless fruit, perhaps a crabapple or Bradford pear tree?
If you have a hankering for a productive landscape, your first reaction might be to tear it out and replace it with something more appealing, such as a real apple or pear tree.
I totally understand this sentiment, and in small yards where the one tree is the only opportunity to grow edible fruit, I might do just that: replace it with a more appealing fruit tree or berry bush for fresh-eating. (Try planting a fruit tree guild!)
Wild Fruit For The Win (And Less Work!)
However, analyze the situation and ask whether removing a productive, low-maintenance tree or shrub would simply create unnecessary work for yourself.
Many ornamental and wild fruits are overly tart and seedy when eaten fresh, but become sweet and mellow when made into jelly.
Another example is the privacy hedge. Many shrub species used for privacy produce a rather unappealing if eaten fresh—but edible—berry. Instead of replacing the hedge with a more tasty species, leave it (less work), maintain privacy, and reap a free and effortless harvest!
On larger properties unappealing, edible fruits often grow wild and abundant. It may seem like their only value is for the wildlife, but oh, how you may be missing out!
Take, for example, aronia, a native that grows wild in eastern North America. Foragers have been taking advantage of the berries for years. And it turns out these berries are quite the superfood. Learn more in my article Aronia: Grow Your Own Superfood Berries.
With some creative power, you can learn to appreciate the abundance of fruits that produce without any help—or expense.
In this article, I'm sharing five berry-producing plants that are easy to grow in the low-maintenance permaculture garden. Of course, there are infinitely more to choose from. I'll also share a few ideas for how to use the berries, specifically, making and using a mixed-fruit jelly.
Note: If you decide to harvest from existing plants, be sure you have accurately identified the plant to avoid poisonous berries.
Ever thought of a jelly garden?
I'll be honest, the idea of creating a garden specifically for making jellies sounds really fun. Mixing and matching fruits and their flavors to create the best jelly would be a lifelong journey of getting to know a place: a labor of love and a declaration of your terroir.
Your very special and unique jellies could be a great source of extra income or gifts: Who wouldn't be curious about seeing the Bradford pear—that ubiquitous neighborhood tree—turned into a delicious jelly, for example?
Learn more about growing perennials crops as a side hustle.
Five Berry-Producing Plants for the Jelly Garden
There is an almost infinite number of edible, berry-producing plants, but if you're planting a jelly garden intentionally, here are five plants to get you started. All of these berries pack a powerful, nutrient-dense punch.
Delicious jelly is only half of it: These shrubs and trees will also create biodiversity and benefit your local ecosystem.
Want to grow fruits, vegetables, and herbs in your front yard landscape without sacrificing curb appeal? Check out my mini guide, The Permaculture Inspired Edible Landscape.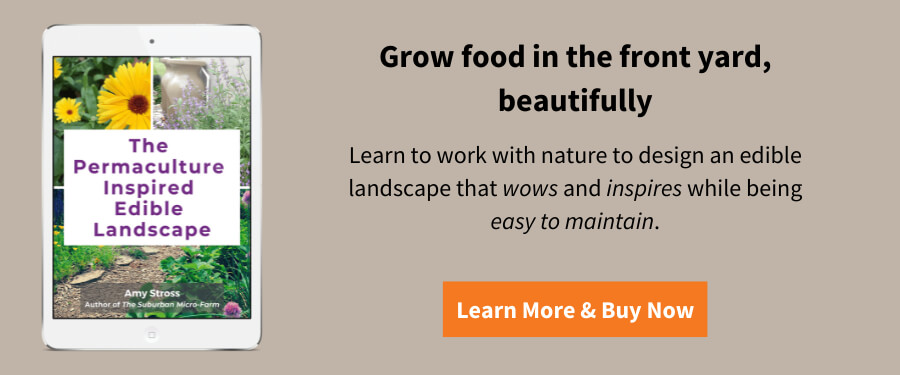 1: Currants – Ribes spp. (hardiness zones 3-8)
Currants are harvested in bunches, like grapes. Black and red currants are the most common varieties cultivated for their edible berries. Musky and tart respectively, these seedy berries become a delight when cooked.
Currant flowers are a preferred source of nectar by both hummingbirds and beneficial insects. Songbirds and chickens both enjoy the fruit.
Here's how I grow currants as a front yard hedge.
Currant bushes can be planted in a deer-deflecting hedge to keep deer out of certain parts of the yard, and are useful in a windbreak hedgerow. They're juglone tolerant and can be planted with walnut trees. They don't mind wet feet.
2: Elderberries Sambucus spp. (hardiness zones 3-10)
This summer berry is ripe for picking when it is dark purple and soft. Hint: When you see the birds going for the berries, they're ripe! Raw berries can upset the stomach in some people, so cook before eating.
Here is a good demonstration of how to harvest elderberries.
Elderberries are another fruit that is beloved by both songbirds and chickens. The shrubs are a popular wildlife shelter and nesting site. Beneficial insects and hummingbirds are attracted to the nectar of the edible flower.
Elderberry bushes can grow in many kinds of environments, but they do well in wet, low-lying areas and on the banks of waterways. They're juglone tolerant and can be planted with walnut trees.
If you'd like to learn more about using elderberries, here are some helpful links:
3: Mulberries Morus spp. (hardiness zones 5-9)
Mulberries can be either white, black, or red. Make sure the fruit is soft and ripe before picking, as unripe fruit can upset the stomach. To ensure picking only ripe fruit, place a sheet on the ground underneath the tree and shake the tree to drop the ripe fruit. Here is more on this harvesting method.
Mulberries are beloved by birds of all kinds. Songbirds often prefer these summer berries over tree fruits (saving your more valuable harvests). Chickens and ducks also enjoy the berries. The trees, which are fast growing in disturbed areas, quickly become shelter and nesting sites for birds.
Mulberry trees are also known to be tolerant to juglone, and can be planted with walnut trees.
Tired of generic permaculture design advice that you can't apply to your specific goals? If so, check out my Permaculture Design Program and get the tools and support needed to create and implement your own permaculture design.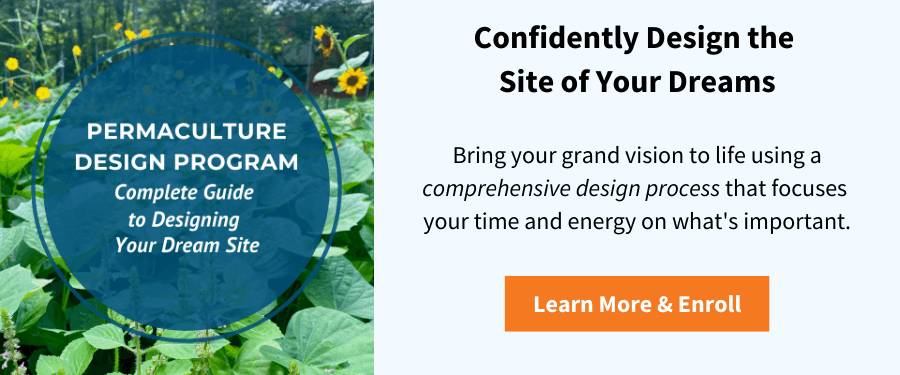 4: Rose Hips Rosa rugosa (hardiness zones 2-7)
According to this website, rose hips have 60 times more vitamin C than citrus fruits. Harvest the red berries after the first frost.
The old-timey rosa rugosa is a heavenly-scented rose. Unlike its cousin—the modern, hybridized rose that lacks pollen and needs a ton of maintenance to stay healthy—rugosa rose is a low-maintenance shrub and important nectar source for beneficial insects and hummingbirds.
It provides shelter and nesting sites for birds and other wildlife and winter fruit for the birds. It is even known to be juglone tolerant, and can be planted underneath walnut trees.
More on rose hips:
5: Tart Cherries Prunus cerasus (hardiness zones 4-8)
Tart cherries are excellent for fresh eating when ripe in my opinion, but many people find them extremely tart. They mellow when pitted and cooked.
Cherry trees of all kinds are a popular insectary during their spring bloom time, and the berries are a favorite wildlife food.
According to Lee Reich in Landscaping with Fruit, tart cherries grow best east of the Mississippi, while sweet cherries grow better west of the Mississippi River. I've done well with tart cherries here in Ohio.
Cherry trees make a beautiful privacy screen. I grow cherry trees in the parking strip and get about nine pounds of cherries per dwarf tree each year. That's because I planted them in guilds for natural pest control.
Here's the cherry pitter I use.
Cranberry Cherry Sauce anyone?
Plant a Hedgerow or Food Forest
If you're thinking about planting a jelly garden on purpose, consider growing it as a hedgerow or food forest. Here are some ideas for planting a jelly garden as part of a hedgerow or as part of a food forest.
Looking for more berry ideas?
Here are four berry-producing shrubs that fertilize the garden around them. Black raspberries are also delicious.
Making Jelly
It's entirely possible to mix and match all of these berries (or any other edible fruits you've foraged) to make a mixed-fruit jelly. Simply follow the guidelines on the package of your pectin.
I use Pomona's Pectin because it works with low-sugar and sugar alternatives like honey. If you prefer to experiment with each berry separately, the pectin box has you covered with that, too.
I also use my canning book as a guide for recipes, Ball Complete Book of Home Preserving. The only fruits this book doesn't cover are mulberries (see this recipe for mulberry jelly) and rose hips (see this recipe for rose hip jelly).
Although autumn olives are not on the above list of berries, they're another tree that is widely dispersive with free berries for the picking. Harvest the berries, make a delicious autumn olive jelly or try autumn olive thumbprint cookies. Harvesting keeps fewer seeds from spreading!
Mixing fruits, rather than using a single berry, gives a jelly more depth of flavor. I love making a mixed berry jelly with red currants, black currants, and black raspberries. Divine!
Some people prefer jam over jelly for the same reason—depth of flavor. Jam includes the whole fruit, which creates a richness of flavor.
However, I prefer the jelly because I don't like the seeds in many of these berries. If you don't mind seeds, consider making a jam instead—there are fewer steps involved in the cooking process, and it will have a deep flavor profile.
Tip: Make berry-infused vinegars and liqueurs with the leftover berry pulp!
Preservation Methods
Because most of these berries perish quickly, it's important to either make jelly right away after harvesting or temporarily preserve them for later.
Freeze berries on the spot, then thaw them later when you have time to make jellies and jams.
Rose hips are the exception and don't freeze well. Dry them if not using them right away to make jelly.
Dehydrate black currants and mulberries as an alternative to freezing.
Uses for Jelly
Aside from peanut butter and jelly, my favorite ways to use jelly are:
thumbprint cookies
mixed in plain yogurt with granola
pancakes
Here are 50 more ways to use jelly.
Other Uses for "Pointless" Fruits
Using these "pointless" berries for jelly is just the tip of the iceberg.
I use mixed frozen berries in smoothies. Dried berries go in chocolate-berry-nut bark, homemade granola, baked goods, and tea blends. I turn fresh or frozen berries into fruit syrup, pies, tarts, and other pastries.
I hope you'll add the unique taste and nutrient content of jelly fruits to your diet, and feel happy to grow plants that also benefit the wildlife.
Resources:
What jelly fruits do you grow and how do you use them?
READ NEXT: