Growing rosemary indoors is a little tricky. If you experience cold winters, follow these tips to keep your potted rosemary alive inside.
This page may contain affiliate links. Please read my disclosure for more info.
How Not to Kill Your Rosemary Plant
I'll never forget the disappointment I experienced my first year of growing rosemary. I brought my beautiful potted rosemary inside before winter set in, only to have it die within a month. Like my other houseplants, I had given it what Mark Shepard of Restoration Agriculture calls the STUN treatment—Sheer Total Utter Neglect.
The plant had enjoyed this type of treatment outside, so I figured it would be the same for the indoor experience. I was apparently mistaken!
The following spring I headed to the farmers' market to replace the unlucky herb plant. I'll never forget what I learned from the very wise farmer. She gave everyone a pamphlet with their purchase: "How NOT to Kill Your Rosemary Plant".
The fact that she even had a pamphlet like this made me feel a little better about my murder of that previous year's plant! I wish I could track down that pamphlet today, but at least the information is still alive in my brain.
If you live in USDA growing zones 7-10, where the ever-flowering rosemary shrub is used as an anchor in the perennial landscape, you probably think I'm a little cooky. In our neck of the woods, however, USDA hardiness zone 6b, rosemary rarely survives the freezing winters outdoors.
Best to keep it in a pot and move it inside for the winter. Still, others may keep rosemary inside as part of a year-round, windowsill herb garden. The care will be the same.
Want to grow fruits, vegetables, and herbs in your front yard landscape without sacrificing curb appeal? Check out my mini guide, The Permaculture Inspired Edible Landscape.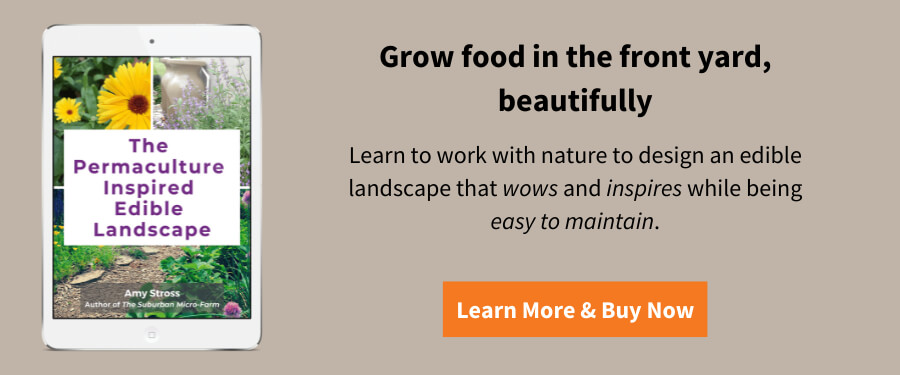 Rosemary's Native Climate
Knowing about this herb's history can inform us of how to deal with it once we have it inside. Rosemary is a native Mediterranean plant, hailing from a region of dry, well-drained soil and hot, sunny temps.
Rather than getting its moisture from the soil, rosemary is accustomed to grabbing moisture out of the sea-sprayed air. If we can imitate this practice, our herb plant will have a better chance to thrive.
Incidentally, other Mediterranean herbs have similar characteristics and will do well using the following suggestions: lavender and sage specifically; thyme and oregano are a bit more adaptable but will thrive with these conditions.
Pick The Right Pot and Soil
Pick a pot that matches the size of your plant. For example, if the above-ground growth is around 8-inches tall, your pot should be at least 8-inches deep. The width should allow at least one inch of space between the roots and the side of the pot.
You can increase the size of the pot as it grows over the years. If you want to keep the plant a certain size, root pruning will help you keep it happy in the same size pot, year after year (read below).
Make sure the pot has a drainage hole and a drainage pan, and use a well-drained potting soil. I like to mix organic cactus soil mix with worm castings. (Hint: Make your own worm castings!)
Create Proper Drainage
Rosemary is called an "upside-down plant" because it likes dry roots and prefers to absorb moisture from the air through its foliage.
In addition to growing your plant in a pot with a drainage hole, you need to take an extra step: Add a layer of gravel or small rocks to the drainage pan, so that the pot actually sits on top of the rocks, rather than in the pan.
You don't want the potting soil to have contact with water in the drainage pan.
Let the Light Shine Through
Rosemary needs full sun, whether inside or out. When inside, our plant sits in a bright, sunny window.
How to Water Rosemary
Outside, I water my plant about twice a week, which is pretty standard for outdoor container plants.
How you water this herb inside is crucial, however.
It seems like too much water is a bad thing because it doesn't like wet feet, right? True, but not enough water for this picky plant can also spell doom.
Indoors, water the soil every two weeks (if the soil is dry), but always keep water in the drainage pan with the rocks in it. Because the plant likes to absorb moisture from the air, it will enjoy the water as it evaporates from the pan.
Indoor air is usually drier than outdoor air. For that reason, and because rosemary is an "upside-down plant"—liking dry roots but moist foliage—fill a spray bottle with water and mist the foliage once or twice a week.
If your plant seems to be struggling, you can actually cover the foliage with a plastic bag for a time to hold in more moisture and to reduce the shock of the transition from outdoors to indoors.
Fertilizing Rosemary Indoors
Fertilize your rosemary plant in the spring. Start one month before you plan to move your rosemary plant outside for the summer. For me, that means around April Fool's Day. I use a fish fertilizer diluted as directed in the regular watering schedule.
I fertilize the rosemary about 2-3 times before moving it outside mid-to-late May.
Sizing Rosemary to the Pot
Each spring, evaluate your rosemary's size, repot it in new soil, and prune the roots as needed.
Rosemary will only get as big as the pot it's sitting in. Once the above-ground plant looks to be about the same height as the pot, it's either time to move it to a bigger pot or prune the roots so that they aren't too crowded.
If roots are left to grow, they will eventually take over the entire pot—becoming root bound. This prevents rosemary from absorbing enough nutrients and water. The foliage will look more lackluster over time and the plant eventually die.
Are you looking for strategies for your herb garden?
You'll find loads of information in my award-winning book, The Suburban Micro-Farm.

Refresh the Soil Annually
After each season, your plant will have extracted all of the nutrients available in the potted soil mix, so in the spring you'll want to repot rosemary with new potting soil. This is a good time to check the roots and root prune if necessary.
Root Pruning Container-Grown Rosemary
If your rosemary has outgrown its pot, you can prune the roots to keep your plant growing in the same pot. Gently wiggle the whole plant out of the pot (roots and all). Are the roots running tightly around the perimeter?
If so, it has outgrown the pot. Using sharp garden scissors, cut about 2 inches of root matter off the bottom and sides before repotting it with new soil. Keep the plant in the shade for a couple of days while it acclimates to the changes.
It may seem like a lot of work to keep a potted rosemary plant happy indoors, but it's an easy procedure once you get the hang of it. Plus, the taste of fresh rosemary roasted potatoes in the middle of winter can't be beat.
Have you kept your rosemary plant alive indoors?
READ NEXT: