Catching water from the roof in the landscape is often more efficient than using rain barrels. Here's how rainwater harvesting transformed my front yard garden on my suburban homestead.
This page may contain affiliate links. Please read my disclosure for more info.
I envisioned this rainwater harvesting project as a way to jumpstart the productivity of my edible landscape, but I had no idea how much I would learn and grow in the process!
In this article, I'll share the step-by-step process that I used to create a front yard edible landscape with a built-in rainwater harvesting system that captured 12,000 gallons a year from the roof.
It eliminated the need for hand watering, which was a pretty amazing accomplishment that saved a lot of time. It was also the catalyst for creating an edible and ecological oasis in the middle of a lawn desert.
Here's more about my edible landscape.
My Front Yard: Before Rainwater Harvesting
In the years leading up to the rainwater project, I replaced the traditional hedge lining the front porch with shade-tolerant, edible currant bushes. A few other bushes nearby were replaced with a surprisingly beautiful black raspberry patch.
As I neared the next garden season, I was feeling spunky and wanted to expand my edible front yard. I also wanted to figure out how to incorporate rainwater from the roof into the design.
After all, why send rainwater to the sewer to muck up rivers and fresh waterways, when I can harvest and hold it on site for free irrigation?
Designing a rainwater harvesting system is always unique and depends on the specific characteristics of a site. Things like soil type and health, climate, sun exposure, slope, budget, and skill of the homeowner, all come into play.
Allowing permaculture principles to inform the design process, I set out to create a closed-loop system to harvest rainwater from the roof to hopefully reduce the number of times I have to drag out the hose and pay to water the garden with my time and money.
The best place to hold water is….
In conventional gardening, a rainwater harvesting discussion usually focuses on acquiring a rain barrel or two. This sounds like an easy option that doesn't take a lot of creative thought…until you go to water your garden that has expanded in size, and realize how long it takes to use a watering can!
I decided to hold the water in the soil. Luckily, with a bit of physical labor on my part (and Mr. TAF!), it's also the cheapest! It's mathematically impossible to hold more water in a tank or barrel than in the soil, as soil can expand to three times its size to absorb water.
In the photo above you can see how the water naturally wants to run off the property to the right (blue arrows). The downspout is on the right side, but the majority of the new gardens are to be uphill—to the left of it.
My goal was to harvest the rainwater coming from that downspout, and reroute it uphill.
My plan was to use a trench and berm to capture water in the landscape while using a rain garden as a fail-safe backup.
If my gardens had been downhill from the downspout (to the right), the system would look completely different. Again it depends on where you're catching water and where you want to take the water to.
Want to grow fruits, vegetables, and herbs in your front yard landscape without sacrificing curb appeal? Check out my mini guide, The Permaculture Inspired Edible Landscape.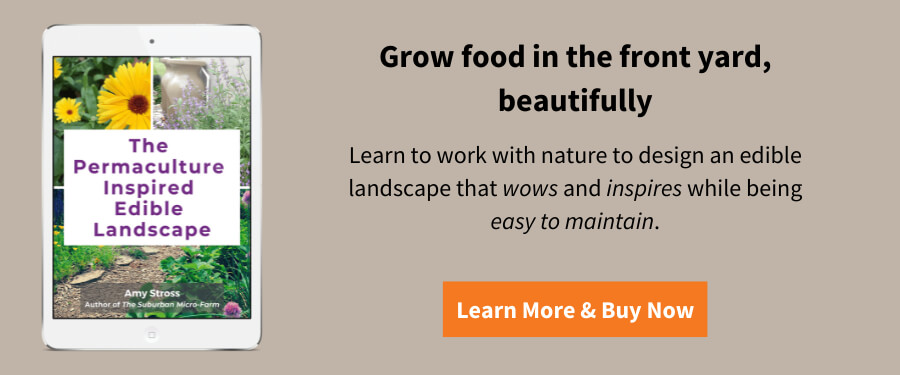 Goals of a Rainwater Harvesting System
#1: Catch Water
Catch water on site using earthworks and build up healthy soil, which acts as a sponge. As the structure of the soil improves, its ability to regulate moisture levels also improves.
You can add organic matter to speed up the process. However, be aware that homemade compost can be contaminated with herbicides, even if you don't spray. Likewise, store-bought soil can be contaminated, even if it's organic-approved. Manure can also be contaminated.
Learn more ways to improve soil quality.
#2: Hold Water
Hold water in the soil as much as possible. Mulching on top of the healthy soil with straw, leaves, and plants keeps the water from evaporating away, and allows it to slowly trickle into the deeper soil horizons.
#3: Recycle Water
Earthworks direct and store water underground in what is called a water lens, which can be accessed naturally by plants during dry spells.
As such, recycling water in the soil is a good first step. Later, you can add above-ground rainwater harvesting in tanks or barrels, as needed.
The front yard looked really ugly for a while while I dug and created my system! The neighbors were anxious, but the end result was totally worth it. Having a vision on paper really helped me keep my eye on the prize.
The 9-Step Process for Creating my Rainwater Harvesting System
Step 1: Disconnecting the Downspout
I disconnected the downspout and installed a rain chain. The rain chain is not essential, it just makes watching rain a beautiful event!
The rain chain guides the water down to a conveyance trench. Alternatively, you can attach a flexible extension to your downspout and direct the water to where you want it.
Step 2: Digging the Conveyance Trench
I dug the conveyance trench 12-inches deep and lined it with gravel. Its purpose is to encourage water to run away from the house and down to the infiltration trench.
Tired of generic permaculture design advice that you can't apply to your specific goals? If so, check out my Permaculture Design Program and get the tools and support needed to create and implement your own permaculture design.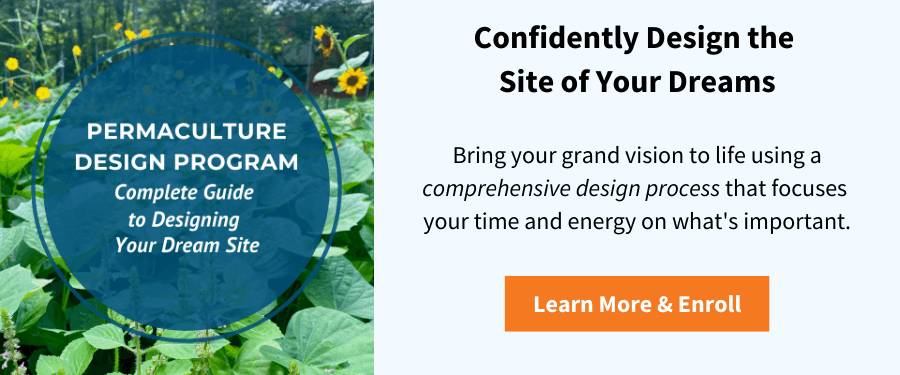 Step 3: Building the Rainwater Harvesting Infiltration Trench
I dug the infiltration trench 12-18 inches deep and filled it with gravel and large rocks. Infiltration trenches hold water until it can slowly soak (infiltrate) into the ground.
In this case, the trench gets progressively deeper as it moves to the left to encourage the water to run uphill to the rain garden, which holds more of the water before soaking in.
Make the infiltration trench a walkable path! By filling in the trench with gravel or wood chips, the rainwater harvesting trench becomes a walkable path, which means more functionality in a small space, and no trenches to fall into.
Another solution is to make the trench shallower and wider if space allows. It holds the same amount of water, only in a different shape. A shallow trench is less of a hazard in a residential area, and it can easily be seeded with clover or grass, which may be easier to maintain.
Step 4: The Rain Garden as a Rainwater Harvesting Back-Up
The rain garden is the final overflow catchment for the really rainy periods. Water stores here and slowly infiltrates into the lower yard areas over the next 48 hours after a rain.
The bowl-shaped rain garden is 12-18-inches deep. I planted it with native, deep-rooted wildflowers like echinacea, aster, and blue-flag iris.
The infiltration trench and asparagus berm work so well that water never pools up in, or overflows, the rain garden.
I planted the berms surrounding the rain garden with edamame, swiss chard, carrots, and cayenne peppers in the first year.
Get details for building a rain garden here.
Step 5: The Asparagus Berm (Turned Strawberry Berm)
I created the asparagus berm by taking topsoil from the trench and piling it up on the downhill side. The berm absorbs water from the infiltration trench and discourages water from running off.
Then, I covered all of my garden beds with a deep mulch to discourage evaporation and erosion of soil nutrients.
Deep-rooted perennials, like asparagus, also help to encourage infiltration. In fact, wild asparagus can often be found growing in ditches along roadsides, so I think it prefers this job of soaking up rainwater!
Post Note: Asparagus is a good choice for an infiltration berm because the roots can grow to a depth of ten feet.
However, in my quest for the perfect, functional water harvesting system, I completely ignored the aesthetics of having 6-foot-tall asparagus run through the middle of the front yard!
So I moved the asparagus to the backyard, and replaced it with strawberry plants. They're also a good choice for a water system, since their roots can grow to a depth of 6 feet.
With both asparagus and strawberries, the important thing to note is that they don't like standing water. They work on the berm because the yard slopes downward, so water drains through the berm but doesn't sit there.
Learn more about edible perennials for growing in wet soil.
Summary: Rainwater Harvesting in the Front Yard Garden
I built this system during the wettest year on record, so I couldn't have planned it any better. If it held up to this much precipitation, I'm confident it can hold up to anything!
The rainwater harvesting system is not entirely complete. There is still one downspout connected to the sewer. I would like to install a rain tank to the right of the front porch to give additional capacity for watering in times of drought.
I also intend to expand the growing area of the front yard gardens.
Tips

for

G

etting

S

tarted

on

Y

our

O

wn Rainwater Harvesting

D

esign
Every design is different because it is based on the unique layout, drainage, soil structure, etc. of a particular site. Observe how the rain runs on your property. Where does it pool up? Where is your preferred garden area? Remember, an imperfect design is better than doing nothing at all.
My design wasn't perfect, but it's not meant to be. Part of the permaculture design process includes observing and evaluating how things are working, then making adjustments over time.
The only golden rule is that you want the water to run AWAY from your house. Everything else can be tweaked as you observe!
Resources
Do you have a rainwater harvesting system? What features does it have?
READ NEXT: