A permaculture swale is a technique that captures water in the landscape for passive irrigation and for slowing runoff. Learn what a permaculture swale is and why you might need one in your yard. Oh, and don't forget to grab your FREE DOWNLOAD: How to Build a Swale to Capture Roof Water Quick Start Guide at the end of the article.
This page may contain affiliate links. Please read my disclosure for more info.
Irrigation for gardens and farms has always been a complicated subject. That's because the possible solutions are as varied as the conditions on each property.
In permaculture design, we seek to solve problems in the landscape by working with nature and using techniques that are appropriate for the site.
For many gardeners and farmers, catching rainwater in the landscape can be a low-maintenance way to irrigate and improve soil quality at the same time.
When I started creating pockets of gardens and edible landscaping around my house, I wondered how I would find the time to hand-water all of those areas. And that's when my love affair with the swale began!
What is a Permaculture Swale?
A permaculture swale is a shallow trench dug along the land's contour, with a berm on the downhill side created with soil from the trench. All points along a contour line are exactly the same height above sea level.
Therefore, a trench along the contour captures water in the landscape, slowing and spreading it across the contour line. This action reduces erosion and retains water where it is needed.
The above picture shows contour lines in pink. These indicate that all points along a single pink line are the same height above sea level. The hillside slopes downward toward the bottom right corner of the image, perpendicular to the contour lines.
Potential swale trenches are drawn in blue, while the planted berms below them are green. Without swales, the water on this hillside would rush down and form gullies, taking precious topsoil and nutrients with it.
Permaculture swales can ease the effort of food production while improving the local ecology. Each swale has unique characteristics to match the site's conditions. In fact, the above picture is showing large swales on a large farm field.
Lucky for us that swales are also applicable at a residential scale. See how I constructed a swale in my front yard landscape!
Tired of generic permaculture design advice that you can't apply to your specific goals? If so, check out my Permaculture Design Program and get the tools and support needed to create and implement your own permaculture design.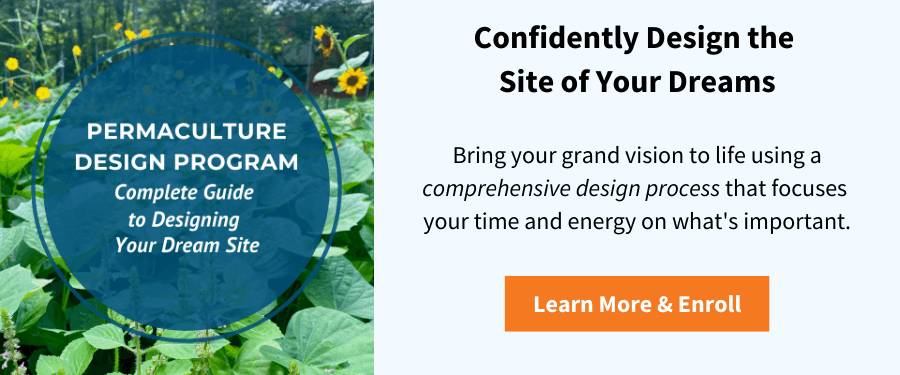 Is a Permaculture Swale Right For You?
If this all sounds too good to be true, well, you might be right! Unfortunately, swales aren't appropriate in all situations. They are great for gently sloping land, but not steep slopes. Also, on-contour swales might hold too much water in super rainy climates.
Keyline design and check-log terraces are a couple of strategies that have been used in these situations, and are worth exploring.
Keep reading to find out if a permaculture swale is right for you.
>>> Get more nitty-gritty details in my article How to Construct a Permaculture Swale.
Why a Permaculture Swale Could Be Helpful in Your Yard
Swales:
Mitigate stormwater runoff.
Are an easier way to catch rain than using a tank or barrel.
Are more efficient than tanks or barrels.
Build self-sustaining ecosystems.
Let's elaborate on each of those points.
1. A permaculture swale mitigates stormwater runoff.
Stormwater runoff is now the largest source of water pollution and is a huge problem in most cities. That's because municipalities view water as a liability, so they send it away as fast as possible. With the existing infrastructure in cities, they're right to be concerned about flooding.
However, sending water away as quickly as possible has resulted in horrible breaches of environmental stewardship. In my city alone, we send 13 million gallons of raw sewage into local waterways each year because the overtaxed sewer system combines stormwater with sewage during heavy rains.
We typically think stormwater is a problem that only governments, institutions, and experts can solve. In reality, there would be no problem at all if citizens did their part.
Though the problems of the world are increasingly complex, the solutions remain embarrassingly simple." – Bill Mollison, father of permaculture, and author of Introduction to Permaculture and Permaculture: A Designers' Manual
Here's an example of how I did my part to help with the stormwater problem:
My 1200 square-foot house catches 30,525 gallons of rain from the roof each year. How much water does your roof collect? I capture 75% of that, or almost 22,900 gallons in our landscape.
What if we all caught tens of thousands of gallons of water in the landscape, where appropriate?
Me thinks that the millions of dollars of taxpayer money currently going to fixing the sewer problem wouldn't be necessary. Quick everyone! Dig a free swale! 😉 It also means that aquifers would be recharged and watersheds would remain healthy and intact.
Water management is the foundation of a low maintenance landscape.
Learn more about permaculture-based solutions in my award-winning book, The Suburban Micro-Farm.

2. A permaculture swale is a more passive solution for catching rain than using a tank or barrel.
Catching rainwater in tanks or barrels takes a certain amount of engineering skill. You have to:
Buy a bunch of parts.
Connect the downspout to the tank.
Link multiple tanks together.
Route the overflow either back to the sewer or run the overflow into the landscape.
Add mosquito dunks regularly and clean out the barrel at least yearly.
Install a spigot for filling up a watering can or connecting a hose.
All of these parts eventually degrade with sun and weather and need to be fixed or replaced over time. What's more, there is very little water pressure from rain barrels, so using the water is quite frankly a pain in the ass.
Believe me, watering by hand takes a REALLY long time without water pressure. The solar pump I tried didn't work very well. I think the inventors know that because it isn't on the market anymore. 😛
Look at all of that engineering and purchasing of parts for a water source that ADDS maintenance time! Catching water in the ground using a swale can be so much easier. It allows you to passively water the garden with little work after it's all set up.
Now, if you have rain barrels, don't worry. I have rain barrels, too! Check out how I planned the overflow and made our rain barrels as super low-maintenance as possible. Don't let thousands of gallons of water go to waste!
If you're going to capture water for irrigation, whether in the ground or in a container, be a good neighbor. Plan it out properly so that you don't flood your neighbor's basement!
>>> Learn more about permaculture.
You also don't need a hillside for a swale to be useful! A gentle slope or flat land can also benefit from a swale.
3. A permaculture swale is more efficient than tanks.
Good soil is thirsty. Organic matter acts like a sponge, easily holding several times its weight in water. Toby Hemenway in Gaia's Garden tells us that three quarts of dry soil can easily hold one quart of water.
When we translate that to the soil in our yard, if our yards were covered in one foot deep of rich, moist soil, it would hold as much water as a 3-inch-deep lake the size of the yard. It would be cost-prohibitive to install a container that could catch that much water.
But the soil will hold it for free!
4. A permaculture swale builds a self-sustaining ecosystem.
Swales catch water and direct it to where it's needed, which is in the soil. Instead of water running off or pooling above ground, swales direct it downward into an underground reservoir.
Nature has its own built-in, self-watering system. When water is needed, it is naturally released. No work on our part after the swale is built!
This underground reservoir attracts microorganisms. Suddenly the soil is alive, and voila—we're generating organic matter and fertilizer right in the place where we need it.
This means fewer inputs, which saves money and time. The more the organic matter builds, the more moisture it holds. With more organic matter, the system can better withstand both floods and droughts.
As the water reservoir and nutrients in the soil build, gardening will become a breeze for you.
Water management is the foundation of a low maintenance landscape.
Ready to construct a permaculture swale in your own yard?
See my article how to construct a swale in the residential landscape or check out my free download:
Have you built a permaculture swale on your property? What benefits have you noticed?
READ NEXT: