Edible landscaping can be an easy way to grow food in the front yard. Learn some strategies for designing a beautiful, low-maintenance edible landscape.
This page may contain affiliate links. Please read my disclosure for more info.
Why Landscape with Edibles?
Simply put: We can't eat lawn. When I found out that lawn is the largest crop in the United States—and realized how abundant it is in the suburbs—I decided to give my yard a makeover!
With less than 2% of the American population farming (some sources say less than 1%), the suburbs are primed to lead the up-and-coming small "farm" movement.
Many suburbanites spend their weekends maintaining a traditional lawn and landscape. However, I believe they're missing out on an opportunity to have life-giving landscape that provides beauty, ecological benefits, and edible yields.
Although I have a particular fondness for a productive landscape, I also enjoy a beautiful one that attracts beneficial insects and is friendly to wildlife.
Edible landscaping is a softer, gentler approach that combines traditional landscaping with micro-farming techniques, and is both aesthetically pleasing and ecologically friendly.
Landscaping with Intention
My edible front yard is an intentional landscape. While developing and maintaining a lawn is relatively mind-numbing (not to mention potentially polluting), I've found that I'm more alive and engaged with the edible landscape.
For example, when the strawberries, cherries, or black raspberries ripen, it's an exciting moment! Nothing in a traditional landscape is that exciting.
An edible landscape gave me a reason to interact with my neighbors. While the usual dog walker or passerby will exchange niceties about the weather, the edible landscape gave us something interesting to talk about.
The book Edible Estates is a fantastic picture book of lawns across the U.S. that were replaced with a productive landscape. The book also explores the social aspects of having a productive front yard and the subsequent interactions with neighbors.
Rosalind Creasy, author of Edible Landscaping, is the modern pioneer of the movement, yet landscaped gardens containing edibles have been the norm throughout history from English cottage gardens all the way back to ancient Persia. Edibles truly make supremely beautiful landscapes.
My Edible Front Yard
After much trial and error, my beautiful, edible front yard now contains currant bushes, black raspberries, strawberries, cherry trees, and a variety of edible herbs and flowers.
Below is a picture of our house before we purchased it, and after turning it into an edible landscape.
Take a (virtual) tour of both my front and backyard edible landscapes.
3 Things to Consider before Breaking Ground in the Edible Landscape
—Deer, Kids, and Dogs
What do they have in common? They all take the most direct path from point A to point B. If garden beds are easy to step in or walk through, then they probably will be by this bunch! Create diversions and obstacles that direct traffic away from prized plants.
When I planted edibles in the parking strip (between the sidewalk and street), I planned accordingly for the steady stream of traffic by dog walkers, kids on bikes, and parked-car passengers.
—Time
How much time do you have to commit to maintenance? Replacing lawn with an edible landscape could require more time to keep tidy. If time is not on your side, then consider only replacing the existing landscape with edibles while leaving the lawn intact.
Take it from me: Annual plants need more attention than perennials to retain an aesthetic appeal. When I began my edible landscape journey, I had no idea how much time I would need to keep the annual vegetables looking tidy and weed free!
Have a plan to fill the space after each harvest, or you'll risk having empty spots. This is ultimately why I transitioned the edible front yard to contain mostly perennials.
Would you like to grow food in your front yard without sacrificing curb appeal? Check out my mini guide, The Permaculture Inspired Edible Landscape.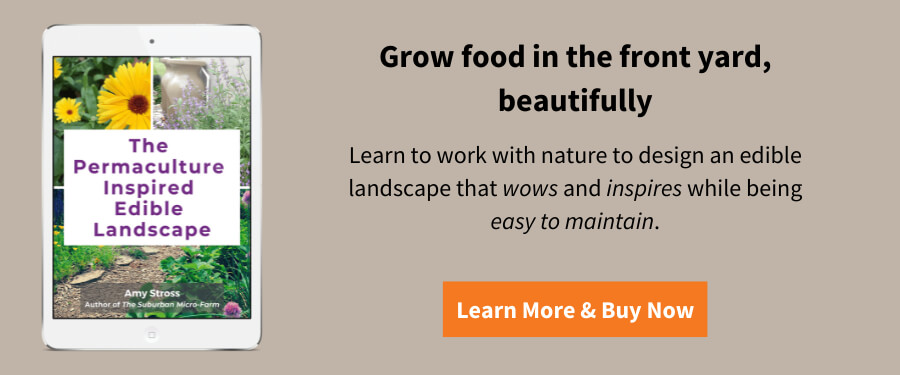 —Money
A long-term landscape will be made up of mostly perennials, but a whole-yard makeover with perennials could be expensive. If you don't mind bare ground for a while, starting plants from seeds or free cuttings will be much cheaper.
I built my landscape over several years to spread out the cost of buying plants. I also used fast-growing annuals to fill in the spaces until perennials reached their mature size.
4 Design Principles for Visual Appeal in the Edible Landscape
—Simplicity
In any landscape, a simple foundation planting creates balance. Luckily, it's easy to replace a traditional hedge with an edible one.
For example, I replaced the traditional hedge of yew bushes lining my front porch with currant bushes. Balance remained in the landscape even though I changed the plant species.
While the currant bushes were young, I grew a "hedge" of broccoli to fill the space!
—Line
A line defines a space and connects people to the landscape. The line could be a curved walkway or a straight sidewalk along the edge of the garden—anywhere our eyes are drawn to follow a line or edge.
I used a rock border to define a curved raised bed from the remaining lawn, and it was a focal point that received a lot of compliments.
—Unity
A unified grouping of plants creates order and attracts attention from both humans and beneficial insects. Group plants of the same type together rather than alternating them with other colors or textures.
I planted the flower garden with groups of bold colors as a backdrop to the edibles.
Read more about unity in the landscape.
—Emphasis
A specimen tree creates a focal point. Instead of a Japanese maple, dogwood, or other common specimen tree, try a fruit tree instead. Lee Reich has some great ideas in his book Landscaping with Fruit.
Don't worry, I didn't know any of these principles when I got started. I learned them over time after many trowels and errors. 🙂
Plant An Edible Foundation
A foundation planting simply hugs the foundation of the house. Red and black currant bushes line my front porch because they're shade tolerant and easy to grow. Additionally, they produce beautiful fruits (red currants) or a pleasant fragrance when brushed against (black currants). Learn how to grow and use currant bushes.
I also planted black raspberries, which are easy to grow underneath the front windows because they're shade tolerant and have a clumping habit (they won't "walk" around the yard as much as other bramble berries). They're also relatively easy to prune.
The red canes add color to the landscape in winter, the flowers bless the spring landscape, and the changing red-to-purple berries add beauty in early summer.
Other edible plants for foundation hedges: Try bush cherry, gooseberry, or rugosa rose, all of which can be pruned for tidiness. Aronia is considered a superfood berry and lovely, as well.
Hint: Many of these shrubs have made their way into my jelly garden, too!
Strawberries in the Edible Landscape
Here's what I've learned about strawberries: pretty much everyone loves them. They're shareable and bring a smile to kids and neighbors alike.
I grow strawberries with flowering chives in my front yard because they're extremely productive, don't take up a lot of space, and make a nice ground cover.
Additionally, their deep roots can stabilize the slope and slow drainage, which is why I planted them in the berm that slows rainwater coming from the roof.
In the edible landscape though, be wary: June-bearing strawberries create runners that "jump" out of the bed and "walk" away to plant themselves in pathways and other areas where you don't want them.
Suddenly, the beautiful strawberry bed looks sparse. After a few years the bed will look empty. June-bearing plants are usually replaced every three years.
Instead, I prefer to plant 'Seascape' everbearing strawberries. Everbearing strawberries don't produce as many runners, and I've found them to be much better for the edible landscape where I want plants to stay in their place permanently.
Many everbearing varieties are almost as large—and just as delicious—as June-bearing strawberries. The front yard strawberry patch yields about 15 pounds berries each year!
Privacy Screens
Living in suburban or urban environments, sometimes we need to create a little buffer for privacy. Edible plants can help create a living screen that will last longer than a fence and create more biodiversity.
I planted dwarf cherry trees in my parking strip because their dense foliage created a seasonal, soft buffer between the street and front yard. This made it more enjoyable to sit on the front porch and admire the beauty.
In early spring, the white flowers add a cheerful beauty, while the bright red fruit looks like Christmas tree ornaments in early summer. But that's not all! The glossy, peeling bark even offers interest in the winter.
I planted my cherry trees as fruit tree guilds, which is a strategy to increase biodiversity and prevent pest problems.
Vegetables in the Edible Landscape
Growing vegetables can be tricky in the edible landscape because of their seasonal nature.
For example, one year I planted garlic in the front yard rain garden, and it was beautiful. I harvested it halfway through June. Then, I sowed winter squash seeds. I imagined the crop developing into a beautiful ground cover. However, multiple sowings never took hold.
This bed in the center of the front yard remained empty all season.
Root vegetables, which sometimes have trouble germinating in the summer heat, can also create problems in the edible landscape.
Suddenly it's not only a question of whether I'll get a harvest, but also how to quickly fill a bare spot. Because of this, I avoid single-harvest crops such as root vegetables altogether in the edible landscape.
Instead, I only plant vegetables in which the fruit or leaf is harvested, because the plant itself remains intact and continues to produce throughout the season.
A few examples are cherry tomatoes and peppers—both reliable in the edible landscape—as are cut-and-come-again leafy greens like Swiss chard, kale, and collard greens.
In fact, two of my favorite vegetable combinations are Swiss chard with sweet alyssum and kale with Johnny jump-ups.
Vegetable Color Schemes in the Edible Landscape
I've enjoyed giving my edible front yard an annual color scheme. Here are some of the themes I've used. Mix and match, too!
Purple: Red Russian kale, 'Rosa Bianca' eggplant, 'Purple Beauty' bell pepper, chives
Yellow: yellow chard, yellow bell peppers, yellow cherry tomatoes, yellow California poppies, calendula, sunflowers
White: garlic chives, oregano, sweet alyssum (whites mix well with other colors)
Red: cherry tomatoes, cayenne peppers, red chard, red California poppies, nasturtium
Green: basil, broccoli, kale, collards, parsley, sweet potato, zucchini
Many of these are some of my favorite flowers for the vegetable garden, as well!
Herbs and Flowers in the Edible Landscape
Herbs and flowers are among the easiest additions to the edible landscape. By simply replacing an ornamental flower garden with edible herbs and flowers, you can have beauty and function, too!
My favorite combos: dill with cosmos, bronze fennel with chamomile, green basil pairs well with most flowers
Herbs for fragrance: chamomile, lavender, sage, lemon balm, rose (plant these along a walkway)
Edible flowers: anise hyssop, calendula, chives, elderberry, lavender, johnny jump-ups, nasturtium, runner beans (attract pollinators, too!)
Deer Resistant Edibles
Sadly, there aren't as many options for the edible landscaper in deer country. Tall deer fencing around the landscape negates the aesthetic appeal. However, the following are a few plants to try.
With deer I prefer to landscape using perennials because sometimes annual "deer resistant" vegetables will suddenly become attractive to them for no apparent reason!
Take note that none of these deer resistant edibles are deer proof and should be protected, especially when young.
Deer resistant perennials: asparagus, fig, goumi, rhubarb, pawpaw
Deer resistant culinary herbs: chives, dill, fennel, lavender, lemon balm, mint, oregano, parsley, rosemary, sage, thyme
In addition to being deer resistant, many of these make my short list of favorite herbs for the medicine garden.
Deer resistant vegetables: cucumbers, eggplant, peppers, tomatoes (Plant these at your own risk!)
To learn about creating a deer-deflecting hedge, check out Gaia's Garden.
Summary
An edible landscape is a fulfilling project that will increase your yard's productivity, biodiversity, and aesthetic appeal.
What edible landscape combinations are your favorites?
READ NEXT: