This is one homesteader's journey from unfulfilling employment to a life of empowerment and abundance. It is the story of me taking control of my life.
This page may contain affiliate links. Please read my disclosure for more info.
A decade ago you couldn't have convinced me that my life was about to change in a very big way, and that the change would be me becoming a homesteader. I know I wouldn't have been convinced, because I didn't even know what a homesteader was!
Breaking from the Prescribed Path
In 2007, my health was in really bad shape: rheumatoid arthritis had me bedridden many days and missing work. I was in a lot of pain, and it seemed to be getting worse. I was only 33 years old, but I felt much older.
Moving to a new city to get married seemed like a good time to make a break from a job I wasn't very happy in and seemed to be adding stress to my health condition.
As a type-A personality kind of person, quitting my career as a teacher without having a backup plan was a clear indication of how desperate I was to find healing…and the meaning of (my) life, while I was at it.
Joining a CSA
That first summer of transitioning to a life together, Mr. TAF and I joined a CSA (Community Supported Agriculture), because I had been reading about local food and how beneficial it was for your health and the environment.
We worked in the fields, picking beans and curing onions with the farmer or other CSA members.
Neither Mr. TAF nor I had ever participated in growing our own food before, and we experienced a feeling of great overwhelm when we brought home massive amounts of vegetables that we'd never heard of.
We discovered that up until this point in our lives, we hadn't been eating real food.
A CSA is a bachelor's degree in home culinary school: how to cook fresh meals and use all of the (known and unknown) vegetables you bring home each week.
This is absolutely my first recommendation for anyone who might want to try the suburban homesteading thing: join a CSA first. Learn how to manage large amounts of produce.
You need to be able to have some mastery over this before starting a garden, and the tutelage from the CSA farmer is a bargain education toward your future garden management.
Over the next two years we joined the CSA's administrative team and learned the ins and outs of managing an agricultural operation, from planting schedules to budgets to managing membership. We made some great friends.
I didn't have a new teaching job lined up when I moved; I just decided to take a year off, do something else part-time, heal myself, and figure out what made me happy.
Mr. TAF and I looked at the budget and figured out how to make it work. While I was "figuring out what made me happy" I decided to take some gardening classes at the Civic Garden Center of Greater Cincinnati, inspired by my work on the CSA farm.
Would you like to grow more food with less effort? Check out my mini guide, The Permaculture Inspired Vegetable Garden.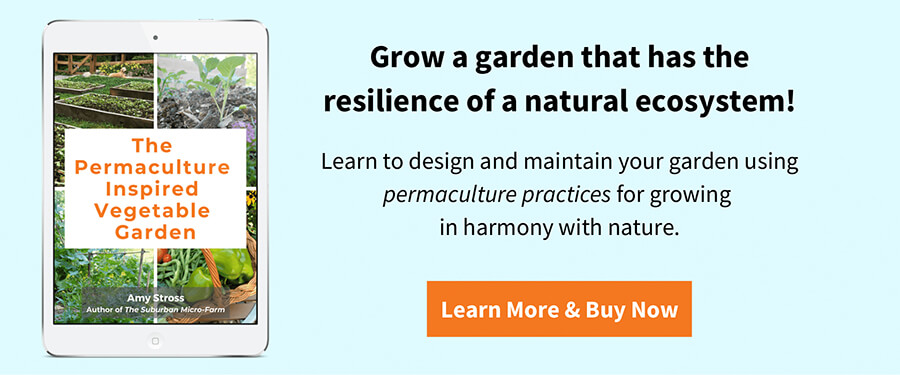 Returning to the Land of Learning
I didn't know a thing about gardening, but I knew that I was tired of living on a bell schedule at the school, and being outside with my hands in the dirt sounded like good therapy. A gardening position called out to me from a community bulletin board, working for an all-women company and a horticulture expert.
I started learning a great deal about growing things.
Meanwhile we joined another CSA that was closer to home, learning more natural gardening tricks, learning more about what we like to eat and how to use it all in the kitchen, and making more great friends.
And then the flood gates were open. I became certified in permaculture design (more friends). I completed a Community Garden Development Training program (even more friends). I started a landshare project, in which I gardened someone else's property and gave them a portion of the harvest as payment. We started a community garden (definitely more friends).
I read gardening/ farming/ permaculture books of all kinds. With more confidence we began growing edibles and experimenting and designing our own little suburban homestead, all the while amassing a local support network of like-minded friends.
Our first homestead project was in 2008, installing rain barrels connected to a rain garden to catch the overflow. We took on bigger projects around the yard each year as we gained more experience, and continued to receive lots of produce from the CSA and learning how to cook it all.
By 2011 we were growing so much of our own food and putting so much time into our homestead and community garden project that we quit the CSA. I was starting to teach around the community what I was learning.
Would you like to learn more about creating a vibrant homestead garden that takes only 15 minutes a day to maintain?
You'll find loads of information just like this in my award-winning book, The Suburban Micro-Farm.

A tally of my life now:
All health problems are gone (or in remission) and I don't take any medication. I feel like I have power over my life, instead of feeling like life was dragging me along. Part of it was changing my situation and part of it was improving my diet so that I was eating actual nutrients. Nutrients = fuel. (Entertaining and life-changing read: The Paleo Solution)
I still get overwhelmed with the abundance of produce in the kitchen, but abundance of healthy food is a real gift in this world. It's available and accessible to almost every person I know through a CSA, farmers' market, or their own yard.
I'm a homesteader! After years of gardening or growing food in one way or another and generally not getting paid for it in money, I realize that although I didn't set out to be a homesteader, I am. I believe that we can find power, happiness, escape the debt cycle, and generally take responsibility for our impact on the earth through homesteading. Homesteading is not the same thing as being a housewife (husband). Homesteaders produce something of value and increase the home's self-reliance and efficiency. Hard to believe, but in the long run having one homesteader in the house actually saves money.
Homemaking is not something that stands in the way of our deeper fulfillment; it becomes the ground that feeds it."— Shannon Hayes, author of Radical Homemakers
Self-Responsibility Means More Effective Outreach
Homesteading wasn't a goal, but it didn't just happen. It came out of Mr. TAF and me taking one step at a time as we continue to build our life together and figure out how we could have a satisfying life and an impact on the world.
You know what we discovered?
That we had to take care of ourselves first before we could offer anything of value to others.
See my 7 tips for starting a homestead without being overwhelmed!
We healed our health by eating real food and educating ourselves at the same time by joining a CSA. And then we were able to live in a way that we think adds value to the world. Just living it attracts like minds and interested people.
When health and home are in order, your ability to affect change in the world becomes unstoppable.
What has your journey to homesteading been like? Did you begin by joining a CSA?
READ NEXT: