Swiss chard and sweet alyssum make a beautiful combination in the edible landscape. But this combination goes beyond "pretty". Sweet alyssum is a workhorse, helping to grow a more productive landscape with less work.
This page may contain affiliate links. Please read my disclosure for more info.
At Tenth Acre Farm, I enjoy combining an edible landscape with the science of permaculture design. The addition of sweet alyssum adds spice to a regular row of Swiss chard plants and provides both beauty and function.
Swiss Chard in Edible Landscaping
As a popular vegetable for the edible landscape, Swiss chard produces large leaves with bright, colorful stalks. But that's not the only reason it's popular.
In fact, this leafy green remains visually stunning all season long because it is heat- and drought-tolerant, and attracts few pests. Additionally, the cut-and-come-again nature of this plant allows the leaves to be harvested while the plant remains intact.
This, it can produce more leaves for continuous visual interest and harvest, all season long.
I love growing it in my edible front yard. There are many varieties, so choose the colors that you prefer, or rotate from year to year as I do. I've grown orange chard, red swiss chard, and even rainbow chard.
Tired of generic permaculture design advice that you can't apply to your specific goals? If so, check out my Permaculture Design Program and get the tools and support needed to create and implement your own permaculture design.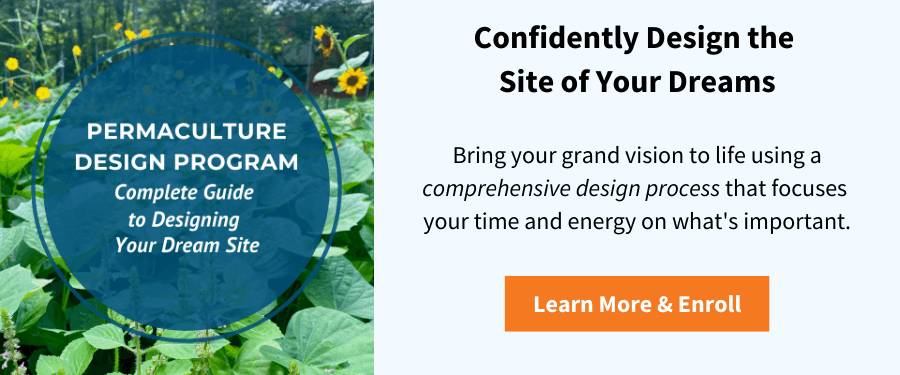 How to Eat Swiss Chard
Baby chard leaves are eaten in salads when they are the length of the index finger, while larger leaves are often used like spinach as a cooking green.
Chard is not only beautiful, but packs a powerful nutrient punch. The leaves are high in vitamins A and C, and are one of the best known food sources of vitamin K. Vitamin K is fat soluble, so don't skimp on the fat or oil, whether in cooked or raw recipes.
Sweet Alyssum in Edible Landscaping
The low-growing habit of sweet alyssum makes it a great border plant. It is an annual, but often self-sows. Although there are many colors of sweet alyssum, white sweet alyssum attracts the most beneficial insects.
Did you know the leaves and flowers of sweet alyssum are edible? They make a peppery addition to a fresh garden salad. However, I recommend only eating sweet alyssum if you grow it from seed yourself. That's because when grown at flower nurseries, it may be subjected to chemical fertilizers and pest control.
Also see my article 6 Flowers to Grow in the Vegetable Garden.
The Swiss Chard and Sweet Alyssum Combo
To grow this beautiful combination, plant Swiss chard seedlings 18 inches apart, with sweet alyssum plants centered in between them. This chard-alyssum combination works for three reasons: root partitioning, living mulch and pest control.
Root Partitioning
Root partitioning means the shape and growing habit of the roots of one plant do not compete with the roots of another plant. We can see root partitioning in a forest, where plants and trees are often growing closer than we might plant them in our garden, yet appear to be thriving.
In this case, the Swiss chard taproot can extend up to 6 feet deep, while sweet alyssum roots are shallow and fibrous. The roots of the two plants are active at different levels of the soil, and are therefore not in competition.
Plant roots go through natural die-off and regrowth cycles throughout the season, based on wet/dry cycles and each plant's flowering/fruiting schedule. This process adds organic matter to the soil, feeding beneficial soil organisms that work in tandem to keep the deeper roots of the chard plants moist and fertilized.
Sweet Alyssum as Living Mulch
Sweet alyssum used among the chard plants in this way is called a living mulch. It shades the soil, keeping it moist, which supports the beneficial soil organisms. What's more, sweet alyssum also provides above-ground habitat for beneficial insects.
Living mulch also cuts down on weeding. Win!
Pest Control
Slugs and flea beetles are a few pests that often attack the Swiss chard plant.
Ground beetles and fireflies are the best garden allies that hunt for slugs. Fortunately, sweet alyssum provides the undisturbed habitat and nectar that attracts these beneficial predators.
In addition, to combat flea beetles, you will want to attract—among other beneficial insects—braconid wasps, which happen to be attracted to (you guessed it) the pollen and nectar of sweet alyssum flowers.
As you can see, mini combinations like Swiss chard and sweet alyssum reduce garden maintenance by increasing biodiversity, all while creating a beautiful, edible landscape.
Have you used plant combinations like this one in your edible landscape?
READ NEXT: