Modern homesteading is the act of transforming a household from a unit of consumption to a unit of production. Here are 5 reasons why homesteaders in the suburbs are making the switch and how they're doing it.
This page may contain affiliate links. Please read my disclosure for more info.
Homesteaders seek to become more self-reliant by producing some of their household needs. It's a transformation that can be done anywhere—city apartment, country farm, suburban home.
Through the homesteading lifestyle of producing rather than consuming, you can save money. As a bonus, help make your community a better place!
The following are the top 5 reasons why we, here at Tenth Acre Farm, became suburban homesteaders.
1: Getting out of Debt

According to Debt.org, the national average debt per household is ~$135,000. Keeping up with the Joneses is the dogma of suburbia, which results in consumerism and debt accumulation.
Americans do a lot of complaining about government and destruction of the economy. It turns out that—rather than complaining—we can affect more change by walking away from the treadmill of consumerism and building a productive and healthy life. A homesteading lifestyle is a productive one.
When you realize the hold that impulse buying, material desires, and instant gratification have on you, you can make different choices. Choice is power.
We here at TAF were caught on the debt treadmill at one time, but we found Dave Ramsey, worked hard over several years to get out of debt, and have been able to change the trajectory of our family tree!
2: Making the Lawn Good for Something
According to Food Not Lawns and this article in the Huffington Post, the largest irrigated crop in U.S. is LAWN.
This is an embarrassing fact about our nation. People around the world would kill to have the little slices of lawn that we perceive to be only for play or ornamentation.
Luckily, we suburbanites have an opportunity to redeem ourselves!
According to the U.S. EPA, less than 1% of the American population is farming, and with an average age of 57, many farmers will be retiring within the next 10 years. This doesn't bode well for national food security.
Enter the suburbs: Use that asset (lawn) to produce something of value (food)!
The culture of American farming will change within my lifetime, as smaller gardens and farms begin to produce more and more of our nation's food.
Would you like to grow more food with less effort? Check out my mini guide, The Permaculture Inspired Vegetable Garden.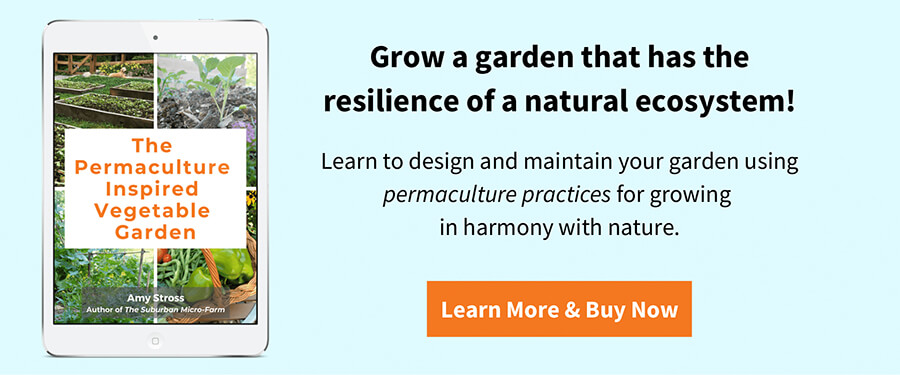 3: Using Important Stuff Efficiently
According to this study by the University of London, one acre of suburban yard has been shown to be THREE TIMES more productive than one acre of farmland, since it can more easily be managed by its occupants. The food is sure to be fresher and healthier, as well.
If we can produce more food in yards than we can with farmland, then as a nation we can reduce shipping costs and plastic use, and reforest a lot of land.
4: Increasing Regional Food Security
According to The Ohio State University, an American city could produce 100% of its own produce, using existing vacant lots, flat rooftops, and just 9% of each residential yard.
If that's true for an urban environment, just think how the suburbs (with all that lawn) could rock it!
5: Rebuilding Community
According to the book Superbia!, 16% of the American population moves every year. Suburbanites have become transient while chasing the American dream. Moving is expensive (debt) and community relationships are degrading as people no longer know their neighbors. Growing food in your yard and generally being outside rather than glued to a tv set, helps neighbors meet one another and create connections.
Have you seen positive effects in your suburb due to activity by homesteaders and gardeners?
READ NEXT: