Modern agriculture is often seen as being at odds with biodiversity efforts. Here's how kitchen gardens can save forests as well as protect biodiversity.
This page may contain affiliate links. Please read my disclosure for more info.
First, let's take a look at modern agriculture's effect on global ecology. Then we'll look at how kitchen gardens can not only lighten our ecological footprint, but regenerate biodiversity, too.
Agriculture is No Buena (not good) for the Environment
It is widely accepted that agriculture is the world's leading cause of deforestation and ecosystem destruction, along with human activities such as logging and road development, which allow humans to settle in areas that were previously "wild".
By and large, we accept these deforestation activities as inevitable. We mourn the loss of the plants, animals, and insects that are displaced or become extinct. There are likely many now-gone species we never got to "discover" or realize their contribution to the ecosystem.
Forests are the lungs of the earth. They produce oxygen, and regulate climate and water cycles. We can be conscientious of which products we buy that might contribute to the loss of forest cover. We can also pay attention to the foods we buy and reduce those produced by industrial Agriculture that might be contributing to soil erosion.
Depressed yet? Me, too, which is why I wrote this article! There is a diamond in this rough, I promise!
Movin' On Up to the City
Not long ago in human history, we relied on our local ecosystems for food (and water, shelter, clothing, etc). Over time, we moved to the city, which transformed most of us into consumers of products shipped in from who-knows-where.
When we actually get around to buying food products like fruits, vegetables, grains, dairy, eggs, and meat (when we're not super-busy and ordering carryout), you can bet that most of these items were produced by industrial Agriculture.
Would you like to yield delicious harvests while partnering with nature? Check out my mini guide, The Permaculture Inspired Vegetable Garden.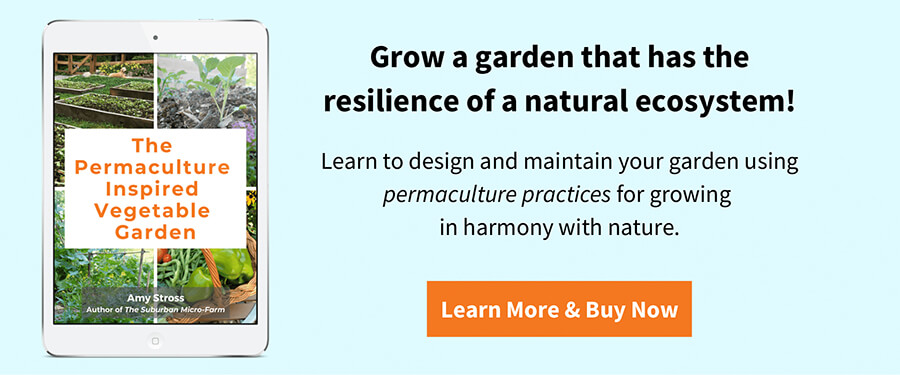 There's Agriculture and Then There's Growing Food
Agriculture (with a capital "A") is the primary villain in this story of forest destruction, so let's take a look. Modern industrial Agriculture has a single goal: Produce the most stuff at the lowest cost for the quickest rate of return. This seems like a sound business strategy. If we were producing a product in a factory, we could switch on that conveyor belt at a higher speed and really pump out some extra goods.
Except with agriculture, the product isn't being made in a factory. We rely on real, live animals (in the case of concentrated livestock operations), sun, rain, soil health, real live farm workers, and more. There are a lot of variables when it comes to growing things. The more industrial Agriculture can treat each of those variables like constants, the better off the bottom line is.
In this scenario, soil isn't treated like the living, breathing organism that it is. Rather, it's treated like dirt—a dispensary of synthetic nutrients. Farm workers are stripped of rights and work in worsening conditions for less and less pay. The goal is always to improve the bottom line for those at the top. These are just a few examples of the impact of Agriculture.
As the land becomes stripped of soil health, it produces less, and more land is needed to grow the same amount of "product", leading to more deforestation. That product—whether it's organic carrots or conventional tomatoes—will be less nutrient dense over time as the soil is overworked and stripped of its nutrients.
There's more to this Big Ag story, but since this is all so depressing, I'm going to skip right to the exciting part—the part where you and I swoop in with capes on and save the planet by growing food outside of the industrial model. (Hold the vision!)
Kitchen Gardeners: Fasten your Capes
Kitchen gardens (and their owners) have the power to save the forests, affect land use issues on a large scale, and regenerate lost biodiversity. It may sound like a stretch, but the power is in the number of people who follow the upward trend of growing food right outside their door. Let's take a look at this exciting opportunity before us!
Are You Growing the Largest Irrigated Crop?
Did you know that the largest irrigated crop in the United States can be found in the suburbs? Yeah, according to Food Not Lawns and this article by NASA, the largest irrigated crop in the U.S. is LAWN. Although a bit of lawn is nice for decorative purposes and for play, the majority of it is wasted space (sometimes, chemical laden space) that could actually produce a lot of (organic) fruits and vegetables—food crops that could be intermingled with plants that support biodiversity.
Yeah, but how much food could a little slice of lawn actually produce?
According to a study by the University of London, England, one acre of backyard garden can produce THREE TIMES more food than one acre of farmland. How is that possible? Well, as gardeners, we can sometimes feel overwhelmed with our kitchen garden plots, can't we? Now think about that industrial farmer, with hundreds, or even thousands, of acres. Talk about overwhelmed.
None of those farmland acres can be lovingly tended to. One acre can't be given special care when its needs are different from the other acres in the mega-bunch. As a kitchen gardener, rather, you can tailor your activities to match the needs of your little space. In return, your garden will show its gratitude by producing a bountiful harvest.
Need more proof that growing your own food can outpace industrial Agriculture?
Tired of generic permaculture design advice that you can't apply to your specific goals? If so, check out my Permaculture Design Program and get the tools and support needed to create and implement your own permaculture design.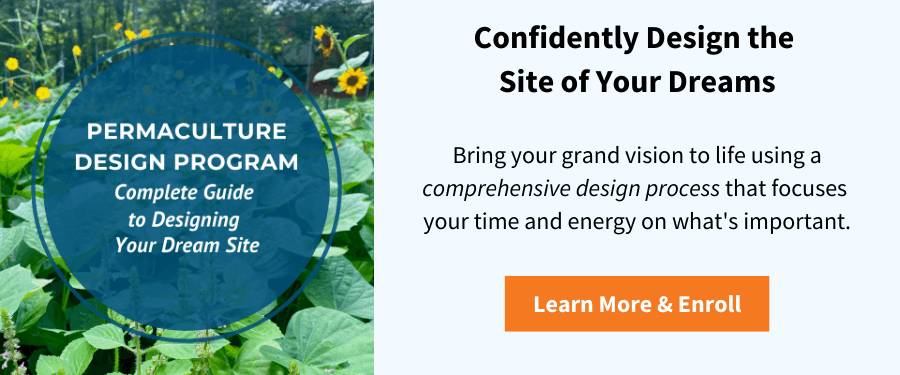 Don't Worry, the Cities Have You Covered (in the Future)
The Ohio State University's Agricultural Research and Development Center was curious as to whether the buzz about urban agriculture was worth all of the effort. Researchers wondered: Can cities produce enough of their own food to warrant more funding for urban agriculture projects? If so, questions of food security would be answered. (The majority of U.S. farmers will be retiring within the next 10 years.) If cities could become more self reliant, it would be good for the economy.
The study looked at the city of Cleveland, Ohio. They discovered that Cleveland could produce almost 100% of its own fruits, vegetables, eggs, and honey by using existing vacant lots, flat industrial and commercial rooftops, and 9% of each residential yard.
(For scale, 9% of one acre equates to an area about 60 x 60-feet.)
Okay, but what does all this have to do with deforestation?
I'm glad you asked!
Grow a Kitchen Garden and Save the Forest
Producing our own produce, eggs, and honey in the residential areas where we live (half of all Americans now live in the suburbs according to the U.S. Census Bureau) would mean that the way we use rural and wild lands could change.
Instead of needing to provide for ALL of our city-slicker needs, farms on the periphery of cities could grow staple crops—like grains, forage crops, and livestock—that are more suitable for non-residential areas. They could easily be grown using humane practices that regenerate ecosystems.
Perennial food forest systems like those found in some of my favorite cutting-edge books like Restoration Agriculture, Edible Forest Gardens, and Farming the Woods, would help to transform Agriculture from a destructive practice to one that reforests farmland and regenerates ecosystems and wildlife habitat. See: Create a Food Forest for Low-Maintenance, Edible Rewards
The work of cutting-edge organizations like the Savory Institute and The Land Institute have already collected enough data to make agriculture profitable without stripping ecosystems.
In summary, when we shift food production to residential spaces using ecologically friendly methods, we are less dependent on rural and wild lands to meet our needs. We've lifted the dependency that tends to warrant abuse of rural land, and we've done so while making our own living spaces more biodiverse.
More of our existing forests could remain forested.
For Soil Health, Play the Long Game
Rural farmland could be holistically managed to produce higher quality products while restoring fertility and biodiversity. This philosophy plays the long game. Rather than strip the land of fertility for short term gain like industrial Agriculture, we get to treat the land well so that it can produce into the future.
Another benefit of the kitchen garden strategy is that it would allow for enough contiguous forestland for native endangered predatory animals to have the requisite space to once again roam the land and contribute to a healthy and balanced ecosystem.
Fasten your cape and start a kitchen garden today!
Do you think kitchen gardens can affect the trajectory of our wild places?
READ NEXT: