The Permaculture Yard Class was an opportunity to take a guided tour of our micro-farm and learn about the ways in which we used permaculture design to improve efficiency and yield. In this post, we'll review the day in pictures.
This page may contain affiliate links. Please read my disclosure for more info.
The Permaculture Yard Class was sponsored by the Civic Garden Center of Greater Cincinnati. We received a lot of our gardening education at the Civic Garden Center in our early years on the homestead. Because of that, we were happy to give back by hosting this class.
It was a hot, sunny day (the rain skipped over us!) and a packed house. Everyone was eager to learn and excited to envision how to use the tools we shared on their own suburban homesteads.
From our perspective, it was a really fun day! There were lots of good questions that enhanced the discussions.
Tired of generic permaculture design advice that you can't apply to your specific goals? If so, check out my Permaculture Design Program and get the tools and support needed to create and implement your own permaculture design.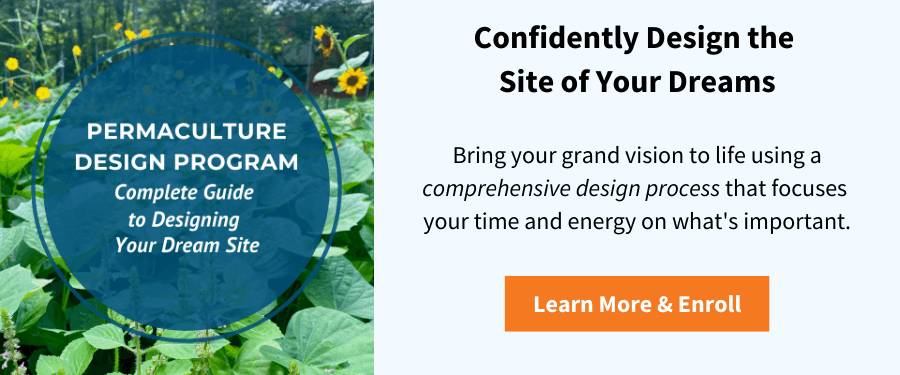 In-Person Learning at The Permaculture Yard Class
Which brings me to an important point. You can read all the books about permaculture you want, but learning how to use all the tools in the permaculture toolbox appropriately and in the right combination (the science) only comes with in-person training.
Design is more than the sum of a list of plants. We cannot emphasize enough how important it is to do your own textbook research, but always seek out tours, classes, and workshops in your own community to enrich your textbook learning and create an efficient, low-work homestead.
Plus, it's way more fun to learn in a group!
And now, for some pictures. Thanks to Ken Stigler for these beautiful professional pics!
All in all, it was a great day. We loved meeting like-minded folks and exchanging questions and ideas.
Resources
Check out my favorite books, tools, supplies, and more for growing a permaculture garden along with the following permaculture videos:
Have you taken an in-person permaculture class, tour, or workshop? What was your experience?
READ NEXT: