Looking for a permaculture design course? There are plenty to choose from—here's how to find the right permaculture course to meet your needs.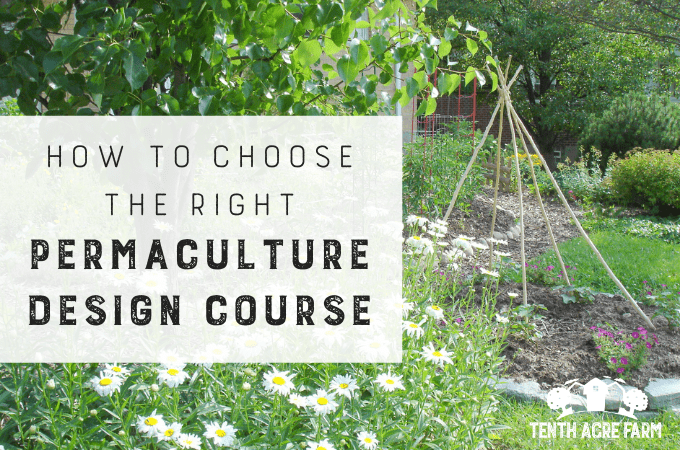 This page may contain affiliate links. Please read my disclosure for more info.
My First Permaculture Design Course
When I first began hearing about permaculture in the early 2000s, it was barely a whisper in the wind. There wasn't much of a permaculture presence online so I didn't know a whole lot about it. Nonetheless, something told me I needed to check it out.
When I stumbled across a permaculture design certification course (PDC) being taught in my city, I signed up.
Hind Sight is Always 20/20!
I should have compared the class I was about to take to other PDCs offered around the country.
I also should have looked at the teacher bios to see if the teaching style of the instructors would resonate with me. After all, 72 hours (the instruction time required to receive the certificate) is a long time!
I should have looked to see if the instructors would frame the information in a way that was relevant to my life, interests, and needs.
Fortunately, my local PDC had incredible value for me and I met some wonderful people who have been supportive of me and my journey. We're still friends, over ten years later!
The goal of the PDC is to give you an overview of permaculture design and enough confidence to take action and continue learning. However, there are rumors of instructors who fail to meet this goal, either through lack of experience or lack of planning.
Nowadays, we're more easily able to use the internet to connect to people and courses both locally and afar, to hopefully find an educational experience that meets our needs. Taking an in-person course locally is a great idea. There really is no substitute!
To learn more about permaculture, see my article What is Permaculture? Designing a Resilient Garden OR browse my other articles on permaculture.
6 Questions to Ask Before Choosing a Permaculture Design Course
If you're interested in taking a standard, 72-hour permaculture design certification course, there are many options.
The following is a series of questions to ask yourself when searching for a course. These questions will help you define your goals and interests surrounding permaculture so you find an appropriate course for you. They might also help you save time and money.
1: Why do you want to learn permaculture?
There are a lot of prominent permaculture teachers and "gurus" out there who would be excellent to learn from, but don't let star status get in the way of picking a permaculture design course that meets your needs.
Unless you have all the time and money you need—then by all means take all kinds of courses and learn from many different teachers! 🙂
For the rest of us, we need to make sure we're spending our time and money wisely, learning what will be most relevant to propel us further with our goals.
Which leads me to the next consideration: Be specific about your goals.
Want to grow fruits, vegetables, and herbs in your front yard landscape without sacrificing curb appeal? Check out my ebook, The Permaculture Inspired Edible Landscape.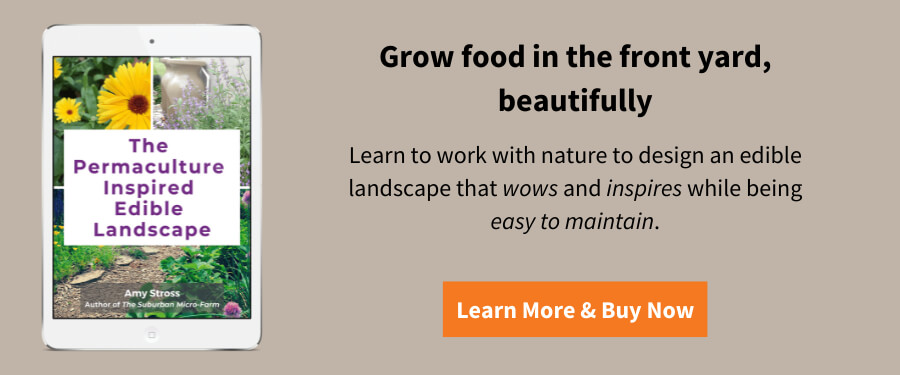 2: Do you have specific needs or interests?
If your goal is to develop a specific site, define whether it is a large-scale, rural property or a small-scale, more urban or suburban property. Many permaculture design courses nowadays focus heavily on a niche category.
Next, consider what the climate is like on your site. A course taught in the desert might be interesting, but don't expect the lessons to be completely relevant to your temperate climate.
Although a PDC covers skills that should be relevant across many types of scenarios, you'll likely have hands-on work projects in the course. Wouldn't it be nice if that work correlates with your own site's climate and conditions?
Likewise, if international non-profit work is your interest, look for a course that covers a wide range of climates, and even perhaps a teacher who focuses on this kind of work.
3: Do you want to learn by-the-book permaculture or a specific permaculture technique?
The permaculture design certificate (PDC) is a specific 72-hour course. The standardized content of a PDC teaches you how to apply the permaculture design process, ethics, principles, techniques, and strategies to any situation, climate, site, etc.
For example, is a circle garden design appropriate for my new garden area, or is a contour garden a better choice? The PDC is where to start to learn how to design a site as a whole system and select appropriate techniques and strategies.
Many people start with a PDC, but in my opinion, a certification isn't always necessary, especially if you're not planning on practicing permaculture as a professional.
Of course, you'll have a better understanding of the concepts and principles by taking an official PDC, but you might also be able to learn some of the basics by taking an introductory class.
Again, it depends on what your goals are.
Once you have a solid foundation of permaculture principles, you may be more interested in a course that hones in on specific permaculture techniques or areas of study, such as water management, food forestry, plant guilds, etc.
4: Do the permaculture "extras" interest you?
Permaculture is a design approach for growing food efficiently with ecological integrity, with a focus on the ethics of earth care, people care, and sharing the surplus.
Sometimes the waters get muddied when permaculture instructors dig deeper into socio-political, spiritual, or dietary conversations and apply permaculture ethics to them based on their own perspectives in life.
This can be instructive if you have an open mind and want to learn how to apply the permaculture design process as a whole systems design. Indeed, it can be applied to all aspects of modern civilization in positive ways.
However, if these "extras" don't interest you, you'll want to sift through permaculture design course descriptions and instructor bios to know if these extras are a focus in the course.
5: Find the Right Instructor(s)
Have you ever had a teacher you loved but when you mentioned how much you liked her to your friends they were like, 'I can't stand Ms. So-and-So!'
We all like different types of teachers. Some teachers are dynamic, funny, personable, and engaging. They go on long tangents with stories that may or may not be on topic. Other types of teachers are no-nonsense, factual, well-researched, and to the point with information.
Whichever style resonates with you, the instructor(s) should be able to communicate clearly and passionately. Their bio, portfolio, and/or testimonials should demonstrate that this is the case.
Seek out those who resonate with you.
You'll find an introduction to permaculture plus step-by-step instructions for many permaculture techniques in my award-winning book, The Suburban Micro-Farm.

6: In-person Permaculture Design Course or Independent Study?
I can say without hesitation that an in-person permaculture design course is the most valuable commitment you can make to learning about permaculture. There simply isn't a replacement for direct interaction with human beings and professional teachers.
Search online for in-person/local and online permaculture design courses to find opportunities. However, if you don't have time for a big commitment, then self-paced, online courses have really upped their game.
Or, try the 4-DVD set, Permaculture Skills: A Cold-climate, Applied Permaculture Design Course.
One of my favorite books for beginning independent study is: Gaia's Garden: A Guide to Home-Scale Permaculture.
Kick your Learning into High Gear
After my PDC, I went on to practice permaculture in my own front yard and at my community garden before I began teaching and consulting. It is only through project-based experience that I have the confidence to write the words on this page.
You can read all the books in the world, but official courses—whether in-person or online—will give you the confidence to design appropriately and learn from the results.
Summary
When searching for the right permaculture design course, be clear about what your goals are, and whether a particular course/instructor will meet your needs. Independent study gets you started, but in-person classes and project-based learning help you soar.
Have you taken a permaculture design course? How did you select the program?
READ NEXT: