August is when the mega-harvests come in. In this article, we'll look at how to manage all of the produce flooding the kitchen while also maintaining the garden.
This page may contain affiliate links. Please read my disclosure for more info.
In the July garden, we made sure that the last of the summer crops were in and many crops were seeded for fall.
This month, we will continue to harvest and preserve crops, while starting seeds indoors, sowing seeds outside, and maintaining active gardens.
Need more tips? Check out my Year-Round Gardening Calendar.
Following are some ideas for how to prioritize your activities in the August garden. These tasks are based on my gardening in USDA hardiness zone 6b. You may need to make adjustments for your climate.
1. August Harvest
I always prioritize harvesting over all other garden tasks. After all, I've already done the hard work to get these crops to harvest, now it's time to reap what I sowed.
Harvesting Cool Weather Crops in August
Beets (Don't forget to harvest and use the greens!)
Brassicas:

Brussels sprouts
Cabbage
Cauliflower
Collards
Kale
Kohlrabi
Radishes
Turnips (Greens are super tasty, too)

Carrots
Celery
Garlic (Learn when to harvest and how to store garlic)
Lettuce
Onions (Cure for 2 weeks before storing)
Potatoes (Also cure for 2 weeks before storing)
Peas
Spinach
Swiss chard
Harvesting Warm Weather Crops in August
Grow a garden that's both productive and manageable with my Complete Garden Planning System, which includes practical tools for planning your season from seed to harvest.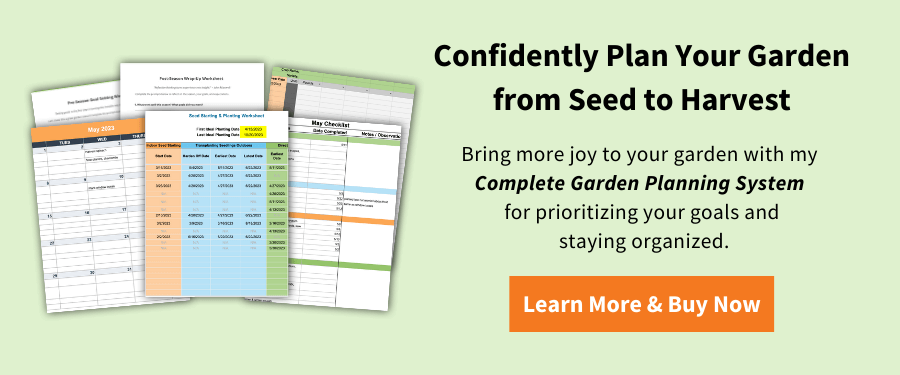 Harvesting Herbs in August
Harvesting Perennial Crops in August
2. August Garden Planning
August can be a bit hectic in the garden, between harvesting, preserving, and planting my fall garden. Here are the planning tasks that help me stay organized. Don't forget I'm gardening in USDA hardiness zone 6b – you may need to make adjustments for your climate.
Starting Seeds Under Grow Lights
Need help? Check out my guide to starting seeds indoors. If you need to purchase seed starting materials, my Amazon shop includes my recommendations.
Sowing Seeds Outside
Following is the list of fall crops you can sow in August.
Beet family crops:
Bush beans (I like the Blue Lake variety)
Cabbage family crops:

Broccoli
Cabbage
Collards
Kale
Kohlrabi (Purple kohlrabi looks great in an edible landscape!)
Radish
Turnip (Try the purple top white globe turnips for fall growing)

Carrots (Here are my tips for growing carrots year-round)
Herbs
Lettuce (Sow in a bed reserved for a fall cold frame)
Peas (Try sugar snaps)
Planting Outside
It's time to transplant fall crops into the garden. If you didn't start your own, check your local garden store or farmer's market for seedlings.
3. August Garden Maintenance
Get the garden in good shape before trying to start or sow more!
Watering & Weeding
Proper watering can make all the difference in your August garden. If you want to learn more check out How to Grow More Vegetables – it's chock-full of useful information, including lots of details about watering.
Don't let the August weeds drive you crazy! Here are five weeds to celebrate.
Mulching
Seed Saving
While there is a lot to do in August, focus on taking one step at a time. By harvesting first, you'll ensure that you get a yield for your efforts before maintaining the garden or planting for fall.
What fruit or vegetable is yielding the most for you these days?
READ NEXT: