Contour gardening is a way to use the land's contours to reduce irrigation and erosion, and maximize nutrients for abundant harvest yields. It's a popular tool in permaculture gardens. Here's what contour gardening is and how you can pull it off.
This page may contain affiliate links. Please read my disclosure for more info.
The Roots of Contour Gardening: Contour Farming
As long as agriculture has been around, farming flat land has been the ideal landscape.
Gravity, after all, can turn a lovely hillside into a grueling challenge. As population densities increase around the world, however, global agriculture is being pushed from the flat prairie lands to less-than-ideal, sloping terrain.
Unfortunately, growing practices like tilling—which were appropriate on flat lands—have been transferred to the slopes. An inappropriate use of farming techniques the world over has caused an increase in soil erosion and an astounding loss of soil fertility.
Contour farming is a cultivation technique that, when used on gently sloping lands, can mitigate erosion and maximize the absorption of rain and nutrients before they rush down the slope.
For this technique, crops are planted across a slope following the natural elevation contour lines, rather than up and down the hill. When planted along the natural curve of the land, gullies and soil erosion are reduced.
In this way, water and nutrients can more easily infiltrate the soil, minimizing irrigation and fertilization needs. This technique of farming the contour lines can be used for both annual and perennial crops.
For gardeners with less-than-ideal areas, the idea of contour farming has been adapted to the backyard scale. Enter contour gardening.
Let's take a look at how contour gardening can be used on a small scale.
Using the Land's Topography in the Home Garden
Garden berms built along the contour can hold vegetables, perennial fruits, or other crops. Try lining them with a stone or rock border, which looks attractive while reducing erosion and retaining moisture.
You might consider digging swale trenches in the pathways for even more water retention, depending upon the degree of the slope.
For areas that collect water, a raised planting berm along the contour offers an elevated gardening solution for plants that don't do well in waterlogged soil. See: 12 perennial crops for wet soil.
Contour gardens create microclimates of sun and shade, creating diverse growing areas, and improving soil ecology and rainwater infiltration.
Read more about raised beds:
Would you like to grow food in your front yard without sacrificing curb appeal? Check out my mini guide, The Permaculture Inspired Edible Landscape.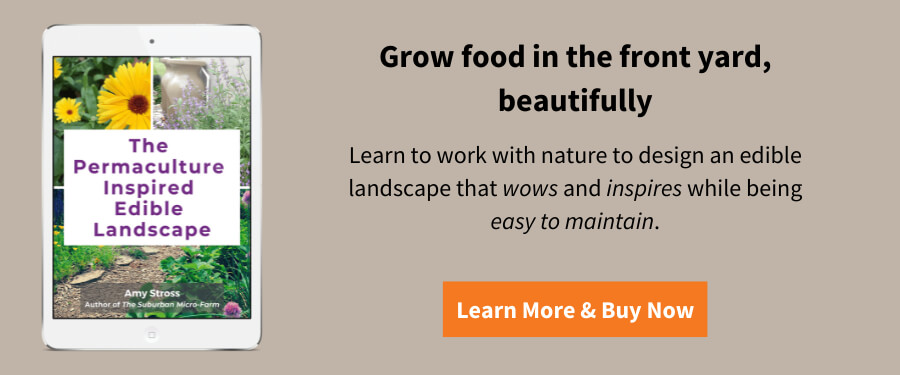 How to Create a Contour Garden in 4 Steps
1: Mark the elevation contour lines.
First, mark the elevation contour lines in the area where you intend to place your garden. Stakes or flags are handy for this.
I always keep a stock of them on hand!
An A-frame level is a simple, handmade tool that can help you identify elevation contour lines.
To see what an A-frame level looks like and how to use it, see the video in my article How to Construct a Swale.
2: Build a raised bed or outline a berm along the contour line.
Construct raised beds along a contour line at your desired length and width. Alternatively, outline the desired space for a raised planting berm with stakes or flags.
3: Sheet mulch the proposed garden area.
Before filling the raised bed or planting berm with soil, use a digging fork to aerate the existing soil. Then cover the existing ground inside the planting area with cardboard. Overlap the ends so that weeds can't find any openings.
Now, fill the raised bed or form the berm with compost soil.
You may have to import some soil to have enough, but to reduce costs you can layer purchased organic soil with other organic materials such as aged manure, worm castings (make your own worm bin), shredded and aged leaf mulch, and/or composted wood chips.
Unfortunately, both compost and manure can be contaminated with herbicide, which can damage crops and poison soil.
Learn how to:
Here are more tips for starting a garden on a budget.
Know the source of your compost and other organic materials to avoid herbicides, pesticides, and pharmaceuticals that persist in garden soil.
4: Fine-tune the garden on a slope.
If you've created a berm, line it with stones or rocks if desired. Let the new beds rest for at least two weeks before planting; three months is ideal. During this resting time, expect the soil to settle, so retain extra soil to add to the beds before planting.
For this reason, building a contour garden in the fall is a good strategy to have garden beds ready for spring.
Now you're ready to plant! This will be an excellent growing area for both perennials and annuals alike.
Contour gardens reduce irrigation time, mitigate erosion, and retain nutrients on site for a highly productive and efficient garden.
Other Resources:
Have you used the contour of your land to your advantage?
READ NEXT: