Mulching is an essential component of an ecologically rich permaculture garden. Here are five types of mulch, as well as when and how to apply them.
This page may contain affiliate links. Please read my disclosure for more info.
What is Mulch?
Mulch is a biodegradable layer of organic material added to the top of soil in a garden or landscaping. In the permaculture garden, it mimics a forest floor that is covered with a protective layer of leaf litter.
In nature, bare soil equals damaged soil.
Is Mulching just an Extra Task?
It's easy to wonder if mulching is worth the effort. After all, many gardeners are strapped for time and barely find time to plant and harvest, let alone keep everything weeded.
While it may seem like an extra task on the to-do list, mulch can create a healthier ecosystem and reduce the amount of time you need to spend on other activities like weeding, watering, fertilizing, and controlling pests.
Let's look at some of the benefits of mulching, as well as the best types of materials to use, and when to use them.
The Benefits of Mulch
There are many positive returns for your mulching efforts. They include:
In a permaculture garden, a gardener grows food in harmony with the local ecosystem. Permaculture is also a design system that seeks out multifunctional efforts: those that provide many benefits with a single effort.
As you can see, mulching certainly provides many benefits with a single effort!
How to Use Mulch Relative to Your Climate
Although mulching can be very beneficial, how you do it depends greatly on your climate and the season at hand. This activity will be different for everyone.
For example, gardeners in hot/dry climates should rely on a thick layer of mulch to retain moisture and provide protection from the hot sun.
Meanwhile, gardeners in cool/wet climates should use a thin layer of mulch to protect the soil from washing away in heavy rains, while still allowing excess moisture to evaporate. In fact, fungal issues can result from mulching too thickly in this climate. It can also attract slugs and snails.
So it's important to be intentional about mulching for a specific reason, including adapting to changing seasons.
In my climate, I experience cool/wet springs followed by hot/dry summers and freezing winters. Therefore, I mulch my garden beds with a light layer in the spring, adding deeper layers summer through winter.
Mulch is a crucial component of the no-till garden, where a healthy, living soil ecology is the primary focus.
Would you like to yield delicious harvests while partnering with nature? Check out my mini guide, The Permaculture Inspired Vegetable Garden.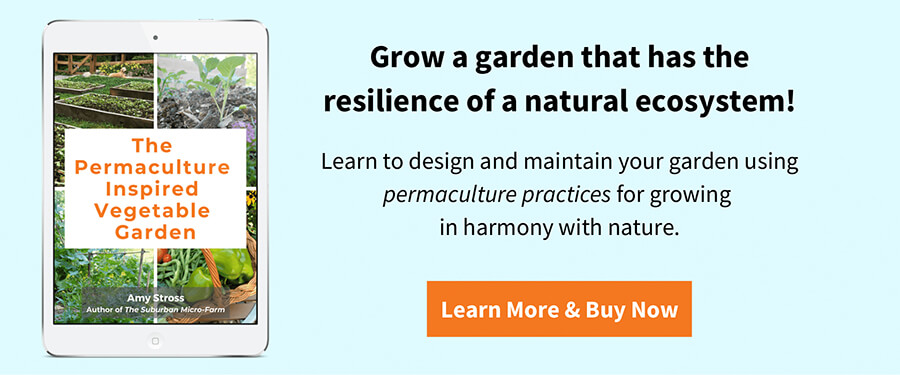 5 Types of Mulch and Their Uses
Let's get into reviewing the different types of mulch and how they can be useful in a permaculture garden, in which we seek out natural ways to provide many benefits at once.
With that in mind, I like to focus on using plants and free materials as mulch.
However, you might be surprised to learn that many of the free materials typically promoted as beneficial for the garden can actually be quite detrimental. Keep reading to learn about how to select safe materials for mulching naturally.
1: Living Mulch
Living plants—either annual or perennial—planted underneath a primary crop can help to suppress weeds, retain moisture, reduce soil erosion, and create habitat for beneficial insects.
Because their roots are intact, they also provide food and habitat for beneficial soil organisms.
In the vegetable garden, seek out annual plants to use as living mulch. Meanwhile, use perennial plants as living mulch under edible perennial crops such as fruit trees.
For example, I wouldn't grow comfrey, a perennial herb, in my vegetable garden. That's because the soil in a vegetable garden is disturbed quite often for planting and maintenance, which isn't a good environment for the roots of perennial plants.
A Few Examples of Living Mulches
Annual Mulches for the Vegetable Garden:
Learn more about growing annual flowers in the vegetable garden.
Perennial Mulches for Perennial Crops:
Can a living mulch smother the primary crop?
In short, yes, a living mulch can smother a crop if the mulch isn't used appropriately.
Above, we learned that mulch should be used differently in different situations regarding climate and seasons. Therefore, it's important to adapt the living mulch appropriately to the conditions at hand.
For example, when planting a living mulch in a hot/dry climate (in full sun), where you would normally use a deep layer of mulch, plant a compact living mulch to fully protect the soil.
Meanwhile, in a cool/wet climate (or in shade), plant a living mulch with a bit of space between the plants to allow excess moisture to escape and to allow each plant to spread out and access more sunshine.
Although many wildflowers have adapted to thrive when growing in competition with one another in a prairie, annual vegetables have typically not adapted to such conditions.
When in doubt, use fewer living mulch plants in the vegetable garden, and seek out those companions that don't shade out the crop in question.
Another consideration is the root structure of the living plant and adjacent vegetable crop. Different plants have different root structures; some are shallow and fibrous, while others are narrow and deep. When the roots of the adjacent plant are a different type, the two are typically more compatible because they don't compete for nutrients.
One of my favorite living mulch + vegetable combinations is Swiss chard and sweet alyssum. I discovered that the root structures of these companion plants are quite different (one deep and taprooted, the other shallow and fibrous), so they don't compete against one another for nutrients. Rather, they benefit one another.
I also like to plant comfrey under my fruit trees, with the same effect. Deep-rooted comfrey plants get along well with shallow-rooted fruit trees.
Experiment to find your favorite combinations that work best for the conditions of your garden.
2: Green Mulch
Green mulch is the use of fresh, green plant matter to smother weeds and provide a nutrient boost (fertilizer) to crops.
This type is can also be called "chop-and-drop" mulch because the green plants are often grown right where you intend to use the green mulch. Mulching in place reduces labor by reducing the need to haul in wheelbarrows full of organic material.
So for example, you can chop back living mulches regularly throughout the season and drop them right on the soil. You might do this to keep them short so that they continue to anchor and protect the soil while preventing them from shading out the main crop. This action can also keep them from setting seed, if that is undesired.
Common Green Mulches
In addition to the living mulches described above, the following are a few additional plants that make great green mulch.
Did you notice that many of these plants are considered to be weeds? You might wonder why I've listed common weeds such as chickweed, dandelion, and plantain as good mulches!
Weeds can actually help to heal and enrich damaged soil because they're fast-growing, anchor a lot of roots in the soil to jumpstart the soil ecology, and provide a lot of green plant matter to provide a nutrient boost.
Learn more about when weeds are good and 5 weeds you want in your garden (and more details about how to use them beneficially).
How to Use Green Mulch Plants
Cut green mulch plants at the base, leaving their roots intact to feed beneficial soil organisms. Chop the green matter roughly into 3-inch pieces, and lay the green mulch on top of the soil. Be sure it does not come into direct contact with surrounding garden crops.
For a more attractive look, green mulch can be topped with a layer of leaf mulch or woodchip mulch (see Magic Mulch Combo below).
Tired of generic permaculture design advice that you can't apply to your specific goals? If so, check out my Permaculture Design Program and get the tools and support needed to create and implement your own permaculture design.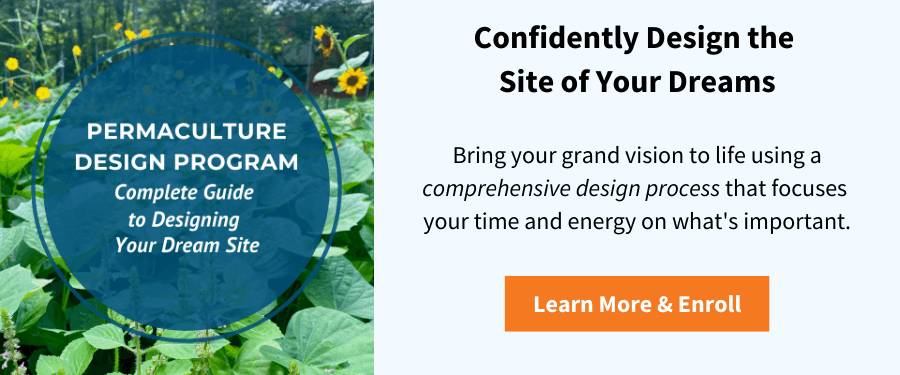 3: Leaf Mulch
Did you know that pound for pound, the leaves of most trees contain twice as many minerals as manure?" Fall leaves are both a valuable mulch and soil builder all in one!
Leaf mulch is an attractive top-dressing in the garden, and helps to retain moisture. I collect leaves from the lawn and shred them with the lawn mower or leaf mulcher, and pile them in wire bins for use throughout the year.
Leaf mold (leaves that have composted for 2-3 years) is an excellent soil conditioner.
Wood Chips
Wood chips can be delivered—often for free—from local tree services (giving the driver a tip may ensure more deliveries in your future!). Wood chips are a perfect mulch to use around perennials. They should never make contact with the stems or trunks of the plants.
Wood chips that have broken down for 2-3 years are a gold mine of a soil conditioner. Use them without caution in the vegetable garden, under fruit trees as an attractive top dressing, or in the 'Magic Mulch Combo' in place of leaves.
*Magic Mulch Combo*
A study at Michigan State University researched leaf mulch to see whether it contributed to weed suppression or fertilization. The researchers found that leaf mulch did not serve much value as a weed suppressor or fertilizer source by itself.
However, when coupled with a nitrogen source (green mulch), the weed suppression and fertilization levels went up. So I'm a proponent of composting in place just like you would in your compost bin, by layering the greens and the browns.
Though I use many types of green mulch around the garden, my favorite combo is using the abundant grass clippings from my neighbor.
I pile them thickly—about 1 to 2 inches—in the garden beds (but not touching the plants) and top with an equally thick layer of shredded leaves.
The gardens are happy, I've kept more organic material out of the waste stream, weeds are few, and it looks appealing with the leaf mulch on top. It also solved my problem of not having enough room in the compost bins to accommodate all of the grass clippings from the neighbors.
Herbicide Alert!
Be careful when using organic materials from outside sources! Of course, you probably don't spray your yard with herbicides, but your neighbors may. Grass clippings are one of the biggest contributors of herbicide contamination to the garden, which can damage crops and poison soil for many years.
Learn more about how to keep herbicides out of your compost bin, even if you don't spray.
Compost is an excellent amendment that is often used as a mulch all by itself. Did you know that bulk and bagged compost, even if it's approved for organic agriculture, can be contaminated with herbicides? Learn how to purchase herbicide-free soil.
Preparing the Garden for Winter
Another 'Magic Mulch' option is using composted animal manure (horse, cow, chicken, rabbit, etc.) in place of green mulch.
Note: Ask questions about the origin of the manure. Unfortunately, manure can be laced with herbicides, or it can contain pharmaceuticals, which can damage crops and poison soil.
In the fall spread a thick layer of composted manure over the beds and top with a layer of shredded leaves or composted wood chips. This will not only protect the soil from the harsh winter temps, but it also improves soil quality.
More mulching ideas:
All in all, mulching is an important component of lasting soil health, water conservation, and time savings for the gardener. When the soil is happy, the plants are happy, too!
You'll experience fewer pest problems and regenerate your soil's fertility over time. This is part of the process of connecting to our place as active residents.
What's your favorite way to mulch?
READ NEXT:
>>> Get my free 19-page Guide to Organic Soil Amendments for more ideas: