Designing your homestead garden can be overwhelming. Here's how a permaculture designer can help you meet your goals, and what to look for in a designer.
This page may contain affiliate links. Please read my disclosure for more info.
The Homestead Site Design
Having a productive homestead property is an ambition that many strive for.
After acquiring your property, however—whether it's a 0.10-acre in the city, an acre in the suburbs, or 10 acres in the country—the question is: How do you know what components to place where?
For example, how do you figure out where to place the garden, the chicken coop, a meadow, or an orchard?
Productive Permaculture Homesteads
Permaculture is a design science that models nature in a way that is aesthetically-pleasing, productive, and ecologically-balanced.
Permaculture design principles can help to create edible landscapes that regenerate biodiversity.
Is Hiring a Permaculture Designer Right for you?
In my experience, many people know how to grow their own food, manage livestock, and operate a homestead.
However, the biggest challenge is designing the site so that all the pieces work together as efficiently as possible. How can you utilize the resources of the land to their full potential?
If you're interested in a well-designed homestead, then a consultation with a permaculture designer might be right for you.
Are you a DIY-er? Get started on your own design by drawing your own maps and developing your permaculture homestead in phases.
Or become your own designer by completing the 72-hour permaculture design certification. Here are my tips on how to choose a course.
Permaculture designers have completed a 72-hour certification program. Most designers continue to hone their knowledge and skills by apprenticing with experienced designers, as well as through self-study and practice.
The following are three reasons why a permaculture designer can help you bring your homestead vision to life.
#1: Permaculture designers can read the landscape.
Permaculture designers are trained to read the landscape and assess a property for its full, productive potential. They notice opportunities to catch and store resources on the land, such as rainwater flows or fertility.
S/He can group components together to maximize their efficiency. For example, the vegetable garden and chicken coop are grouped together to have the greatest effect for the least amount of work.
#2: Permaculture designers can facilitate your vision.
Permaculture designers can help craft your vision into something that is fun, rewarding, and possible. There's nothing worse than having a vision in your head and not having the tools to implement it to its full potential.
Self-directed homesteaders can read up on permaculture techniques such as swales, food forests, and herb spirals, etc. However, it's often difficult to find the most useful and efficient placement of these components on the land.
Additionally, each household has its own goals. Perhaps a large garden isn't on your wish list, but a wildlife corridor, bird sanctuary, or backyard forest retreat is more your style. A permaculture designer can help with your vision.
No matter your desired theme, a designer can help you tweak your site plan so that it is realistic and do-able, dividing the work into implementation phases, if necessary.
In fact, the design process is so powerful that expert designers often seek advice from peers on their own properties because two heads working together usually produces a much more robust solution.
One homesteader, who worked with a permaculture designer to design his property, had this to say: "…if you have NO experience, and you have some extra money like I did I think you would shave YEARS off of your learning curve."
Tired of generic permaculture design advice that you can't apply to your specific goals? If so, check out my Permaculture Design Program and get the tools and support needed to create and implement your own permaculture design.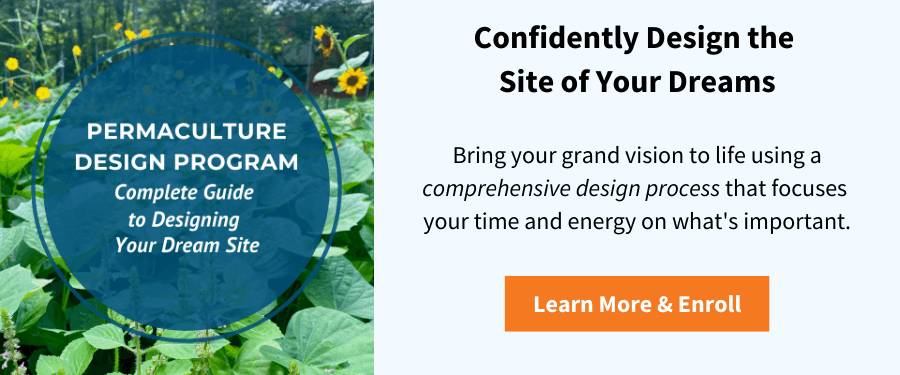 #3: Permaculture designers can work with challenging sites.
A permaculture designer can help improve the stability and ecology of challenging conditions such as steep hills, drainage and erosion issues, poor fertility, or damaged wildlife corridors.
Using nature as the instruction book, a trained designer can help you balance a productive landscape with ecological repair.
8 Things to Look for in a Permaculture Designer
Look for this information on the professional's website, and don't be afraid to ask for it. They'll be pleased that you're doing your homework to seek out a designer who is aligned with your goals.
The following essential concepts will help you find the right expert for you.
#1: Education
Permaculture designers should have completed the 72-hour permaculture design certification, which demonstrates their commitment to the permaculture design process.
Often you'll find landscape design consultants who have chosen to add permaculture design certification to their repertoire.
#2: A Permaculture Designer's Level of Experience
Look for indicators of relevant experience. If your property is rural, do they have experience working with rural properties? New designers often consult at reduced fees in order to gain experience and build a portfolio.
#3: Insurance
As a professional service provider, the designer should be insured. They may be bonded as well, which means that you'll be compensated in the event that the agreed upon work isn't completed.
#4: A Good Permaculture Designer is a Good Communicator
A good consultant communicates how their design process works up front as well as the fee structure for the services.
They also have a method for determining whether their services are a good fit for you. Often this is through a questionnaire or initial interview. After meeting with you, the designer can clearly define what a successful project looks like from your point of view.
#5: Scope of Work
Be clear about what you're looking for. Do you want:
A site plan that you can implement yourself?
A site plan that includes installation?
A planting plan for a defined area?
State your expectations clearly, and look for feedback from the designer that they are willing to work within these parameters.
Are you looking for ongoing maintenance of the completed design? If so, is this a service the designer provides?
Want to grow fruits, vegetables, and herbs in your front yard landscape without sacrificing curb appeal? Check out my mini guide, The Permaculture Inspired Edible Landscape.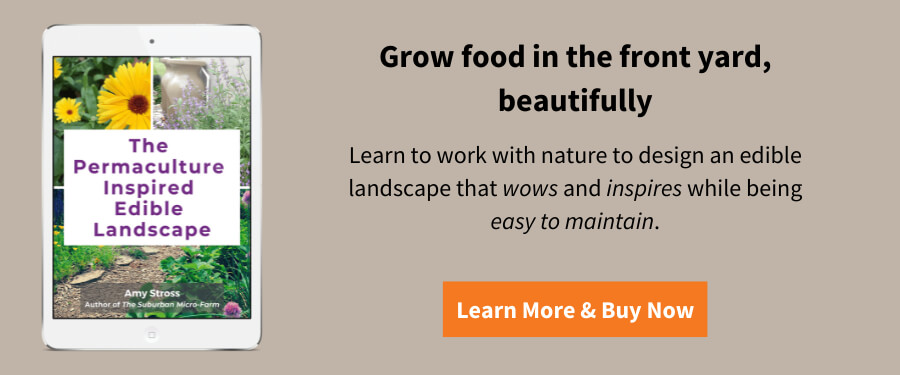 #6: Ask To See a Permaculture Designer's References
Ask for client references, testimonials, and/or a portfolio of previous work.
What are others saying about the designer? How do you feel about the quality and style of the work displayed in his/her portfolio?
Strike up a conversation to hear his/her stories about previous projects and whether she/he talks favorably of previous clients.
Can the designer talk gracefully about how he/she overcame challenges, be they design or interpersonal challenges?
#7: Written Contract
The designer should present you with a professional, written contract. It should include the agreed-upon scope of work and the expectations of both parties.
#8: Compatibility: Is the permaculture designer a good match for you and your goals?
This goes for hiring any service provider: You should like the professional as a person. Did you feel comfortable interacting with him or her?
You'll work closely together over many meetings, so be sure he/she is professional, knowledgeable, and trustworthy.
Ask the Expert: Traits of a Good Permaculture Designer
I recently connected with my friend John Hemmerle, Owner and Designer of Our Land Organics about this topic.
Full Disclosure: I collaborate with John and Our Land Organics on permaculture design/consultation/installation services. John is a knowledgeable and dependable expert, which is why I decided to work with him!
I asked John what he thought the most important traits were of a good permaculture consultant. Here are his tips:
A good designer has good communication and project management skills.
The design process, fee structure, and written contract are clearly defined.
S/He is a good listener, helping the client to clarify his/her vision and to define what success looks like.
The designer insists on managing the installation in order to ensure the client's vision is implemented as agreed upon. The success of a landscape greatly depends on how well it is installed.
More importantly, John thinks that finding the right designer comes down to making sure the designer's expertise matches your goals.

The Site Consultation
All of John's new clients fill out a landscape analysis questionnaire before the in-person consultation. This determines whether his services are a good fit. It also gives him an idea of the client's goals.
The design consultation is an opportunity to meet in person, walk the property together, and discuss the clients' wildest dreams. He draws up a consultation summary, which includes recommendations and ideas.
John and the client then decide if continuing to work together to create a design makes sense.
The Design Process
The next step for John's clients is a 3-meeting design process. This in-depth design framework includes a conceptual design phase, a preliminary design phase, and a final design phase. Designing is an iterative process that allows for observation, exploration, and revision.
Throughout the design process there is ample room for feedback and revisions. This leaves little room for surprises during the final design presentation.
The conceptual design includes a land survey and an analysis of the land to more accurately define the property's potential. This is the phase in which to experiment with the placement of various components in the design.
The preliminary design takes feedback from the conceptual design and includes specific plant and materials lists. It also includes cost estimations and implementation phases. He presents the preliminary design to the client and again takes their feedback into account.
John presents the final design to the client, and once he has their approval, he reserves an installation date. A written contract then clearly defines the scope of work, timelines, and service fees.
As a consultant, I've found it especially informative to learn Our Land Organics' 3-meeting design process for creating amazing designs that meet the client's needs while developing the ecological health of the site.
Permaculture designers are facilitators, illustrators, and educators.
Beginning with the end in sight, they listen to the needs and visions of the client and balance them with the needs of the property.
Like any professional, you're paying them for their years of experience and training so you can save time, avoid costly mistakes, and feel confident it's being done the right way.
You're also going to learn a lot. Most designers are passionate about what they do and want to spread their knowledge.
Above all, there is the added reassurance that you'll end up with a design you are happy with. Peace of mind is a great thing.
As you can see, a permaculture designer can help you read the landscape and create an efficient and productive homestead site layout that matches your vision.
Other books to check out:
Have you received assistance from a permaculture designer on your property? Tell us about your experience below.
READ NEXT: