A permaculture swale is a technique for capturing and storing water in a garden. In this article, learn how to build a swale in the residential landscape.
Oh, and don't forget to grab your FREE DOWNLOAD: How to Build a Swale to Capture Roof Water Quick Start Guide at the end of the article.
This page may contain affiliate links. Please read my disclosure for more info.
A permaculture swale can be an important feature in the productive garden or earth-friendly yard because it helps to slow, store, and spread water.
>> Are you wondering what a swale is? Check out my article What is a Permaculture Swale: Irrigate the Easy Way for more details.
When I learned about the permaculture swale, I discovered that it was the perfect solution for creating a low-maintenance, edible landscape in my front yard.
This article is about the technical, nitty-gritty details of building a permaculture swale: How to choose an appropriate site/location, and how to build it.
Constructing a Swale in 9 Steps
Step 1: Observe water on your site.
As water flows across a typical surface or landscape, most of it will run off quickly without having a chance to soak into the soil, even on land that appears flat or very gently sloping. With a swale or other earthwork such as a rain garden, the water flows into the trench, where it slowly seeps deep into the soil. This produces little to no runoff.
Collect information about your yard. Where is the water coming from and where does it go?
Write down the following observations.
Identify where water is wasted.
Observe drainage patterns.
Locate steep slopes.
Determine annual rainfall.
>> If you'd like to create your own whole-system water plan (that possibly includes swales), follow my instructions for 6 maps to draw for the permaculture farm design.
Step 2: Identify the ideal site for a permaculture swale.
A swale can help capture water where it is being wasted in order to irrigate a planting area.
Here are some rules for siting a permaculture swale. It should be:
10 feet away from a building (water must drain away from building)
18 feet away from the edge of a steep slope or septic drain field
Uphill from a garden or low spot that doesn't drain well
An infiltration test demonstrates an infiltration rate of at least 1 inch per hour.
Note: This may not be an appropriate strategy for areas with a high water table or on extremely steep slopes.
Would you like to grow food in your front yard without sacrificing curb appeal? Check out my ebook, The Permaculture Inspired Edible Landscape.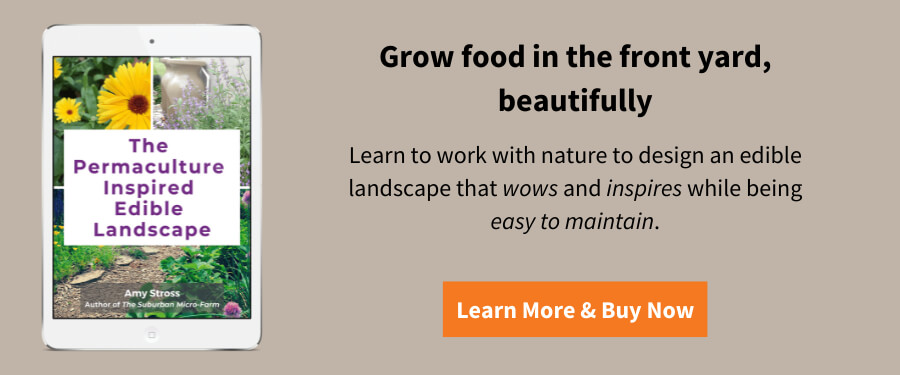 Step 3: Mark the contour line.
Use a contour level and utility flags to mark the contour line every 6 feet. This video shows how to use a simple, homemade A-frame level to mark the contour lines. (Don't worry, anyone can build one of these!)
It's essential to mark the contour lines accurately. Swales built off-contour are not actually swales by definition, and go by other names, such as keyline trenches or diversion trenches.
Step 4: Dig a trench along the marked contour line.
Typical trench depth: 6 inches to 1.5 feet deep
Typical trench width: 18 inches to 2 feet wide
Length: Varies by your needs, size of the space, and how much water you can catch
Step 5: Mound the soil from the trench on the downhill side to create a berm.
Take the soil dug from the trench and place it on the downhill side.
Step 6: Test and adjust the swale.
Work the A-frame level along the bottom of the trench to test whether it is level. Fix uneven spots. Next, observe the swale during a heavy rain event. How did it do?
If it overflowed, then make the swale trench deeper, wider, or longer.
Step 7: Plant the swale.
I recommend planting perennials that will grow permanent, thirsty roots to stabilize the system. In desert areas, plantings are typically placed in the swale trench, while in non-desert areas, it is typical to plant the berm.
Try:
(To name a few of my favorite ideas.)
Step 8: Build Redundancy into the Swale System.
Always think about where the water will go if the swale overflows. Have redundancy built in that can handle a 100-year rain event.
When we built our front yard swale, we directed the overflow into a rain garden to accommodate any excess water.
You can also direct a spillway into another swale.
Step 9: Add Aesthetic Details (Make the Swale Pretty!)
In residential spaces, aesthetics are often an important consideration. Swales can actually be visually pleasing, although it's hard to imagine a beautiful setting with a trench running through the yard! Try filling the trench with gravel or wood chips and you have a walkable pathway. (I prefer filling it with large rocks, followed by gravel, topped with a few inches of wood chips.)
Give the berm a rock border, and you have a raised bed.
If your swale trench doesn't need to be walkable, consider seeding it with clover or adding a layer of mulch to reduce evaporation.
Note: I don't recommend filling the trench unless the swale is in a highly visible place where aesthetics are important. That's because over time, the materials in the trench may become compacted from the walking, which reduces the efficiency of the system.
By observing your system, you'll be able to notice when a swale that was once well functioning begins to overflow with water. That's your sign that it needs a clean-out. (I wouldn't guess it would be necessary more often than once every 5-10 years).
Here's a picture of our front yard before we added a swale and gardens:
The swale system and perennial plantings work to slow the water, spread it, store it, and lock in moisture. The front yard now looks like this:
Storing water in the ground will benefit soil health and moisture retention. Nature does it best!
Resources
For more details and pictures of swale-building, see:
Motivation
You might question whether using swales to store water in the ground actually works as well as I'm suggesting. This 5-minute video, Greening the Desert, demonstrates how swales used in the right context can turn desert into productive gardens.
Are you digging a swale in your yard?
READ NEXT: