Give the gift that has your favorite gardener saying, "You get me." Whether they're a beginning, intermediate, or advanced gardener, these useful gifts for permaculture gardeners are sure to please anyone interested in growing an ecologically rich, backyard food garden.
This page may contain affiliate links. Please read my disclosure for more info.
What's This Permaculture Thing?
Have you heard your favorite gardener talking about something called permaculture? If so, then knowing what the word means will help you give the best gifts!
Permaculture is simply the design and maintenance of a food-producing garden that works in harmony with the local ecosystem.
Let's get into the gifts!
Want to jump ahead?
7 Best Gifts for New Permaculture Gardeners
Do you know someone who has been bitten by the gardening bug? Here are 7 of the best gardening gifts for beginners.
▪ The Suburban Micro-Farm: Modern Solutions for Busy People
Full disclosure, this is my award-winning book! However, it's perfect for busy, beginning gardeners who want to grow food for themselves and their families using permaculture techniques.
It includes easily digestible tips for growing an ecologically friendly garden without leading to overwhelm! Learn more about The Suburban Micro-Farm and grab a copy for your favorite gardener.

▪ Hori Hori Garden Knife
Never heard of a hori hori garden knife? It's one of my favorite, multi-purpose gardening tools that makes digging, weeding, and planting a cinch! As a matter of fact, mine is over 10 years old and looks like new! It's truly one of the first tools I budgeted for when I started my garden.
A hori hori knife makes the perfect gift. (I have a garden knife made especially for left-handers!)
▪ Comfrey Root Cuttings for Permaculture Gardeners
Many permaculture gardeners grow this perennial herb because it provides A LOT of biomass for mulching, attracts pollinators, and provides much-needed habitat for beneficial insects.
However, selecting the right variety of comfrey is important so that it doesn't take over the garden. I plant Russian comfrey as root cuttings because this variety has sterile seed, so it can't spread!
▪ Worm Castings
Worm castings are the richest fertilizer known to humans. Castings (aka worm poop!) help plants regulate water usage, improve soil structure, and increase plant vigor. In fact, there is no upper limit to how much of this amendment to apply at one time, so beginning gardeners won't over-fertilize their garden.
Gift an indoor worm bin for DIY compost making or a bag of worm castings for an organic soil boost. You could even buy all the supplies for someone to make their own worm bin!
▪ Digging Fork
If you're giving your favorite gardener worm castings, they'll need this tool to incorporate them into the soil. A digging fork is also great for loosening and aerating soil in the no till garden—without destroying structure and soil life. Here's the digging fork that I recommend.
▪ Calendula Seeds
There are so many great reasons to grow calendula. It's essential in my vegetable garden for trapping pests and attracting pollinators and beneficial insects. Overall, this herb can help reduce garden maintenance while yielding an abundance of medicinal, cheerful, and edible flowers.
I love a colorful calendula seed mix that includes a variety of oranges and yellows.
▪ Let It Rot!: The Gardener's Guide to Composting
This classic guide to composting will help the beginning gardener learn how to turn kitchen scraps and yard waste into compost. Unfortunately, bulk compost soil can be contaminated with herbicides. Therefore, access to homemade compost is particularly important.
Of course, these are just a few ideas. My Amazon shop has even more gift ideas for the beginner gardener!
Would you like to grow more food with less effort? Check out my ebook, The Permaculture Inspired Vegetable Garden.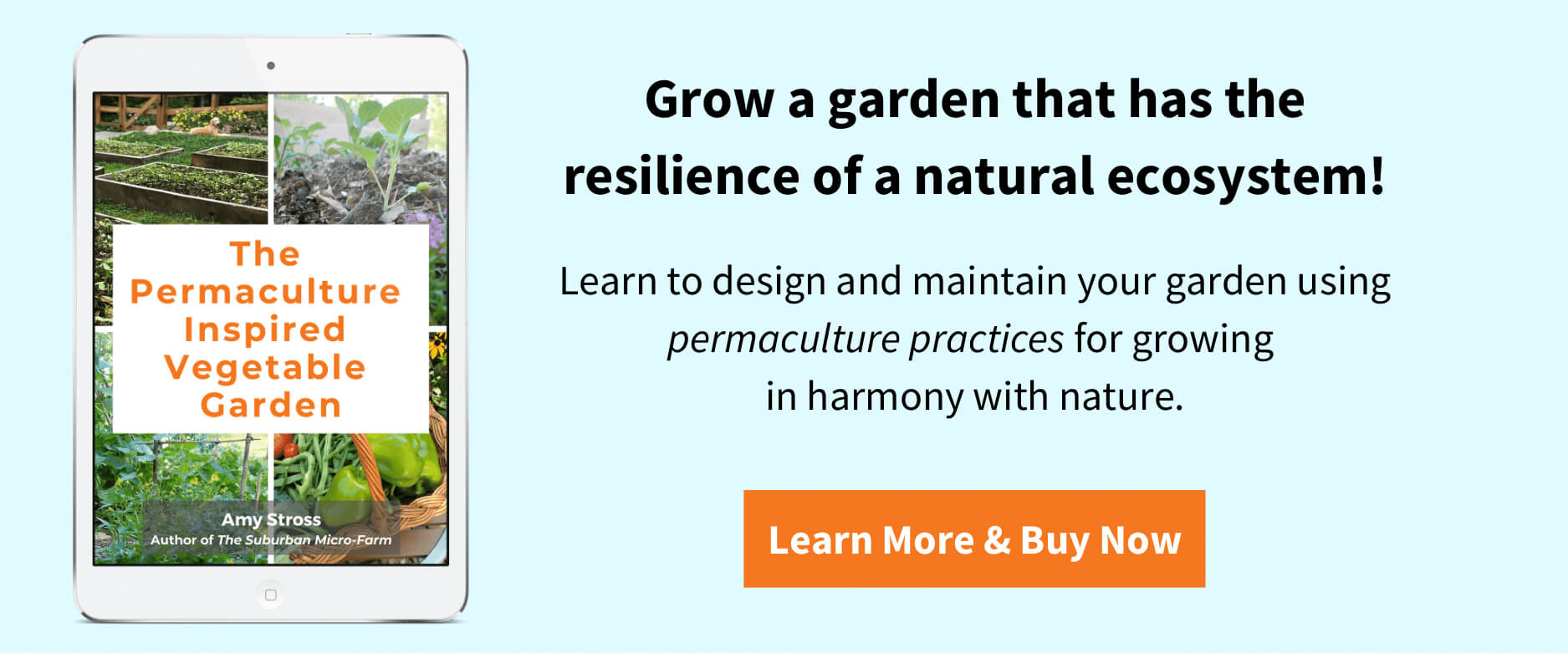 7 Best Gifts for Intermediate Permaculture Gardeners
Know someone who has a few years under their gardening belt, and is ready to expand their skills, knowledge, and garden? Here are 7 of the best gardening gifts for intermediate gardeners.
▪ Gaia's Garden: A Guide to Home-Scale Permaculture
This book is highly recommended for permaculture gardeners who want to learn how to create an edible backyard ecosystem. In fact, it is considered by many home gardeners to be a must-have resource.
▪ Dwarf Everbearing Black Mulberry Tree for Permaculture Gardeners
Mulberry is a favorite berry of birds (a decoy crop!) and helps lure them from more favored harvests. They're especially delicious for humans, too! For that reason, this dwarf everbearing black mulberry tree is a popular addition to a permaculture food forest or fruit tree guild.
▪ Tilth Soil for Permaculture Gardeners
Good quality soil is essential for a healthy and abundant garden, which is why I recommend the products made by Tilth Soil. Their biologically active compost and soil mixes are especially designed for Organic agriculture.
In fact, these products are formulated specifically to support nutrient cycling, seed germination, root development, and improved plant health over time.

▪ Herbal Tea Seed Collection
Growing herbs for tea is an undoubtedly delightful way to incorporate herbs for health into the permaculture garden. This 8-packet set of herbs from Botanical Interests provides health-promoting libations for your favorite gardener as well as beautiful flowers for pollinators.
▪ Landscaping with Fruit
This book about incorporating fruit into the landscape shows gardeners how to easily start an edible takeover of their landscape. In particular, it rates fruit crops based on flavor, time investment, beauty, and more.
▪ Shelving Unit for Seed Starting
Starting seeds indoors is a great way for gardeners to begin growing what they want rather than what they can find at the local garden center. With that in mind, a sturdy free-standing shelving unit is the first piece of infrastructure needed for this endeavor.
The reason I like this particular model is because each shelf can hold two 22″ long nursery trays, which is uncommon for this style of shelving. This means that in total, this unit can hold 10 nursery trays, double what other 5-tier shelving units can hold. Why buy two shelving units when you can do it all with one? In addition, the shelves are adjustable.
It's surprisingly easy to set up and provides a dedicated space for seed starting.
▪ Small Farm-Grown Comfrey, Arnica & Calendula Salve
Hard-working gardeners' hands, in particular, need some extra TLC! This soothing, healing herbal salve from Catskills Comfrey can help with dry and itchy skin and more!
My favorite permaculture garden resources offer even more gift ideas for intermediate gardeners.
7 Best Gifts for Advanced Permaculture Gardeners
What do you get for the experienced gardener who seems to know everything and has all the tools? Here are 7 of the best gardening gifts that any advanced gardener will surely love!
▪ Cover Crop Seeds for Permaculture Gardeners
Cover crops provide organic matter and nutrients, improve drainage and aeration, attract beneficial soil organisms, and act as an overwintering mulch.
Daikon radishes break up clay and build humus as they rot, while the flowers attract beneficial insects.
Additionally, I like to sow cowpeas as a summer cover crop to suppress weeds and enrich soil.
▪ Grow Your Soil!: Harness the Power of the Soil Food Web to Create Your Best Garden Ever
Without a doubt, food gardens cannot thrive in unhealthy and lifeless soil. This book about the science of soil health (without the science jargon) shows how to easily attract and retain the microorganisms that turn dirt into a healthy, living soil ecology.
▪ Edible Forest Gardens Books for Permaculture Gardeners
This 2-volume set about creating an edible ecosystem will inspire and challenge your favorite gardener. Specifically, it shows how to apply key concepts of forest ecology to food-producing gardens.
▪ Herbal Academy's Introductory Course
Help your favorite gardener start their herbalism journey at home with this self-paced course from Herbal Academy. Over 34 lessons, students will learn about 75 common herbs and how to use them in teas, tinctures, syrups, body care products, and more.
For instance, because stress is a factor in our overall wellbeing, students learn about the nervous system, as well as herbs that support good sleep and ease headaches.
▪ Seed-Saving Container
Storing seed and seed envelopes in the right conditions is crucial for maintaining their viability from season to season. Not to mention that serious gardeners have quite a collection of seeds! That's why a large, airtight, plastic container is perfect for both seed viability and organization.
Safeguarding against moisture is particularly important. Therefore, adding silica gel packets helps to maintain the quality of seeds.
▪ Frost Blanket
For gardeners who want to grow year-round, a frost blanket is a nice investment because it lasts for years and can be cut to size. In fact, it protects against frost down to 28° Fahrenheit while allowing light and water through.
▪ Heirloom Organic Seed Bank Collection
This 24-packet set from Botanical Interests is the survival stash of seeds to have on hand for food security. It includes tried-and-true heirloom varieties that have been around for 50 years or longer, certainly what is needed in a survival situation.
Be sure to browse my Amazon shop for more advanced gardener gift ideas.
Permaculture gardeners are a pragmatic bunch, to be sure! They will love these gift ideas that improve soil health, increase crop yields, and help to build a biodiverse backyard ecosystem.
Have you given any of these gardening gifts or tried them for yourself?