Black raspberries are a delicious and productive crop for the small landscape. Learn how to train and prune black raspberries for the best harvest.
This page may contain affiliate links. Please read my disclosure for more info.
When I started growing black raspberries in my shady front yard, I hoped they would survive, but I had my doubts. Luckily, my little black raspberry patch showed me it would thrive, as long as I trained and pruned them correctly and consistently each year.
>>> Read about creating an edible landscape.
Black raspberries are easy to grow, but if you want to reap a good harvest, training and pruning them are essential.
If you DON'T train and prune black raspberries…
• berries will be smaller.
• bushes will look wild and lose their advantage as a beautiful landscape planting.
• plants will take up more space.
• harvest will be an unpleasant fight with thorns.
So let's get to it.
First, I'll cover training and then I'll cover pruning.
Note: These instructions work for black and purple raspberry varieties. Red raspberries, on the other hand, grow differently and follow a different pattern for training and pruning.
How to Train Black Raspberries
Step 1: Ensure Proper Spacing
Black raspberry canes should be planted 2-1/2 feet apart in a row, and you should have access to both sides of the row. (For more planting tips, see my article How to Grow Black Raspberries).
During the first year, new shoots will come up in the area around where you've planted each original cane. Each area is called a "hill".
Step 2: Build Support
Black and purple raspberries need a supportive, trellis-type system that keeps them manageable and makes harvesting easier.
It's wise to build the trellis system at the same time as planting while the plant roots are small. This reduces the stress on a mature black raspberry plant, which has shallow roots that can be damaged easily if posts are added later.
For example, below is a picture of our first solution for a post-and-wire support system. We used leftover scrap wood for the posts, which worked well, but only lasted two years.
First, set a 2 x 4 pressure-treated or metal T-post behind each "hill"that is 4 – 4-1/2 feet high and about 2 feet deep.
Next, secure a heavy gauge wire or heavy duty twine to run from post to post near the top. Create a notch in the wood (if not using a metal T-post) for the wire to sit in so it stays secured.
As the canes grow during the first year, train them to drape over to grow along the wire, as pictured below. Otherwise, the long canes may root themselves and create anarchy in the ranks. 🙂
In this picture, the black raspberries are ready for their first early fall pruning (second year).
Note: We replaced the scrap-wood posts with 6-foot green plant stakes at each hill in an "X" shape, which has worked as a more secure and durable option. View it in the pictures below under "Early Spring Pruning".
Want to grow fruits, vegetables, and herbs in your front yard landscape without sacrificing curb appeal? Check out my mini guide, The Permaculture Inspired Edible Landscape.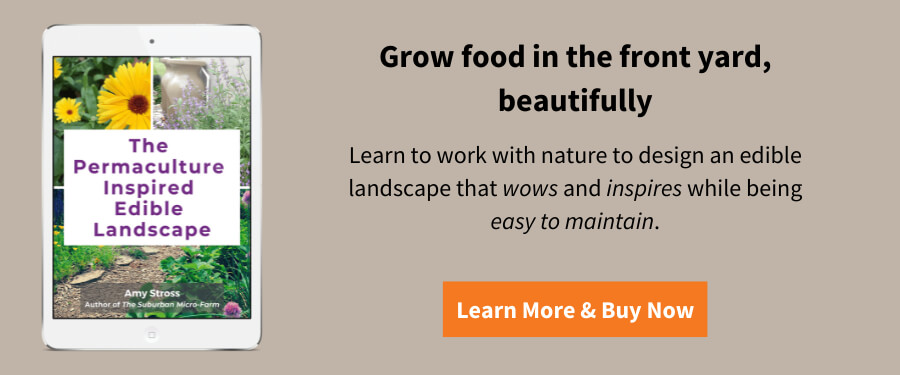 How to Prune Black Raspberries – Spring and Fall
Note: Pruning requires covered skin! It's a good idea to wear long sleeves, pants, and closed-toe shoes.
Therefore, rose pruning gloves make the job more enjoyable, and good pruners make the job easier. Felco Pruning Shears are excellent for cutting woody matter, and long-lasting, too:
First Year: Do Nothing
In the first year, do nothing except admire your plants' energetic will to live!
Second Year and On: Prune Black Raspberries in Early Fall
In the second year after planting, you should get a small harvest in the late spring/early summer. After fruiting, set your black raspberry plants up for a smooth ride through winter and a successful future harvest with an early fall pruning.
Heading
First, head (pinch, tip, or cut off) each cane at a desired height in the early fall, anywhere between 28 and 48 inches. The ideal height for bigger harvests is 28 to 30 inches, but you might like the canes a little taller in your edible landscape. Be consistent across the row.
(To clarify, a cane emerges directly out of the ground.)
I have a hypothesis that the shorter the canes are, the fewer berries you would lose to birds, because predators such as cats are a higher risk to them closer to the ground. Experiment with the height for yourself and let me know what you find out!
Tip: Learn how to invite birds to the garden without losing your precious harvest.
After heading the canes, you may LOOSELY tie all of the canes in one hill to their coordinating post. This isn't necessary, but if your berry patch is in a tight area, this will help to keep walkways clear of thorns.
Third Year and On: Prune Black Raspberries in Early Spring
Prune black raspberries in the early spring to make sure your summer harvest is fantastic.
To do the following early spring pruning steps, wait until the plants are beginning to create buds. Do not wait until the plant is leafing out, since this could stunt growth. It is difficult to see in the picture below, but the canes have buds on them, no leaves.
Would you like to learn more about increasing garden yield and reducing maintenance?
You'll find loads of information just like this in my award-winning book, The Suburban Micro-Farm.

Early Spring Pruning (Step 1): Remove Dead Canes
Canes that produced berries in the previous year will be dead, so cut them back to the ground. Meanwhile, other canes will have been damaged by the cold and will be brown and brittle. Cut all dead canes off as close to the ground as possible.
Early Spring Pruning (Step 2): Thin Canes
There should be no more than 4-6 canes per hill. Therefore, choose the 4-6 strongest ones, and cut the rest back to the ground.
If your plants are young and haven't produced this number of canes yet, then you can skip this step.
Early Spring Pruning (Step 3): Head the Laterals
In the previous fall, each cane was cut back to a desired height (see "Early Fall Pruning" above). That action inspired lots of side branches to grow.
In this step, we're going to manage all of those side branches — or laterals — to get the best harvest. These laterals are where the berries develop.
For each lateral, or side branch, count 8-10 buds away from the cane and then cut the rest of the long branch off. Note: The detail doesn't show in the picture above, but for each lateral the buds are clearly visible so that counting 8-10 buds is an obvious procedure.
You can see in the picture above that the laterals are quite the weaving, tangled mess in the spring. Between removing the dead canes, thinning, and now, step 3 — heading back the laterals — you will take quite a bit of biomass away. Time for a spring fire!
After that, the black raspberry plants will look dramatic and bare. However, have faith that it will result in better yields. You can see in the picture below that the lateral branches are shorter after pruning, and include about 8-10 buds.
Again, you may wish to LOOSELY tie the canes in each hill to their coordinating post to keep everything tidy and out of walkways. This is optional. Notice in the picture above our X-post solution for support.
Here's another picture just two weeks later:
SUMMARY
Although this process can seem complicated, the actual pruning doesn't take long in the home-scale berry patch. With this method, you'll be on your way to having a healthy and productive black raspberry patch.
Have you found a training and pruning method for black raspberries that works well?
READ NEXT: