Weeds occupy every gardener's mind: If we're not weeding the garden, we're worrying about them. Have you ever wondered why weeds exist? Once you know this secret of the permaculture garden, you can harness the power of weeds in your garden.
This page may contain affiliate links. Please read my disclosure for more info.
Pioneers of the Disturbed Frontier
Most plants that we call weeds are generally known as pioneers of ecological succession.
Succession is the process of transitioning from disturbed land to a mature ecosystem, such as old growth forest. Pioneer species show up when a site has been disturbed due to a human activity like logging or gardening, for example, or after a natural disturbance such as fire.
After a disturbance, it's a little like the Wild West: Species compete for the right to colonize a disturbed area. Pioneers put all of their might into establishing themselves as a dominant species of the disturbed frontier.
Interestingly, pioneers are relatively short-lived. I guess all of that competing wears them out.
All the energy that the short-lived pioneer species puts into establishing roots in a disturbed area is actually jumpstarting ecological healing and succession.
In other words, pioneer weeds leave the world better than they found it.
Would you like to yield delicious harvests while partnering with nature? Check out my mini guide, The Permaculture Inspired Vegetable Garden.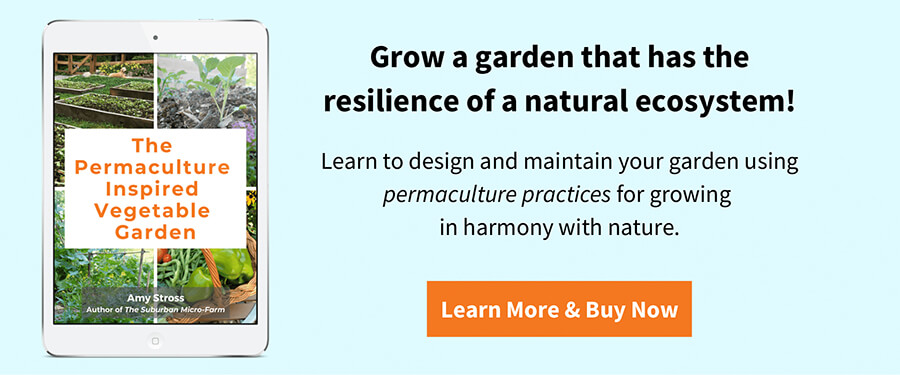 Pioneer Species are the EMTs of the Natural World
Think of pioneer plants— weeds —as the EMTs (Emergency Medical Technicians) of the natural world. They colonize disturbed areas with two main goals: Stop the bleeding and resuscitate breathing.
Step 1: Stop the Bleeding
After disturbance, bare land bleeds topsoil and nutrients, which get swept away with the wind and rain. This sets off a decline of the ecological system:
Plant life struggles to survive, and is unable to retain moisture in the soil.
With less water, soil microorganisms struggle to survive.
This unchecked disturbance eventually leads to desertification.
Therefore, bleeding—i.e. wind and soil erosion—must be stopped, and weedy plants are a primary defense system of the natural world.
Quick-to-establish pioneer species come to the rescue and hold soil in place, like applying pressure to a wound. Many pioneer species—like dandelions—have deep taproots that hold soil in place and catch and hold water.
This is why we often use deep-rooted prairie plants such as yarrow or Queen Anne's Lace in rain gardens.
Read more:
The reserved moisture allows soil microorganisms to multiply and begin their invisible healing work underground.
Other pioneer species have shallow, fibrous roots which act like a ground cover. They seek to quickly cover bare soil (the wound) like a Band-Aid and protect it from the elements while it heals. Echinacea purpurea is a good example of a native plant with a fibrous root system.
Step 2: Resuscitate Breathing
In the natural world, the equivalent to resuscitation is pumping nutrients into the heart of the soil so it can begin to heal without the life support of the short-lived pioneers. Vigorously producing pioneer species create a lot of nutrient-rich biomass. This plant matter, then, is medicine for wounded soil.
Here are 7 wild herbs for growing your own backyard pharmacy.
In nature, wild animals eat medicinal plants and leave their droppings behind. Thus, animal droppings and medicinal plant matter enrich topsoil, over time creating nutrient rich areas that can support non-pioneer species.
See: 7 Ways to Improve Soil Quality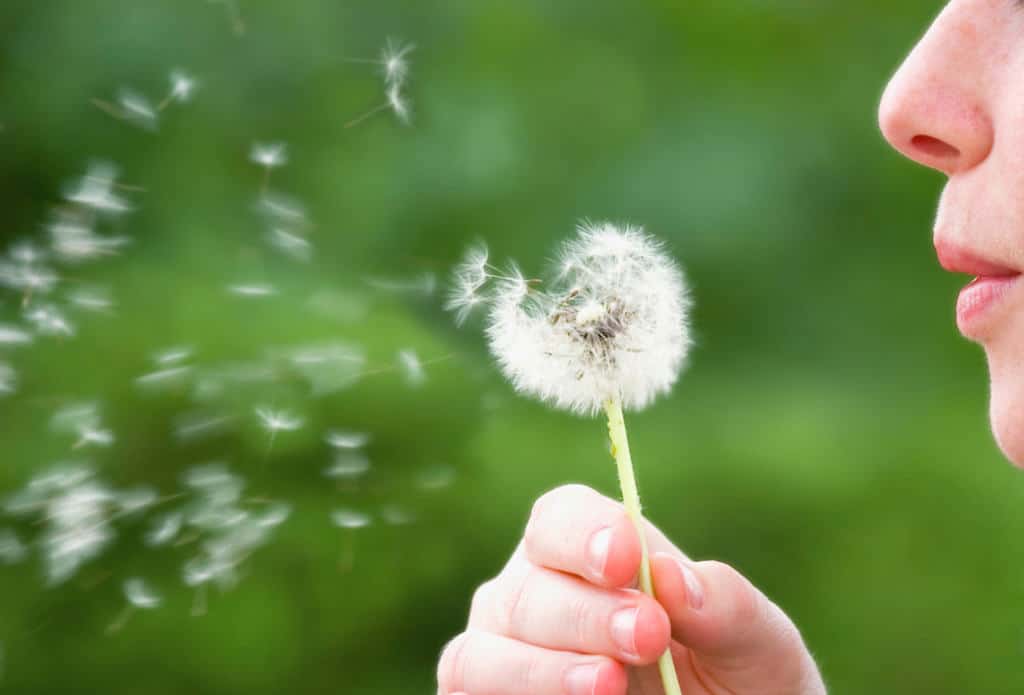 What do weeds have to do with your garden?
If the presence of weeds (pioneer species) can indicate the state of a particular ecosystem, such as a recently clear-cut forest, then they can also tell us how healthy and mature our gardens are.
If you have a lot of weeds, then it may be an indication that the soil isn't protected enough and is "bleeding" nutrients.
When topsoil bakes in the sun, beneficial soil organisms die off or leave in search of cooler temps. In turn, our veggie plants miss out on the contribution from soil organisms for growing healthy and resilient plants.
So the first thing we want to do is mulch garden beds to protect the soil so that the weeds don't have to. Learn more about mulching in the permaculture garden.
I prefer to have all of my garden beds protected by leaf mulch or organic straw, though I'm certainly not perfect. When I protect the soil with mulch, I prevent weed seeds from making contact with the soil, so they show up less often.
Tired of generic permaculture design advice that you can't apply to your specific goals? If so, check out my Permaculture Design Program and get the tools and support needed to create and implement your own permaculture design.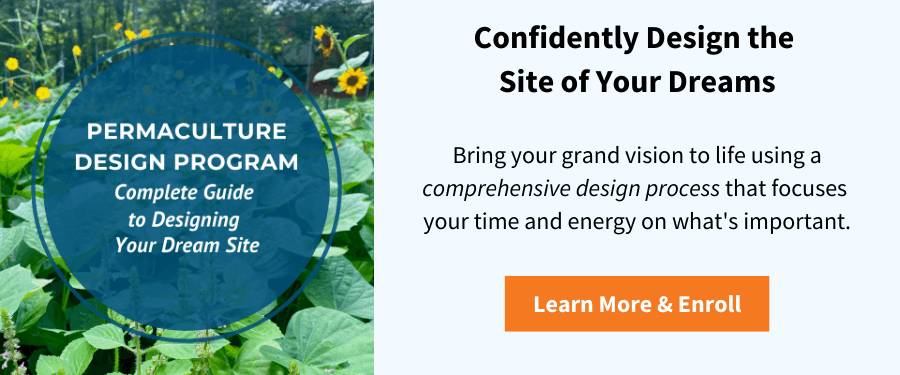 Use Weeds as Green Mulch
If the soil hasn't been protected for a while, then it needs nutrients (fertilizer) to jumpstart its own self-healing properties. Pioneer "weeds" can help fertilize for free!
Now, there are definitely some weeds that are a nuisance. Personally, I detest vining weeds and often discard them in the trash. Poison ivy is another plant that gets a bad rap.
However, many weeds are important pioneers that are trying to help heal our garden soil.
Rather than pulling green weeds up and sending them to the dump (losing those nutrients forever), or worse, spraying them with an herbicide (which can contaminate your compost bin), use weeds to your advantage:
Cut them to the ground about once a month and lay their green leaves directly on the soil.
This way, the weeds both protect the soil (stop the bleeding) and fertilize (resuscitate it with a nutrient boost). By cutting them back rather than pulling them up, you leave the soil undisturbed.
But, you say, you're worried about the weeds growing back?
In a natural permaculture garden, we actually invite them to come back again and again and supply us with free fertilizer. Nature seems to know what it needs.
How to Manage Weeds in the Garden
Cut the weeds back once a month to ensure they don't go to seed or shade out the vegetable plants. When an area is sufficiently fertilized or enriched with a particular element that the weed provides, the weed usually dies back on its own.
When I cut back green weed matter, I tuck it under my leaf mulch so that it can compost in place. Soil life in particular favors this method, which increases the rate at which my garden soil can heal.
If an area is particularly weedy, then I take it as an indication that it needs nourishment and time to heal. I've occasionally sowed weed seeds (on purpose!) as a cover crop and let my garden rest for a year.
Check out my top 5 "favorite" garden weeds. For example, dandelion provides green matter for nutrients as well as deep roots that nourish soil organisms.
Now to be fair, garden soil for annual vegetables will never be as mature as forest soil. There will always be a few weeds, even in healthy gardens. That's because we disturb the soil during planting, sowing, and harvesting. In addition, harvesting removes nutrients from the soil. So it's important to protect the soil with mulch and replenish nutrients with plant matter or organic soil amendments.
Do you mulch your garden with weeds?
READ NEXT: