Comfrey fertilizer has long been touted as a miracle by permaculture enthusiasts for its soil-boosting properties. Does it really heal damaged soil? Let's weigh the research.
This page may contain affiliate links. Please read my disclosure for more info.
Growing your own comfrey fertilizer is all the rage.
I first learned about this permaculture super plant as a permaculture design student over 10 years ago. I wondered if it really lived up to the hype, so I planted it prolifically around my garden and edible landscape.
I'm always up for an experiment, and let me tell you, I was surprised by how quickly comfrey fertilizer enriched and improved my compacted clay soil!
What is (supposedly) so amazing about comfrey fertilizer?
This herb is known for its role in harvesting nutrients from the soil and accumulating generous quantities of nitrogen, phosphorus, potassium, potash, and calcium.
The theory behind comfrey fertilizer is that the roots reach down into the soil, similar to a dandelion root. Along the way, they break up compacted soil and enrich it as the roots die back and decompose.
In addition, nutrients are thought to accumulate in the leaves, which can be chopped and dropped several times per year as a nutrient-rich green mulch.
Does the theory about comfrey fertilizer hold up in research?
Some researchers actually disagree with the accolades given to comfrey fertilizer. Robert Pavlis, a biochemist and Master Gardener, has collected research that shows comfrey does not contain any more nutrients (dry weight value) than other popular fertilizer plants, such as alfalfa or clover. In fact, comfrey's nutrient levels were pretty average.
Compared to animal manures, comfrey values of NPK are relatively low. However, its nutrients are more immediately bioavailable to plants, especially in liquid form.
Meanwhile, one permaculture practitioner took soil samples over time on his urban farm, to see how the comfrey fertilizer theory stood up to his compacted clay soil: Did it improve his soil?
After 5 years of growing comfrey, the topsoil in this sample shows… higher percent organic matter than any of the previous samples, and the nutrient levels are practically off the charts – a 47 to 232% increase over the previously observed highs.

… just on the basis of NPK the comfrey is completely vindicated."
Here are his soil test results.
Tired of generic permaculture design advice that you can't apply to your specific goals? If so, check out my Permaculture Design Program and get the tools and support needed to create and implement your own permaculture design.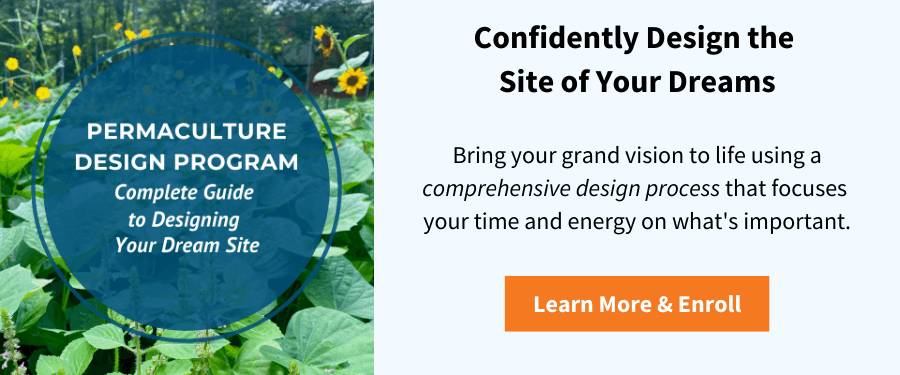 The Limitations of Laboratory Results
Personally, my opinion of comfrey fertilizer remains firmly in the positive, even while I respect the outcome of the laboratory results. In other words, I believe that both the laboratory results and the citizen science results are correct and hold value.
To illustrate how both can be correct, I refer to the work of Dr. Christine Jones, an Australian soil ecologist. According to her, "much of the agricultural research undertaken in pots in glass houses is fundamentally flawed."
More succinctly, NPK dry weight values of plant matter don't tell the whole story.
Many laboratory studies use sterile environments that are unable to demonstrate what happens when soil organisms participate in the process of nutrient acquisition and uptake.
Science is only just beginning to develop the tools for studying the role of root exudates and soil microbes in biochemical processes.
Is Comfrey a Garden Cure?
Ultimately, comfrey fertilizer may have average nutrient levels. What everyone seems to agree on, however, is that this herb is fast-growing. It provides A LOT of biomass in the small space that one plant occupies in the garden.
Popular cover crops, like clover and alfalfa, must be grown over the ENTIRE garden to provide the same amount of nutrient-rich biomass that a few comfrey plants can provide. And as a perennial, comfrey keeps giving year after year.
What's more, comfrey roots and the rapidly decomposing leaves appear to increase microbial activity and accelerate soil-building.
When it comes to a plant that:
provides non-stop biomass in a small space (multiple cuttings per growing season)
is perennial
suppresses weeds
attracts bees and other beneficial insects
conditions soil
accelerates microbial activity
…the role of comfrey in the garden (per square foot) is unparalleled.
I encourage you to read up on growing comfrey and become your own scientist to see for yourself! I recommend planting Bocking 14 root cuttings.
Then, when you're ready to make your own comfrey fertilizer, check out 7 comfrey uses in the permaculture garden.
Have you noticed any improvements in your garden after adding comfrey fertilizer?
READ NEXT: