A circular-shaped garden is an excellent way to increase interest and productivity while reducing labor. Here's how to design your own edible circle garden.
This page may contain affiliate links. Please read my disclosure for more info.
A Brief History of Gardens and Geometric Shapes
The idea of growing vegetables, fruits, herbs, and flowers together in aesthetically-pleasing, geometric designs is not a new invention.
Striving to blend beauty with efficient food production has been around since at least medieval Europe. Monasteries were among the first to mingle edibles with a desire for eye-catching gardens that encouraged contemplative walks.
I suspect gardens with geometric shapes—such as circles and rectangles—extend even further back in history.
Dating to at least the first century BCE, 'Paradise Gardens' were created in Old Persia: Impeccably designed gardens combined the production of food and medicine with beauty for wealthy families.
These Persian influences can be seen in the gardens of Moorish Spain from the early 12th century CE, which I witnessed firsthand on a trip to Spain many years ago.
Alcazar of Segovia is an example of one such formal garden.
Water features were an essential component of these early-day gardens, as was the need to border the garden with trees or shrubs to create a formal boundary and keep wildlife out.
For us modern-day types, the circle garden is an opportunity to grow edibles in a location where we might otherwise need to mind the aesthetics, such as a front or side yard. However, because circle gardens can be efficient and low-maintenance, they can even be useful where aesthetics aren't the primary concern.
Inspiration:
See how Rosalind Creasy created her front yard Magic Circle Herb Garden in her book Edible Landscaping. And get more edible landscaping ideas in my article see how easily you can create an edible landscape.
The Circle Garden Design
The circle garden design includes paths leading to the center from each of the four cardinal directions, creating four gardening quadrants. The design also often includes a focal point in the center of the circle.
By designing a garden in the shape of a circle, the gardener can access all four beds from a central vantage point, reducing labor.
Vary the dimensions of the circle, the gardening quadrants, and the paths to match a particular location and style to create a circle garden on a grand or small scale.
Ideas for the Central Focal Point of a Circle Garden
The central focal point of a circle garden can include a number of different things, depending on the size of the garden and your goals. Here are some ideas:
A bench or bistro table could make an inviting place to sit, surrounded by gardens.
A teepee or obelisk would make a beautiful statement on its own or it could be used to grow vining vegetables or flowers (I love black-eyed Susan vine – Thunbergia).
An herb garden or herb spiral
A wildlife-themed center could include a bird house or bird bath. (Here's more about inviting birds to your food garden.) Flowers underneath can attract beneficial insects. Some of my favorites are calendula, comfrey, oregano, sweet alyssum, and yarrow.
Omit the central focal point in a small circle garden to make room for accessing the gardens more easily.
The Perimeter of a Circle Garden
The perimeter of a circle garden can be a number of different things, depending on your site's conditions and your garden's size.
For a formal English garden, line the perimeter with boxwoods or another evergreen shrub. Keep them pruned for a short height and tidiness to let light in while forming a barrier against invading grass, kids, or dogs.
Garden border fencing can also define the space while keeping kids and dogs out.
Trellising would allow you to grow your climbing vegetables and flowers around the perimeter to create privacy for an outdoor room with a sitting area in the center of the garden.
If an open view is more your style, then simply give the border a good edging to keep grass out. When I create an edging trench, I use an edger and a sharp spade shovel.
Would you like to grow more food with less effort? Check out my mini guide, The Permaculture Inspired Vegetable Garden.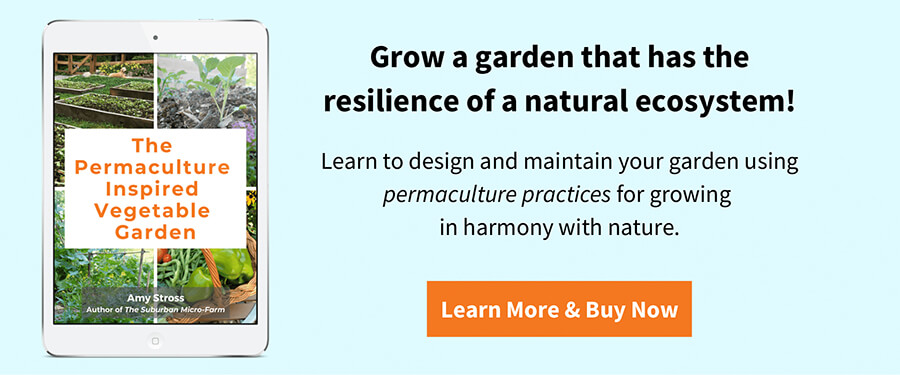 Circle Garden Examples
The following are some examples of circle gardens of different sizes.
You'll notice in the above diagram that rather than have a central focal point, this small garden uses the inner circle as a staging area for accessing the four, 3-foot-wide garden quadrants.
This allows enough room for turning a wheelbarrow around comfortably or collecting harvest baskets.
In the above diagram, the additional space allows for a central focal point to be included, such as an herb garden, with a circular path that separates the herb garden from the four garden quadrants.
Although this garden is larger than the small circle garden, it still only allows for a 3-foot wide central path and 3-foot-wide garden quadrants.
The large circle garden allows for a central focal point—such as a bean teepee planted with edible flowers or a sitting area—to be surrounded by a sizable circular pathway that allows easy access to the four garden quadrants. It also increases the growing space of each quadrant to a 4-foot-width.
How to Make a Circle Garden
A small circle garden will take up a circular area with a diameter of at least 11 feet, a medium-sized garden will require about 17 feet diameter, and a large circle garden will require a diameter of at least 23 feet (or larger).
You will need to decide beforehand what size garden you intend to create, and whether/what kind of central focal point you want. Drawing it out can help the process go more smoothly.
Circle Garden Materials:
Wooden stakes and/or utility flags
rubber mallet
measuring tape
twine
cardboard to cover area
wheelbarrow
shovel or pitchfork
wood chips to cover paths (or keep the paths as grass, but be wary of having to fight to keep the grass out of the beds)
(1-2 cubic yards) any combination of compost soil, worm castings, homemade compost, chemical-free aged manure, or aged leaf mold to cover garden bed areas
desired plants and other optional supplies for the garden beds, central focal point, and perimeter
Tired of generic permaculture design advice that you can't apply to your specific goals? If so, check out my Permaculture Design Program and get the tools and support needed to create and implement your own permaculture design.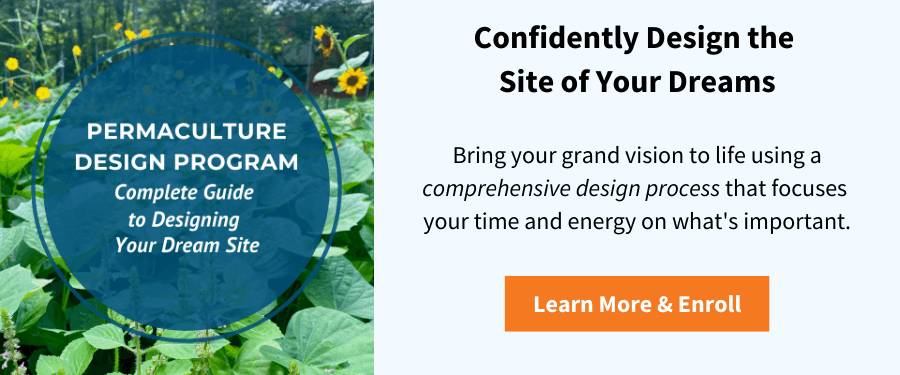 1: Mark off the diameter of the area.
Use the measuring tape to mark off the general area. Use the mallet to drive a stake into the center of the area to mark it, then tie a piece of twine to the stake that is the length of the radius of your circle. (The radius is half the diameter: The radius of an 11-foot diameter is 5.5 feet).
Using the twine, rotate around the circle marking the perimeter with stakes or flags.
2: Mark the paths, beds, and central focal point, as appropriate.
Traditionally the paths will head in each of the cardinal directions.
Whether you're creating a small garden without a central focal point or a large garden with a central herb garden, you'll want to mark off all of the areas using the stakes or flags before breaking ground.
3: Create the pathways.
Now that everything is marked off, it should be easy to identify where your paths will be. Cut the cardboard and lay it throughout the path areas, overlapping the ends to keep grass from creeping through.
Cover the cardboard with wood chips.
Alternatively you can leave the pathways as grass, but you would be wise to create a sturdy edge using the edging tool to keep grass from creeping into the beds. I would add clover seed to the grass to make it more diverse and provide nitrogen fertilizer for the surrounding beds.
With a solid path system in place, it will be easy to wheelbarrow soil materials up to the garden beds.
4: Create the garden beds.
First, use the digging fork to poke holes in the soil, loosening and aerating. This is an important step in the no-till garden.
Next, cover the garden bed areas with cardboard, overlapping the ends as you did in your paths.
Now add your soil materials to each bed, piling it as high as 12 inches (in decent soil, a few inches is fine).
A rock border or edging trenches can help to keep the newly piled soil inside the beds. Over time the soil will settle.
5: Create the central focal point and perimeter.
If you're creating a central herb garden and/or planting a perimeter of shrubs, now is the time to create that. Otherwise, bring in your table and chairs and give the exterior perimeter a good edging, trellises, or fence.
6: Plant the garden beds and herbs.
Water your new garden well and give it a week or two to settle before planting. Waiting until after a good rain is even better. This isn't entirely necessary, but if you have the time to wait, your new plants may be happier.
How about planting an herbal medicine garden?
A Circle Garden Case Study
At Hillside Community Garden, the community food forest that I founded in 2011, we wanted to demonstrate unique gardening strategies that would motivate residents to create beautiful and eco-friendly gardens in their own yards.
The circle garden was one such strategy that we put into practice.
The size of our circle garden was limited by other features of the garden, but we designed our circle garden to include a central herb garden.
The challenge with our garden was its situation on a hillside. Rather than place the pathways to direct north, south, east, and west, we placed the garden beds at those cardinal directions in order to reduce soil erosion and stabilize the hillside.
The paths then directed northeast, northwest, southeast, and southwest. The slope also meant that our north and south garden beds needed to be terraced.
Here are some pictures of the project:
Case Study — What worked:
The hillside was stabilized by the north and south terraced beds, and the circular shape created an interesting dynamic that broke up the monotony of the long terraces in other parts of the garden.
Case Study — What didn't work:
For a working community garden with lots of helpers and visitors, the narrow 2.75-foot-wide pathways inside the circle were too narrow. Trying to bring in a wheelbarrow and navigate it around the small central herb spiral was a challenge.
For a garden of this size with lots of foot traffic, we probably should have omitted the central herb garden. It sure would have made tending the beds a lot easier. However, the small, simple herb spiral was a favorite of many visitors.
Whether you create a small or large circle garden, the unique shape and feel of the garden is sure to be a place of respite, pleasing the eyes with beauty and pleasing the back with reduced maintenance.
Have you created a garden in a unique geometric shape? What was your experience?
READ NEXT: