The vision of a backyard vegetable garden conjures up visions of rectangular raised beds in full sun. Learning the basics of an edible forest garden helped me learn how to grow lots of produce in a sloping, shady, not-ideal-for-gardening, backyard.
This page may contain affiliate links. Please read my disclosure for more info.
Gardening in the Shade
We were blessed with a yard that was partly shaded, although I didn't see it that way in my first years of vegetable gardening.
By 2010, I had a few years of vegetable garden dabbling under my belt. I had just completed my permaculture design certification and was eager to try out some of the permaculture principles that I'd learned in my own garden.
However, I was convinced, through cultural hard-wiring, that our yard wasn't good enough because it was too shady. Our backyard was shaded by mature trees to the east, south, west.
I lacked confidence in my own ability to manage the intricacies of a shaded forest garden.
Instead, I spent a lot of energy that year on a "landshare" project, where I created gardens in someone else's large yard. In turn the landowner received a portion of the harvest.
It's a nice setup for anyone who doesn't have land, but here I was driving 40 minutes daily to check on my gardens, when I had a perfectly good one-tenth acre of my own at home.
In another part of the country or world, this land would be cherished, yet here I was pronouncing it not good enough!
Still, I gained confidence in my gardening ability through the landshare project.
I had already installed quite a few perennial fruits around my yard like currant bushes and black raspberries (both in shade!). However, it wasn't until 2011 that I began officially designing and implementing edible forest techniques in my yard.
I designed garden beds with an edible landscaping vibe. Take a virtual tour of the yard!
Edible Forest Gardening
Edible forest gardening is gardening like a forest, not in a forest. It mimics natural ecosystems in form and function.
Armed with this knowledge, I was able to appreciate living on the edge—on the edge of the forest, that is!
Edge is the place where two ecosystems meet. In my case it is the edge between the deeper shade that occurs directly beneath the tall trees, and the sunnier areas that occur in patches around the yard as the sun moves across the sky.
Edge is an abundant place where both ecosystems share resources with one another. The deeper shade forest areas share organic matter, shade, protective cover, and fungally-driven soil.
Meanwhile, the sunnier grassland areas of the yard share sun, wind, openness, and bacterially-driven soil.
Tired of generic permaculture design advice that you can't apply to your specific goals? If so, check out my Permaculture Design Program and get the tools and support needed to create and implement your own permaculture design.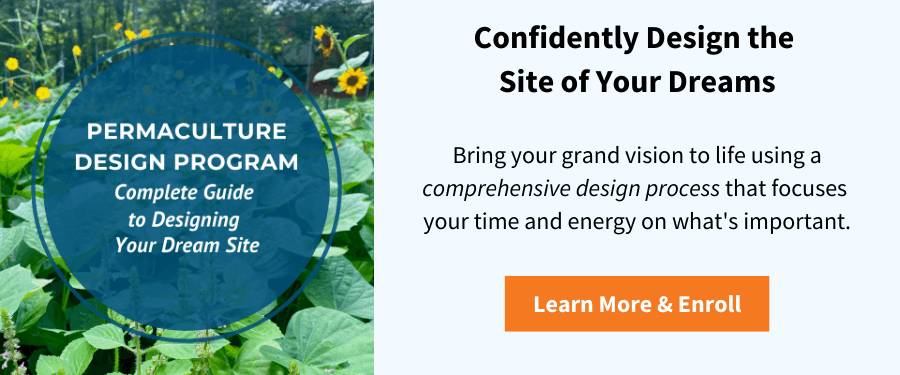 Sharing Resources At The Edge
This sharing of resources at the edge of the shade leads to a strong and healthy system that produces high yields with fewer inputs and maintenance over time.
In this way, I effectively use the yard as if it were the edge of a forest: Some sun from the nearby open yards casts an indirect brightness into my yard, at the edge of the deep shade.
I built raised beds on an unused section of the driveway, which produced 80 pounds of vegetables each year in the shade. Shade tolerant vegetables are typically root vegetables and leafy greens, but fruits do surprisingly well in the protection of dappled shade.
It turns out that this 'edge of the forest' is native habitat for most perennials fruits.
Fruit trees and shrubs may not be quite as productive there as they would be in full sun, but because it is closer to their natural habitat, they are less prone to pests and disease.
Two Key Benefits
The primary benefit of my situation was the opportunity to learn about edge and how the sun moves across the yard. Observation in a full-sun area is fairly straightforward. Out of necessity, I searched for growing spaces around the yard that had the least amount of shade.
In the process, I discovered different microclimates that supported both full sun plantings and shade tolerant plantings.
The secondary benefit was my discovery that growing greens was easy and advantageous in these partial shade conditions! Permaculture design requires that I work with nature, not against it. In my case, greens are what the system wanted to produce, so that's what I grew a lot of!
In the middle of my backyard was a 6-foot diameter "food island" circle. It made up the bulk of my tiny, shady yard, but grew a lot of stuff. A plum tree was underplanted with daisies and other flowers, herbs like thyme and oregano, strawberries, and always a handful of annuals like broccoli or leafy greens.
Growing annual veggies in this unlikely "island" at the edge of the "forest" seemed to fool the pests. Diversity is our friend in gardening!
Bottom Line:
Be grateful for the land that you have, observe it, work with nature and edges. In turn, enjoy a boatload of healthy abundance!
Resources:
How have you learned to work with non-ideal growing spaces?
READ NEXT: