There are many benefits to growing comfrey. Learn how to grow this perennial herb and why it's making its way into permaculture gardens everywhere.
This page may contain affiliate links. Please read my disclosure for more info.
Many years ago, a friend gave me a comfrey plant. She swooned about the many benefits of growing comfrey. Without a doubt, I was excited, but a little skeptical about this so-called super plant. Could this one plant really have such a big impact?
After one season, that one plant appeared to make a difference in the health of my soil, so I rushed out to buy more plants!
This perennial herb grows in USDA growing zones 3-9. Although comfrey is tolerant of a variety of growing conditions, I've found it grows best in full to partial sun and in rich, loosened soil. The more compacted the soil is, the more shade it prefers.
Permaculture gardeners seek out plants that are multifunctional and help gardens to work like mini-ecosystems, which saves time. And you guessed it—comfrey is one of these plants!
Ecological Benefits of Growing Comfrey
Attracts pollinators with blue, pink, purple, or white bell-shaped flowers.
Provides habitat for beneficial insects under huge leaves, which helps to keep the garden pest-free.
Fertilizes with nutrient-rich mulch. Use the fast-growing leaves as a fertilizing green mulch or green manure.
More about comfrey:
Growing Comfrey for Different Uses
There are two types of comfrey that gardeners most commonly grow:
True/Common comfrey (Symphytum officinale)
Russian comfrey (Symphytum x uplandicum) also called the Bocking 14 cultivar.
Let's take a minute to talk about the properties and uses for each.
Would you like to grow food in your front yard without sacrificing curb appeal? Check out my mini guide, The Permaculture Inspired Edible Landscape.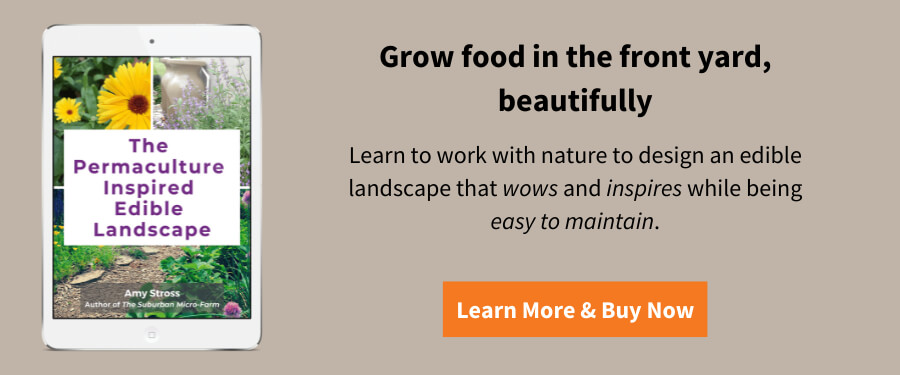 1: Grow True Comfrey for Medicine
This is the original ancient herb, nicknamed 'knitbone', that is grown for medicinal purposes.
The active medicinal substance in this herb, allantoin, is a cell proliferant, and has traditionally been used to heal broken bones, external injuries, and a host of other ailments. Recently, I noticed that allantoin is the primary healing ingredient in my store-bought lotion and shave cream.
I use a comfrey poultice on bruises, and it helped me heal a scar on my face.
Comfrey is usually recommended for topical use. Learn how to make comfrey salve to take advantage of its healing properties. The leaves and roots are used fresh or dried.
I'm sure you aren't surprised to learn that comfrey is one of my favorite herbs to grow in the medicine garden!
Want all the benefits of a comfrey salve but don't have time to make it yourself? Catskills Comfrey is my favorite source for high-quality, farm-grown and handmade herbal salve.
The plant's most potent concentration of healing properties occur just before flowering. As a result, this is the best time to cut it back for medicinal use.
Since this variety proliferates wildly from seed, cutting the plant before it flowers keeps it in check.
Because true comfrey is a prolific grower, you can cut the foliage back four to five times per year for mulch or green manure without harming the plant. However, true comfrey is most commonly grown for medicinal purposes.
Buy true comfrey as seed, live root, or plant. I like starting true comfrey from seed.
2: Grow Russian Comfrey ('Bocking 14' or 'Bocking 4') for Biomass (Mulch, Green Manure)
These cultivars are named after Bocking, England where they were developed, and are hybrids of true comfrey and another variety called prickly comfrey. While true comfrey can spread easily, Russian comfrey has sterile seed, so it won't take over the garden.
That benefit, plus the fact that it is a vigorous grower, is why many permaculture gardeners grow it as biomass for mulch or green manure.
This is what really makes this plant a star in the permaculture garden: its ability to feed the soil with nutrient-rich leaves. Mulch with the leaves to transfer those nutrients to the soil.
Vegetarian gardeners looking for non-animal fertilizers will find this herb to be a valuable source of nutrients and green manure.
Although the Bocking varieties do not proliferate by seed, the plant grows in width and eventually needs to be divided. And that's how you can produce more of these plants for mulch over time!
Buy this cultivar either as live root cuttings or as a plant. Because the seeds are sterile, you can't grow it from seed. I like to plant Russian comfrey root cuttings.
Tired of generic permaculture design advice that you can't apply to your specific goals? If so, check out my Permaculture Design Program and get the tools and support needed to create and implement your own permaculture design.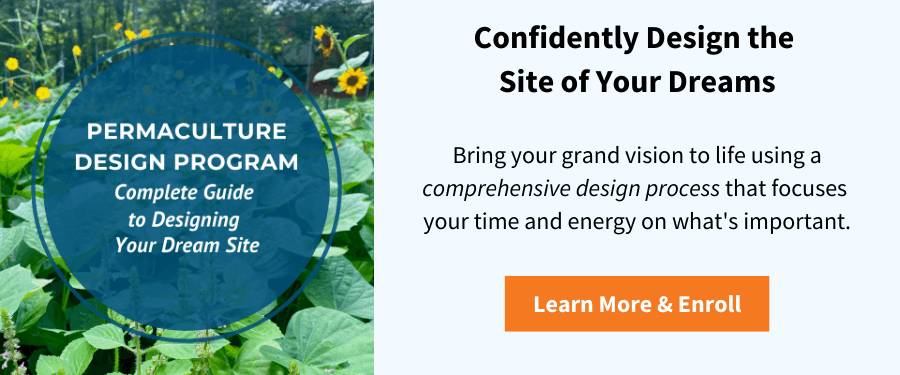 Planting Comfrey
Comfrey will be there a long time, so choose your site well for planting.
When planting root cuttings or mature plants, soak them in water beforehand for about an hour. In fact, I recommend this for all of your perennials because it helps them transition to their new home more easily.
Whether planting root cuttings, mature plants, or seeds, plant them about three feet apart.
Planting Root Cuttings
I like to plant root cuttings of Russian comfrey, which are more economical than purchasing mature plants. Additionally, digging a small hole for planting root cuttings is easier than the larger hole needed for mature plants.
Dig a small hole 2 inches deep in clay soil or 4 inches deep in sandy soil. Lay the root cutting down laterally and cover with soil. Top with a high-nitrogen mulch, such as manure or clippings of grass or clover, and water well.
Planting Mature Plants
Use a digging fork to loosen the soil where you intend to grow your comfrey plants and dig a hole at least 1 foot deep. Loosen soil at least 6 inches below the plant. The bigger the plant is, the deeper you should dig and loosen.
Mix in manure or rich compost at the time of planting. Water well and top with mulch.
Note: Things like grass clippings, manure, and compost can be contaminated with herbicides, even if you don't spray. Learn more about the possibility of herbicides in compost, herbicides in manure, and herbicides in store-bought soil (even if it's organic-approved).
Sowing Seeds
Sowing comfrey seeds is only possible for growing true comfrey, so only go this route if you have a lot of space and don't mind the plants spreading over time.
Sow seeds in the spring when the ground is workable to a 1/2-inch depth and three feet apart. As perennials, it will take some time before you see them pop up.
Growing Comfrey for Mulch and Green Manure
This is an excellent herb to grow as chop-and-drop mulch for perennial edibles. See how I use it under fruit trees in my article How to Build a Fruit Tree Guild.
Chop the leaves into pieces and use them around the garden for a fertility boost. Chopping the large leaves into pieces allows them to break down faster and prevents the green manure from forming a mat on the soil surface.
Read more about this practice in my article Mulching in the Permaculture Garden.
In the picture below, I'm preparing to spread buckets of true comfrey mulch around the garden.
However, I separate the flowers from the green plant matter so as not to spread seeds around the garden. I have to be diligent about chopping down true comfrey plants before the flowers drop their seeds, but otherwise, growing (true) comfrey is easy to work with.
After five years, I've never had more than a couple of volunteer plants develop around the garden. If you notice the volunteers while young, they're easy to dig up and transplant, or throw in the compost for a nutrient boost.
While both varieties can be used for both medicinal as well as mulching purposes, it's important to remember which variety you're growing, so you can manage the plants appropriately.
Do you grow comfrey in your garden? Which type do you grow?
READ NEXT: