Oregano is a popular perennial herb to grow in the herb garden, vegetable garden, and food forest. Here are six benefits of oregano in the garden.
This page may contain affiliate links. Please read my disclosure for more info.
The Benefits of Growing Oregano
Greek Oregano (Origanum vulgare) is a mediterranean plant that is drought-tolerant and grows in hardiness zones 4-9.
The following are some of the benefits of growing it in your garden.
1. It is easy to grow.
Although this herb prefers a sunny, hot climate with well-drained soil, it can survive wet periods and a little shade, too.
In fact, it's very versatile. I grow oregano in the rain garden, which receives ample rain in the spring, but hot and dry conditions in the summer months. This is one reason why it has made it on many gardeners' lists of low maintenance crops and easy herbs to grow.
When grown on a slope, it helps to prevent erosion.
The dainty white-light pink flowers are an excellent addition to the edible landscape.
Tired of generic permaculture design advice that you can't apply to your specific goals? If so, check out my Permaculture Design Program and get the tools and support needed to create and implement your own permaculture design.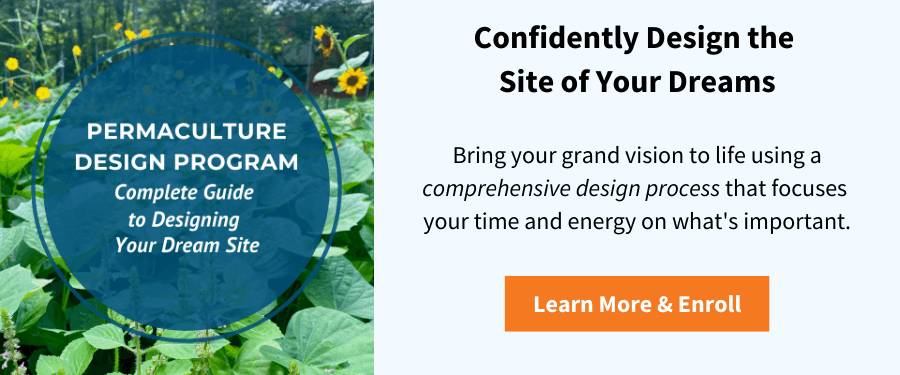 2. Oregano is good medicine.
This herb is often used in natural remedies, and is a powerful—some say more effective—alternative to prescription antibiotics. Many people take oil of oregano internally at the first sign of cold or flu. It has been known to help with fungal and yeast infections, and allergies, too.
Adding this fresh herb to your meals and drinking homemade oregano tea are simple ways to reduce illness, especially when exposed to sickness, such as when traveling or visiting a hospital.
Here are more antiviral herbs for cold and flu season.
3. It is a staple in the well-stocked kitchen.
This herb can be used both fresh and dried in the kitchen. It is popularly used in Italian cooking in pizza and tomato-based pasta sauces.
To use it fresh, simply cut the stems and pull off the fresh leaves.
To dry it, cut and hang the stems in bunches upside down until completely dry and crispy, then strip the leaves from the stems. Crush the dried leaves between your palms before adding it to your favorite recipes.
4. Oregano attracts beneficial insects and pollinators.
Pollinators of all kinds, including bumblebees, enjoy feeding on the nectar-rich flowers.
Oregano provides food and habitat for beneficial insects, such as lacewings. When lacewing larvae emerge, they are voracious predators of aphids, whiteflies, cabbage moth caterpillars, and many other common garden pests.
For this reason, I enjoy planting it as a border along the vegetable garden, especially near cucumbers and cabbage family crops like broccoli, Brussels sprouts, kale, and collards.
I also plant oregano in hedgerows and permaculture food forests to attract beneficial insects.
Here are more medicinal herbs to plant for the bees.
Here is a video of how popular the flowers are with pollinators in my garden:
5. It is a pest repellent.
The strong scent of oregano confuses pests sniffing out their favorite crops, which is another reason to plant it near the vegetable garden and under permaculture fruit tree guilds.
Speaking of pests, it is also deer resistant.
6. Oregano makes a good ground cover.
Oregano forms a walkable ground cover in areas that don't get heavy traffic, such as in minor pathways and under fruit trees where pruning and harvesting only occur a few times per year.
In fact, it makes a great living mulch in perennial gardens.
Here are more reasons to grow this herb.
Ready to get growing?
Oregano is a perennial, so starting from seed is a slow but easy process. If you already have a plant, oregano is one of many herbs that you can propagate from cuttings.
Give it plenty of space, because it can grow to four feet wide!
Harvest this herb often to keep it naturally pruned, and cut it back each spring to keep an attractive shape.
Overall, you'll love having this multi-functional, beautiful plant in your garden. How do you use oregano?
READ NEXT: