Herbal infused oils are simple to make at home. Learn how to make your own healing calendula oil to keep in your first aid kit for use on scrapes, burns, and other skin ailments.
This page may contain affiliate links. Please read my disclosure for more info.
I love growing calendula in my garden and landscape. It's so pretty and cheerful, and the pollinators and beneficial insects love it, too!
However, when I look out at the beautiful calendula flowers popping up around the yard I think, "Off with their heads!" Which is a little grim if you think about it, even though I grow extra flowers so there's enough for me and some for the bees.
When I set my eye on those beautiful flower heads, what I'm really after is some healing golden liquid.
Many years ago I had a burgeoning soap business, and my 'Gentle Skin' soap bar was made with calendula oil because of its skin-healing properties and its ability to reduce inflammation.
But that calendula oil was store-bought, and now I have the opportunity to make my very own oil from my very own calendula flowers!
Hint: If you aren't growing your own calendula flowers, don't worry. As long as you source quality dried calendula, you can make calendula oil that retains its healing properties.
Want to grow fruits, vegetables, and herbs in your front yard landscape without sacrificing curb appeal? Check out my mini guide, The Permaculture Inspired Edible Landscape.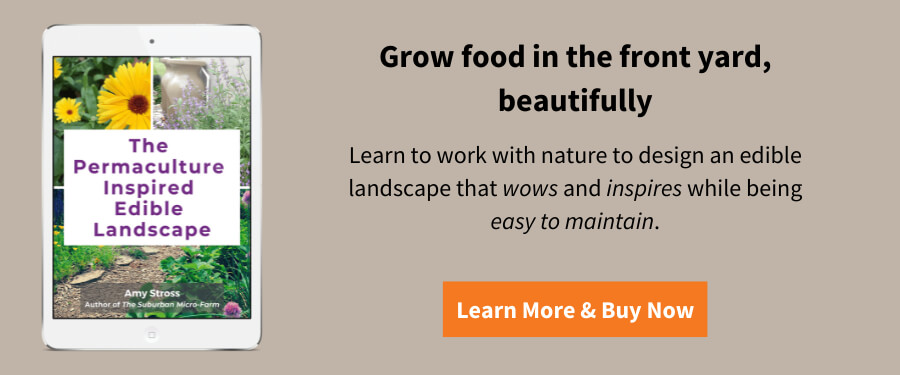 How to Make a Healing Calendula Oil
Instructions for making an infused herbal oil are simple: Infuse dried herbs in a quality oil, bottle it up, and enjoy!
The following are the detailed, step-by-step instructions for making a soothing calendula oil.
Step 1: Healing calendula oil starts with cutting fresh flower heads at the peak of bloom.
I'm not gonna lie, it feels a little sad to cut all those gorgeous flower heads that are cheerfully gracing my gardens and attracting all of those pollinators. That's why I only harvest about half of the possible blossoms.
Step 2: Dry the flower heads and pluck the flower petals.
Some people pluck the fresh petals right away, discard the heads, and then dry the petals. Other people dry the whole head and then use the whole head in the oil infusion. All of these options are safe and potent.
I take a middle-of-the-road approach: I dry the whole flower heads in the dehydrator (here's mine) and then pluck the dried petals. It really doesn't take too much time, and I love the rich, golden color that comes from using only the petals.
Bonus: The denuded flower heads are still beautiful post-pluck! I use them in my dining table centerpiece!
Step 3: High-quality calendula oil is only as good as your infusing oil.
Since infused herbal oils are meant to be medicinal, select a high quality oil.
I like to use organic, cold-pressed olive oil, but you can use any cold-pressed oil that you'd typically use in a salad dressing. For more details about selecting an olive oil (there's a lot of fraud in the industry, as well as a disease affecting olive trees), see the notes in my article How To Make Herbal Salve.
Cold-pressed grapeseed oil or avocado oil are good alternatives.
Step 4: Fill jar with calendula flower petals and infusing oil.
Next, fill a sanitized 8-ounce mason jar about halfway with flower petals, then fill the rest of the jar with oil.
Step 5: Cap the jar and soak the infusion.
Cap the infusion tightly and sit the jar in a sunny window to soak for a month. I put mine in my kitchen window above the sink and give it a little shake each morning.
I write the beginning and ending date on my calendar so I don't forget when it will be done. Over the course of the month, the oil will get progressively more golden as the petals infuse.
Step 6: Strain the infused calendula oil.
After about a month, it's time to strain off the flower petals. I set a canning funnel on top of an empty mason jar, and set a piece of cheesecloth on top of the funnel.
Now, pour the infused oil through the cheesecloth into the empty jar.
Step 7: Store your infused herbal oil properly.
These instructions yield about eight ounces of healing calendula oil, which you'll want to keep in a cool, dark place.
An amber or cobalt blue dropper bottle makes an attractive gift option and protects the oil from UV light so that it lasts longer.
Step 8: Use your infused herbal oil on dry skin, scrapes, and sunburns.
I use this moisturizing and soothing oil directly on dry skin, scrapes, and sunburns, and other skin ailments. A dropper bottle makes it easier to apply.
I also use it to make a healing salve.
If you like this recipe, then you'll like these five homemade infusions (tinctures, elixirs, vinegars, and liqueurs) that make great gifts!
Have you ever made an oil infusion? What herb and oil did you use? Did you turn it into another product like salve?
READ NEXT: