The Big Book of Homemade Products offers simple instructions for turning your homegrown, fresh herbs into personal care products.
This page may contain affiliate links. Please read my disclosure for more info.
Have you ever flipped through a new recipe book and oohed and awwed over the gorgeous photos? That's what happened to me when I picked up Jan Berry's The Big Book of Homemade Products for Your Skin, Health and Home.
Master of Homemade Products
I've been following Jan's work through her blog The Nerdy Farm Wife. Her recipes are always beautiful, and I love that she thoroughly researches and tests each one. I fell in love with her ebook Natural Soap Making because she simplifies a process that could otherwise seem confusing or intimidating.
She's done the same in Homemade Products. She makes me feel confident in making my own hair care products, health remedies, and household cleaners that are safe and effective.
DIY skin care does not have to include hard-to-find, fancy, expensive ingredients.
While many online recipes come with an outrageous ingredients list, this book will not take your wallet for a ride.
I want recipes that allow me to use the herbs that grow right in my own backyard.
(Check out my eight favorite herbs for the medicine garden.)
I've experimented with making my own herbal salve, herbal infused oil, and other herbal preparations. However, my imagination only takes me so far!
Jan has opened up a world of possibilities.
I was excited to discover that most of the herbs in her recipes are ones that I grow myself. She tells me exactly how to use these fresh-from-the-garden herbs.
No fancy equipment needed!
I appreciated her explanations for her most-used ingredients and equipment and the best way to use them.
For example, Jan includes an explanation on how to make blocks of beeswax easier to use.
She also explains how to substitute candelilla wax or sunflower wax for the beeswax, to accommodate vegans and others who can't tolerate bee products.
Homemade Spa Treatment
The book includes a vast collection of recipes for homemade products like salves, balms, body butters, creams, and lotions. I was mesmerized by the recipes for Peppermint Pine Headache Salve and Dandelion Body Butter.
Pamper yourself with bath soaks, salts, melts, and scrubs (I can't wait to try the Garden Herbs Bath Soak). Lip care (Hello, Daisy Vanilla Lip Balm!) and hair care is next, followed by homemade soaps.
Home remedies like Lavender Dandelion Pain Relief Oil and the nontoxic Lavender Fabric Softener stand out for me. Even your dog is pampered with the Peppermint & Parsley Fresh-Breath Dog Treats!
Tip: Want all the benefits of a healing herbal salve but don't have time to make it yourself? Here's my favorite source for high-quality, farm-grown and handmade herbal salve.
Want to grow fruits, vegetables, and herbs in your front yard landscape without sacrificing curb appeal? Check out my mini guide, The Permaculture Inspired Edible Landscape.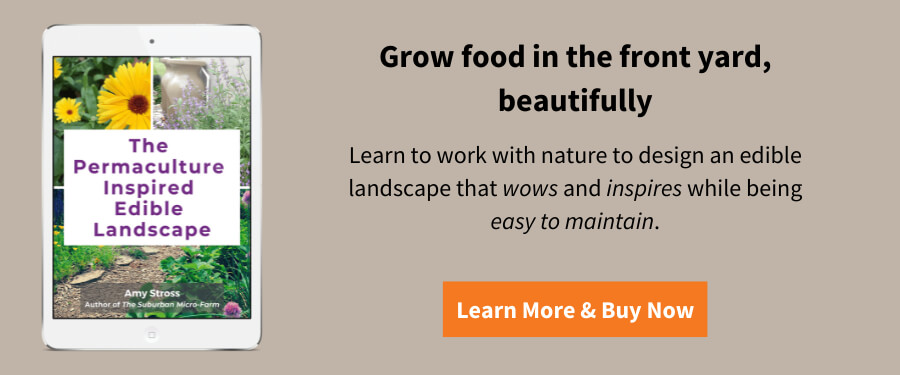 Don't give up your herb habit.
In spite of my jungle of a garden, I still can't resist buying or growing new varieties of flowers and herbs as I discover them. Rather than give up my compulsion, I've made it my mission to see how creative I can get in using those plants that surround me." ~author Jan Berry
She gets me.
Homemade Products That Nurture
Our skin is our largest organ, and many of us know that our store-bought skin care products—with their toxic ingredient lists—are just not cutting it.
Jan's simple instructions and explanations leave me no more excuses: It's time for me to nurture my own wellbeing (and that of my family) by making more of my own homemade products.
In fact, these herbal products would even make great gifts alongside herbal tinctures, elixirs, and vinegars.
Check out The Big Book of Homemade Products for Your Skin, Health and Home, and be sure to tell me about your favorite recipes below!
READ NEXT: