Thyme is a valuable herb with culinary and medicinal benefits. But that's not all! Check out these six reasons to grow thyme in your herb garden.
This page may contain affiliate links. Please read my disclosure for more info.
The Benefits of Growing Thyme
This mediterranean plant is in the mint family. Whether you like creeping thyme, common (English) thyme, lemon thyme or French thyme, you will find a variety to suit your needs. It is cold-hardy, and drought tolerant.
The following are some of the benefits you'll get from growing it in your herb garden.
1: It is easy to grow.
This herb does not take a lot of care. I gravitate toward plants that don't need much attention, how about you?
Harvest it often to keep it naturally pruned. Otherwise, cut the woody stems back by half each fall.
2: It is good medicine.
Thyme is often used in natural remedies. As an antiviral herb, it is especially helpful with common cold symptoms, coughs, and bronchial infections. Check out my sage and thyme elixir, which is easy to make at home.
It is also a strong antiseptic for cuts, scrapes, acne or sore muscles.
You can buy the essential oil or look for natural products with the active ingredient thymol in it. Or try making your own thyme infused oil (from Herbal Academy), which can be used as a culinary oil in the kitchen, directly on the skin as a moisturizer or disinfecting ointment, or in a salve.
For all of these reasons, it is one of my favorite herbs to grow in the medicine garden.
Would you like to grow food in your front yard without sacrificing curb appeal? Check out my mini guide, The Permaculture Inspired Edible Landscape.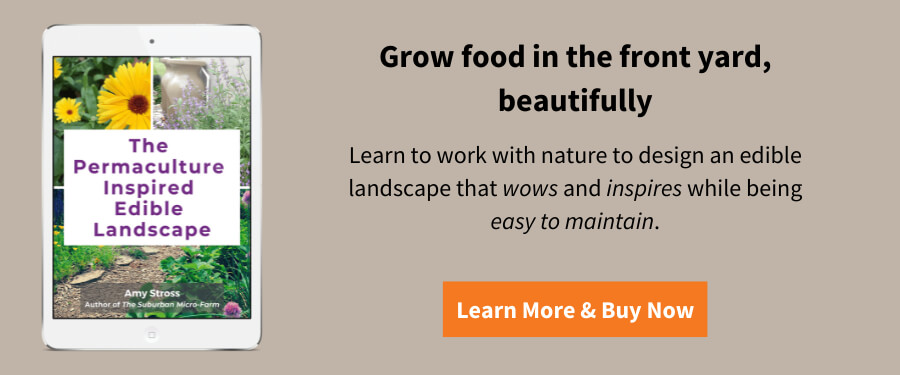 3: Thyme is a delicious culinary herb.
This mediterranean herb can be used both fresh and dried in the kitchen. It is popularly used in a dried poultry herb blend or in herbes de provence seasoning blend.
My favorite: roast potatoes with thyme. Mmmm.
For something different, try making calendula and thyme shortbread cookies or black cherry preserves with thyme.
4: Thyme attracts beneficial insects and pollinators.
This flowering herb attracts a wide variety of pollinators and is especially favored by lacewings, a beneficial insect, for egg-laying habitat. Lacewing larvae are voracious predators of aphids, whiteflies, cabbage moth caterpillars, and many others.
For this reason, I enjoy planting thyme around the edges of the vegetable garden and underneath my fruit trees.
5. It is a pest repellent.
This herb's strong scent confuses pests sniffing out their favorite crops to devour. This is another reason why I like to plant it around the perimeter of the vegetable garden and underneath fruit trees.
Speaking of pests, it's also deer resistant. Hurrah!
6. Thyme reduces erosion.
Reducing soil erosion is an important goal in our gardens and landscapes, since we export 3 tons of topsoil per acre per year in America alone.
Recently, I discovered how this herb can reduce erosion quite by accident!
I decided to move a one-year-old plant to a different part of the garden. Imagine my surprise when I dug it up and discovered its 2-foot-deep roots (see picture above)!
The roots have a deep, fibrous growth habit that is perfect for growing on erosion-prone slopes.
Ready to get growing?
As a perennial herb, starting it from seed is a slow practice. However, if you're short on cash and don't want to buy seedlings, growing from seed is easy. Plus, you can be sure your plants were grown without chemicals.
I love this 10-herb set of non-GMO seeds, which includes thyme, or try an heirloom variety.
Here are more details on growing, harvesting, and using thyme.
How do you use this multifunctional herb?
READ NEXT: