Growing garlic is easy, but many people wonder when to harvest and how to store garlic. I share my tips in this article.
This page may contain affiliate links. Please read my disclosure for more info.
When to Harvest Garlic
For crops that grow underground, it can be hard to know when to harvest them. Luckily, garlic gives us a clue. When the bottom 3-4 leaves of the plant have died, it's ready to be harvested. In my USDA hardiness zone 6b garden, my harvest window is anywhere between late May to early July.
Not sure when to plant garlic? My fall planting guide can help!
The ideal time to harvest is 3-5 days after a rain. That's because the drier the bulb is, the better it will cure and the longer it will store.
Lift the bulbs gently with a digging fork to prevent damage.
When I harvest my garlic, I make garlic powder from last year's leftover garlic.
Would you like to yield delicious harvests while partnering with nature? Check out my mini guide, The Permaculture Inspired Vegetable Garden.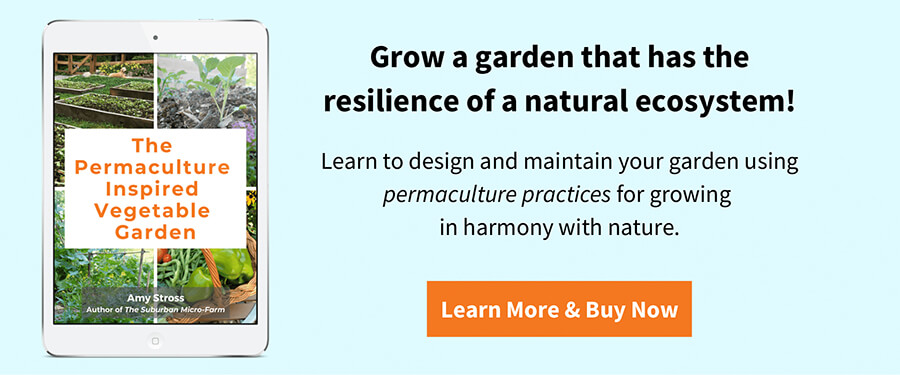 How to Cure Garlic
Curing garlic is an important part of the garlic grower's journey. This two-week step prepares garlic for long-term storage. Garlic should be cured in a warm, dry, well-ventilated area.
We cure our garlic on our patio table. The only thing we're missing is coverage from rain, so we have to be sure to bring the garlic in if there's a chance of rain.
There have been years that we harvested garlic and had to dry it on metal racks in the basement to keep it out of the rain. (Not ideal, this garlic does not store as long.) We set a fan on low to keep the air circulating.
Air conditioning will make the air cooler than the ideal curing temperature, but this is preferable to rotting from too much moisture. Moisture is not your friend when curing or storing garlic.
Preparing Garlic for Storage
After the garlic has cured for two weeks, it's ready to store. If you are growing a softneck variety, you can braid the necks and hang for decorative charm. Softneck garlic generally stores longer than hardneck, but hardneck varieties (like my favorite variety) are hardier for cold winters.
For both types, trim roots to 1/2 an inch long.
To store hardneck varieties, clip off the stems just above the neck. I then store the garlic bulbs in hanging wire baskets or mesh produce bags. Air circulation is essential.
Bonus: Make Garlic Mulch
Cut the stems into 3-5 inch pieces and use as mulch around pest-prone plants. Pests are repelled by the garlic scent.
How to Store Garlic
Keep in a dry, dark, cool area. I store my garlic in the basement or in a dark, spare bedroom with a small fan circulating air on low. The ideal storage temperature is 35-40 degrees, but that's hard to come by in modern-day houses, so we do the best we can.
The refrigerator is NOT ideal for garlic, as the moisture and condensation will encourage rotting.
Save Seed for Next Year
Use up the smaller bulbs in the kitchen and save the bigger bulbs for planting your fall garlic. You'll never have to buy seed garlic again! You might even plant some garlic in your medicine garden.
Where do you cure and store your garlic?
READ NEXT: