Growing carrots successfully can be a challenge, but they offer sweet rewards for a job well done. Here's how to grow the tastiest carrots year-round.
This page may contain affiliate links. Please read my disclosure for more info.
First, I'll share some interesting facts about growing carrots, then I'll show you how to prepare your garden and grow a continuous crop of carrots all year long.
Facts About Growing Carrots
Carrots take a long time germinate: 12-15 days on average. If it's cool, like in early spring, don't give up if you don't see sprouting right away.
Carrots take a long time to grow to maturity: 3-4 months. Although you can pull and eat carrots at anytime, but the best size for flavor and texture is finger-length size.
Carrots don't take up much space. Grow 16 carrots per square foot or grow them 2 inches apart in rows. That means you can sneak them in just about anywhere you find an opening in the garden or landscape! Just be sure to use the tips below.
Carrots attract the eastern swallowtail butterfly caterpillars, which eat the carrot foliage. Since this activity will not damage the carrot crop, I prefer to let the caterpillars do their thing and be rewarded with lots of visiting butterflies!
Grow a garden that's both productive and manageable with my Complete Garden Planning System, which includes practical tools for planning your season from seed to harvest.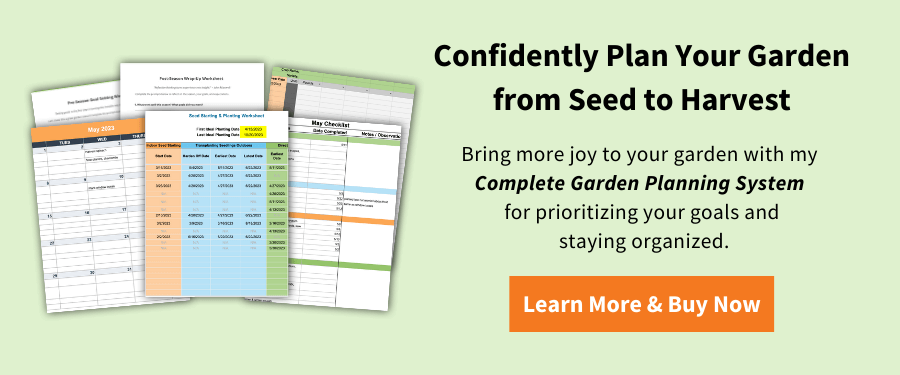 Site Selection, Preparing the Soil, & Selecting Seeds
Site Selection
Choose a well-drained garden bed in a location with full or partial sun (at least 6 hours of sun per day).
In addition, carrots need a well-prepared bed to thrive. They prefer deep, fertile, loose soil.
Preparing the Soil
To prepare the soil for planting, mix worm castings and compost into the soil two weeks before sowing carrot seeds. Use a spade fork or broadfork to loosen the soil as you mix.
Because carrots like deep, loose soil a raised bed or planter can work well. Even a container with a 12-inch depth will work great. I have never had more success than when I grow carrots in our 18-inch tall raised beds.
See also:
Selecting Seeds
One of the fun things about gardening is that every garden is unique. This means that you will have to run your own experiments to see which carrot varieties work best for your climate and soil type.
After some trial and error, I now grow an heirloom variety called 'scarlet nantes' for my fall and winter carrots because it is hardier than many other varieties. Throughout the rest of the year I like to grow a variety called 'red core chantenay' because it grows well in my clay soil. It is a stockier carrot that only grows to about 6 inches.
Companion Planting for Success
According to the book Carrots Love Tomatoes, carrots benefit from being near onions, rosemary, or sage, all of which help repel the carrot fly. I've never had a problem with the carrot fly, but if you can work these plants into your garden design, it's not a bad idea to have them intermingled with your carrots.
See also: 6 Flowers to Grow in the Vegetable Garden
What is the Best Season for Growing Carrots?
Carrots need warm temperatures in order for the seeds to germinate—around 70 degrees Fahrenheit or warmer. That's why carrots are slow to germinate in cooler spring temperatures.
However, carrots need cool temperatures for developing sweet, fat roots—around 40 degrees F.
What time of year do we typically see warm temperatures followed by cool temperatures?
You guessed it: Late summer and into fall.
The following schedule will help you grow carrots year-round, and make sure that you don't miss out on that ideal fall harvest for the growing the sweetest carrots.
Growing Carrots: A Planting Schedule Overview
The main idea for growing carrots year-round is to sow seeds every 3 weeks, from the spring equinox (mid-March), through the fall equinox (mid-September). To follow this method, you'll need at lease 4-5 rows of dedicated gardening space. Sow one row every 3 weeks. Carrots are harvested every 3-4 months.
Planting Carrots By Season
Spring
Begin sowing around the spring equinox (mid-March).
Note: The window for sowing seeds in your garden will vary depending on your growing zone. I'm in USDA hardiness zone 6a. To get an idea of your unique sowing and growing window, get my downloadable Seedstarting & Planting Worksheet as a free bonus when you purchase my book, The Suburban Micro-Farm: Modern Solutions for Busy People.
When I sow my first carrot seeds of the year in March, I know that I have 3-4 months before I will get my first harvest. Remember that carrots are slow to germinate and get growing in the cold spring soil.
This means that my first harvest of homegrown carrots won't be until June orJuly. Doesn't sound so early, huh? You can help your carrots along by using row cover or a cold frame to keep the germinating seedlings warm (and growing faster) in those cool months.
Tips for Success:
If you use a season extension method like row cover or a cold frame, be sure to open it on days when the interior temperature is above 70 degrees.
Keep the carrot bed well watered for good germination.
Continue sowing carrots every three weeks (one row each time) to keep your carrot bed constantly producing.
Summer
Harvest spring-sown carrots around the summer solstice (mid-June).
Mix some compost into the row and sow more seeds.
Especially important, sow the last seeds for fall and winter carrots by mid- to late- July so you can harvest sweet carrots by October and November.
Fall
Harvest summer-sown seeds around the fall equinox (mid-September).
This is the time of year that I get really excited to harvest the sweetest carrots! After a few hard frosts the flavor is really sweet.
Harvest half of the carrots, and mulch the rest well to help insulate them over the winter. I use shredded leaves, but you can get more of my ideas in my article Mulching in the Permaculture Garden.
If you experience freezing winters, you may want to cover your carrots with row cover or a cold frame. This will reduce the chance of the soil freezing solid, so you can continue harvesting right through winter. As an example, here in USDA hardiness zone 6a, I can harvest at least until January using these techniques, and sometimes throughout the entire winter and early spring if it's mild enough.
Winter
Harvest the rest of your carrots around the winter solstice (mid-December), or alternatively leave some to continue harvesting until the spring equinox (mid-March), depending on your climate.
Growing carrots is an especially rewarding experience, and the tips in this article will help you grow the sweetest carrots.
Have you had success at growing carrots? Share your tips below.
READ NEXT: