Currant bushes are a great addition to the edible landscape. Here's how I grow them in my landscape and use currants in the kitchen.
This page may contain affiliate links. Please read my disclosure for more info.
Currant bushes (Ribes) are thornless understory shrubs, growing in USDA hardiness zones 3-8. They can grow 3-6 feet wide and tall, and can range in color from red, white, pink, or black. There is even a clove currant (Ribes odoratum), which is very fragrant.
All currants have attractive flowers and maple-like leaves that make them desirable in the edible landscape. They can be planted in the understory of a permaculture food forest or hedgerow. They are one of many perennial crops that can tolerate moist areas.
Currant Bushes: Edible Landscaping for Shady Areas
There aren't a lot of options for growing edible plants in the shade, so when I learned that currants can be full and productive in the shade, it was love at first sight. I replaced the traditional yew bushes lining our front porch with a row of currant bushes.
On the north side of the house, they're almost completely shaded. I can't believe how little they were at the time of planting! >>>
I planted two each of 'Red Lake' red currants and 'Consort' black currants. In hindsight, I should've chosen only one variety for a uniform look to the hedge. This is a basic landscape design principle called unity. Live and learn…
This berry bush grows naturally in dappled shade. There, it will produce more vibrant, darker foliage, which is good news for an edible landscape. On the other hand, they're more productive in full sun.
With more sun, however, the shallow roots will require more watering during the hot summer and may be more susceptible to pests.
8 Ways to Grow Currant Bushes in the Landscape
Here are a few ways to grow the bushes:
As a foundational hedge bordering the front porch. The spring flowers are gorgeous in the spring, and the berries dangle like bunches of grapes in early summer.
In a shady, unused spot. Try planting them under oak, walnut, or apple trees, according to Gaia's Garden.
In a wildlife hedge. Birds love the berries. They are said to be deer-resistant, but I'm not so sure about that.
In a poultry foraging area. Chickens like them, too.
At the edges of open woods or in dappled shade in the woods (as in a food forest).
In a pollination garden. The tiny flowers provide nectar for both hummingbirds and a menagerie of other insects.
In your medicinal garden. Black currant leaves are known for curing quite a large array of symptoms and illnesses, from arthritis to colds and coughs. All currants are high in vitamin C and can be dried and eaten as a supplement during the winter months.
In a jelly garden. While I think they're a bit tart for fresh eating, they transform into a sweet and mellow taste when made into jelly.
Did you know you can also forage for wild currants? Learn how in this course I recommend.
Want to grow fruits, vegetables, and herbs in your front yard landscape without sacrificing curb appeal? Check out my mini guide, The Permaculture Inspired Edible Landscape.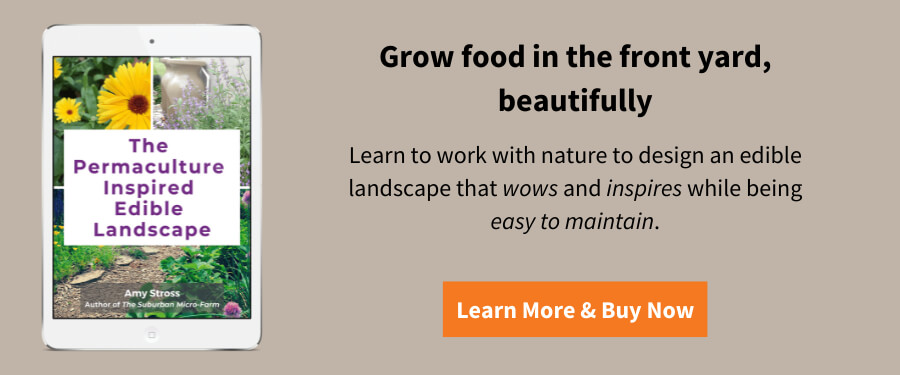 Pretty in the Edible Landscape
Black currant bushes are more vigorous than red currants. They are fuller and more upright with straighter branches, and grow to 5-6 feet tall and wide. The leaves are bigger and the branches provide more interest in the winter because the red buds are bigger.
Alternatively, red currant bushes are smaller (3-5 feet tall and wide) and a little more scraggly-looking. But that's kind of a neat look, too, with the gnarled branches. Clearly, it depends on what you're looking for!
Yield of Currant Bushes
Annually, each of my red currant bushes produce about 2 pounds of berries, while my black currant bushes each produce about 4 pounds of berries.
My bushes are shade-grown, so grow in full sun to produce more berries.
Harvesting Currants
Harvest Season: Harvest the berries in the early summer. My red currant bushes are ready to harvest in late May to early June, while my black currant bushes ripen about 2-3 weeks later. They're both harvestable for about a month.
How to Harvest: Harvest the whole bunch when all of the berries are ripe (like a bunch of grapes). Pick each berry from the stem before eating or processing.
Tired of generic permaculture design advice that you can't apply to your specific goals? If so, check out my Permaculture Design Program and get the tools and support needed to create and implement your own permaculture design.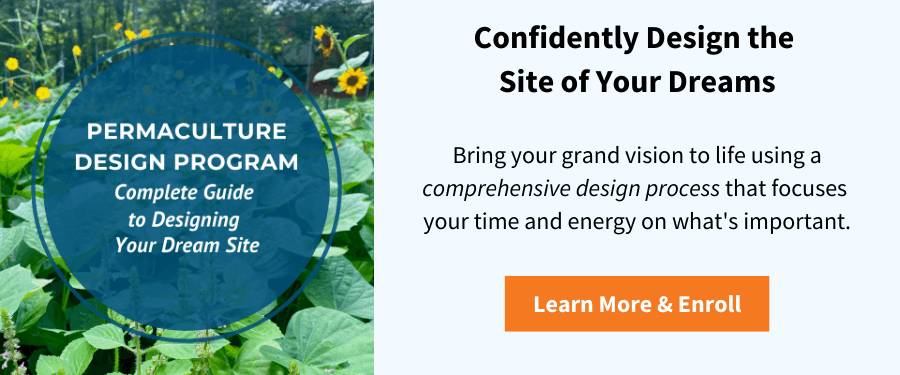 Pests and Diseases of Currant Bushes
They are susceptible to aphids and white pine rust, so don't plant near white pines. Because of their ability to pass on the disease, they're prohibited in some states.
The nursery can tell you if they're prohibited altogether where you live, or if only certain varieties are prohibited. I haven't experienced any pests or disease in my currant hedge.
Pruning
Prune currant bushes in late winter when they're dormant to achieve good berry production.
Cut back any stems that are touching the ground or that appear to be diseased or broken. Red currants produce most heavily on 2- to 3-year old stems, while black currants bear more heavily on 1-year-old stems.
Older, less-productive stems should be removed as the plants get older. Too many stems cause overcrowding and reduce productivity, so only keep 10-12 of the most vigorous, younger stems (1-, 2-, and 3-year old stems). Prune the rest back.
At this time, you can also shape currant bushes into a tidy hedge if that's your thing.
Growing Resources:
Taste and Uses
Both black and red currants are very tart when eaten fresh, and both have seeds. But they're high in vitamin C and antioxidants (good-for-you stuff!).
I've found loads of ways that I enjoy eating them. I start by freezing all berries immediately after harvesting.
1. Currant Smoothies
The frozen berries are delicious in my morning smoothies with coconut milk and a splash of vanilla. I mix equal parts of red and black currants and strawberries together. While the strawberries cut the tartness, I get to take full advantage of the currants' high vitamin C content.
2. Currant Jelly
The most expensive preserves in the world are called Bar-le-Duc red currant preserves. This delicacy hails from a small village in Northeastern France where it's been made since at least the 1500s. The trade is passed down from women to daughters, where they use goose quills to painstakingly extract the seed from each berry without causing damage.
I tried to make a version of this, but the recipe for regular people like me includes the seeds, which I didn't like. Tasted great, too many seeds.
So now I make a jelly rather than preserves because it's seedless. Currant berries have a lovely mellow taste when cooked. My mixed berry jelly, which often includes red and black currants and black raspberries, is divine.
Pomona's pectin is a great way to turn your unique combination of homegrown berries into a one-of-a-kind jelly.
3. Currant-Infused Vinegar
I like to make a berry-infused vinegar with the leftover pulp from making jelly. The pulp includes berry seeds and skin, which still have plenty of flavor. Use regular berries mashed with a potato masher if you don't have pulp from jelly.
Here's how to make currant-infused vinegar.
4. Currant Liqueur
Infusing berries in vodka is really easy! I infused black currants to make a famous French liqueur called creme de cassis. This fruit is more popular in Europe, where there are a multitude of traditional uses for the berries.
Here's how I made the black currant liqueur.
Whether you choose red or black currants for your landscape or culinary adventures, you can't go wrong. They're both beautiful and tasty!
Are you growing currants on your homestead?
READ NEXT: