Growing black raspberries is a simple and rewarding experience. Here's how to grow black raspberries in the small-scale garden or edible landscape.
This page may contain affiliate links. Please read my disclosure for more info.
"Black Raspberry Plants Free to a Good Home" is the message that appeared when I checked the neighborhood message board one day many years ago. I instantly replied and felt giddy about adding more fruiting plants to my edible landscape!
It was a bonus to meet a neighbor-now-friend who shared my love of growing delicious things.
Indeed, the plants worked perfectly in my garden, and I made some new friends. Win-win! I was delighted to learn how adaptable these plants were to a variety of growing conditions.
My next challenge was to learn how to grow black raspberries. It turned out to be an easy and rewarding experience for me.
Read my other articles about growing fruit.
Planting Black Raspberries
Plant black raspberries in USDA hardiness zones 5-8. They aren't as hardy as red or yellow varieties. You may be able to grow them in zone 4 on the north side of a building or slope to protect them from spring frost and wind damage.
In fact, all brambles (i.e., raspberries and blackberries) do well planted this way as an extra precaution (spring frost damage can mean reduced harvest).
Choose a location in full sun or one that is partially shaded. In hotter climates, they do better with late afternoon shade.
Don't plant them near wild raspberries or blackberries, which can spread disease to your black raspberries. A 300-feet distance between them is the suggested rule of thumb.
Black raspberries are self-pollinating, which means one lone plant can produce fruit.
They prefer well-drained soil, so choose a location where the soil is not soggy. When planting, mix in compost or manure, and add more of it each spring as a soil topper.
Plant black raspberry canes 2-1/2 feet away from each other in a row. Be sure that you can access both sides of the row for harvesting, training and pruning.
Like all brambles, black raspberry patches can get out of hand if they aren't trained and pruned properly. A trellis or fence will help to keep your black raspberries manageable and easier to harvest. It is best to install this at the time of planting.
>>> See Training and Pruning Black Raspberries for more details.
Mulch them well in the fall to help prevent winter damage.
Want to grow fruits, vegetables, and herbs in your front yard landscape without sacrificing curb appeal? Check out my mini guide, The Permaculture Inspired Edible Landscape.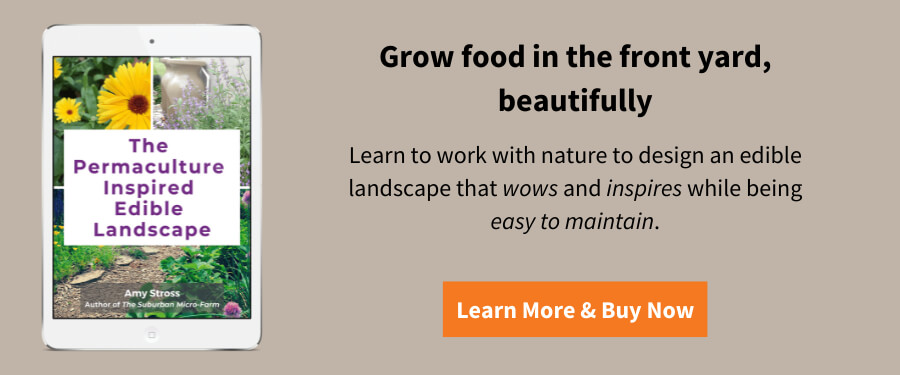 How to Grow Black Raspberries in the Edible Landscape
Black raspberries are a beautiful landscape plant. Their bright red canes blaze confidently through gray winters, while the pinks, reds, and purples of the ripening berries are beacons of cheer in early summer.
You might be tempted to consider growing red raspberries because of all of the wonderful benefits I've listed so far about growing black raspberries. Aren't they just different colors of the same berry?
In fact, red (and yellow) raspberries behave differently than black raspberries. Red raspberries spread by sending up suckers away from the original root crown.
Rather than "walking" away over time, however, black raspberries "stay put". (Purple raspberries and thornless blackberries are in the same camp.) They only start new plants when their long canes bend over and touch the soil.
This is easy to control with proper pruning. However, for this reason, I only recommend red and yellow raspberries and thorny blackberries for gardeners who have a little more space and can allow for fuller rows of canes that wander a bit.
They're better in the backyard garden rather than in the front yard landscape.
See: 6 Fruit Crops to Propagate for Free from Cuttings
I planted mine in front of our house, right next to the front porch.
Would you like to learn more about using fruit crops in the edible landscape?
You'll find loads of information just like this in my award-winning book, The Suburban Micro-Farm.

Decidedly, black raspberries make excellent foundational landscape plantings, because:
Their height never exceeds 2 1/2 – 4 feet (if they're pruned properly)
They're thorny, so they provide some security near windows
They grow great in a straight line (they're easier to train that way)
They're beautiful in both winter and summer
They "stay put"
They're shade tolerant and grow well in areas that are overshadowed by the house
They are juglone tolerant and can be planted near black walnut trees
Growing Black Raspberries With Wildlife
1: The birds love them.
Learning how to grow black raspberries—and keeping the birds from eating them all—is an art form. Out of all of the fruit growing in my yard, these are by far their favorite!
Bird netting and shiny things like old CDs will deter them some.
Personally, I think the ideal way to deter birds is to prune the canes to a shorter height, closer to 2-1/2 to 3-feet. That's because if the raspberries are lower to the ground, there is more risk from neighborhood predators like cats.
Our black raspberries are pruned at around four feet high, and the birds eat to their hearts content, while Molly the Farm Cat is unable to patrol at that height. I'd like to prune them shorter in the future to see if there's a difference.
2: The deer love them, too.
Learning how to grow black raspberries is a moot point if you have deer in your neighborhood, unless you're willing to fence in your fruit crop. I recommend planning ahead and installing a garden deer fence.
In spite of the thorns, they will eat the entire plant, not just the berries.
Grow a fedge!
Alternatively, consider growing a fedge (a food hedge), which is a hedge planted on the outside for wildlife and on the insidefor humans. The fedge is so densely planted, that the deer would rather just stay on the outside and munch on things than jump on into your garden.
This strategy only works if you have a decent amount of space. For instance, the fedge might be six feet wide on the outside and six feet wide on the human side. Densely planted shrubs and trees of varying heights serve to confuse their limited depth perception.
Plus, fedge is a cool word! Here's a short post on the matter.
Harvesting Black Raspberries
To get your best harvest, you'll want to train and prune them correctly. Learn about training and pruning black raspberries. Proper pruning means thorns are easier to work around when picking berries.
Don't expect to get any fruit in your first year of planting. In your second year, you'll get a handful or so from each hill.
After your second year, you should get a good harvest off of each hill: two to six quarts, depending on your wildlife deterring strategies and whether or not your plants are in the sun (more sun = bigger harvest).
Learn about the ripening season for the specific variety you plant. Varieties ripen either in early, mid-, or late season. Ours ripen in June, so June is not the month for us to go on vacation if we want to harvest black raspberries!
When black raspberries are ready to harvest, they turn from bright reds to deep purples. Once they begin to ripen, you'll want to harvest everyday in order to beat your wildlife friends (who will inevitably get some anyway).
Using Black Raspberries in the Kitchen
I freeze most of mine, because they perish so quickly, to use throughout the winter. Black raspberries are great—fresh or frozen—in smoothies and baked goods, over vanilla ice cream, or in jellies. Here are more ideas on how to use the berries.
Are you growing black raspberries? Are you considering adding them to your garden or landscape?
READ NEXT: