A hedgerow can offer beauty, yield, biodiversity, and much more! Discover how to plant a hedgerow to meet your needs in your home landscape.
This page may contain affiliate links. Please read my disclosure for more info.
In 10 Reasons to Plant a Hedgerow, I review a variety of uses for this planting scheme, including privacy, water conservation, a buffer to noise, wind, or pollution, and more. Furthermore, I outline the difference between a mixed hedgerow and a formal hedge, as well as some of the top benefits that a hedgerow can provide.
Hedgerows are primarily made up of perennial species. However, fast-growing annuals can fill the gaps while a young hedgerow is set up. In this article, I'll share some design advice, tips on preparing the area for planting, as well as outline a detailed planting list.
Additionally, ongoing maintenance is a factor in how successful a planting will be. To clarify, you should plan to maintain a hedgerow regularly for at least two years by watering and weeding while it becomes established.
Making Observations: The Key First Step
The type of hedgerow to plant, and its layout, depend on a number of factors, such as the purpose you want it to serve, sun exposure of the area, soil conditions, wildlife activity, and many other considerations. We call these passive observations.
In fact, taking a moment to observe before starting is a key first step in permaculture design. Therefore, in my article how to use the power of observation, you'll be able to get my free, 13-page worksheet Making Observations.
Additionally, active observations are another important tool.
They're made by gathering data about your site and plotting it on physical maps of the property, so you have visual representation of all the data points that can affect design decisions. Learn more about this activity in my article 6 Maps for the Permaculture Site Design.
Taking the time for both passive and active observations ahead of time can help match your goals with the ecology of the land while saving time, energy, and costly re-work.
Design your Hedgerow
Hedgerows are often used along property lines but they can also be used to divide sections of a property such as dividing recreational areas from garden areas. They can also be utilized to manage water flow, when built as swales or contour gardens.
Hedgerows are ideally twice longer than they are wide.
For example, Dave Jacke, author of Edible Forest Gardens, suggests 40 feet as the critical minimum width for a hedgerow. That's because depth, as well as multiple layers of plants in height, are needed for creating a rich ecosystem that provides food and shelter for beneficial insects, wildlife, and a variety of plant species.
I suspect, however, that many won't have the necessary space for this. Therefore, don't let perfect get in the way of good! I think mixed hedgerows and perennial plantings of any size can do wonders for attracting biodiversity.
If you can swing it, a hedgerow that is at least 10 feet wide (20 feet long) is a minimum size in order to be able to include several rows or layers of plants.
By comparison, farmland hedgerows can in fact stretch as wide as 100 feet (x 200 feet long), and a minimum of 60 feet (x 120 feet long) from a water source in riparian zones.
In fact, mixed hedgerows actually have a lot of similarities with permaculture food forests and fruit tree guilds.
Prepare the Hedgerow Planting Area
There are many ways to prepare an area depending on its size, as well as the type of vegetation that is currently there. On large-scale properties, it might be necessary to till the hedgerow area before planting. You can then add a couple inches of compost and let it rest for two weeks before planting.
For a small hedgerow, however, sheet mulching can be a healthier approach, especially if the existing area is made up of lawn.
First, cut back unwanted growth and remove unwanted woody plants. Then, use a digging fork to aerate the soil throughout, and cover the area in cardboard, overlapping the ends so the soil is entirely covered. Next, alternate layers of organic materials such as aged manure, shredded leaves, or straw. Finally, top with several inches of compost soil (homemade compost or store-bought compost soil), and wait two weeks before planting.
Beware of Herbicides (even if you don't spray)
Unfortunately, persistent herbicides, which are a lethal type that can haunt soil and kill plants for years, are starting to contaminate compost bins and gardens, even if you have an herbicide-free site.
Therefore, it's important to learn how to keep herbicides out of your compost bin, even if you don't spray. Moreover, even Organic-approved compost soil can be contaminated. In fact, manure poses the greatest risk.
Be sure to do your research before importing organic material for your project.
Would you like to grow food in your front yard without sacrificing curb appeal? Check out my mini guide, The Permaculture Inspired Edible Landscape.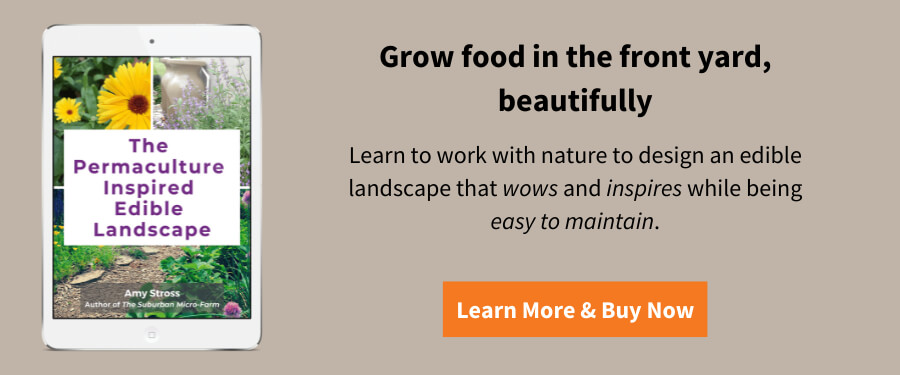 Choose the Foundational Plants
A mixed hedgerow includes a variety of plantings such as canopy and understory trees, fruit trees, berry and nut bushes, flowering and native trees and shrubs, evergreen trees and bushes, and herbs, flowers, and ground covers.
Because your plant selections depend on what your goals are and how much space you have, your hedgerow will be as unique as you and your site!
Most importantly, the tallest plantings establish the shape and foundation of the hedgerow. For example, in a spacious area, tall canopy trees can anchor a hedgerow. Meanwhile, in a compact backyard, you'll likely skip tall canopy trees and select dwarf or semi-dwarf trees or shrubs as your base planting.
In the same vein, another consideration is a planting's relative location with regard to a property line or fence. In general, you'll work inward to layer plants from tallest to shortest, but you'll also want to consider sun exposure as well.
Ensure a Full and Compact Hedgerow at Maturity
To start, plant foundational plants at their maximum suggested spacing. This allows space for harvesting as well as including understory layers around them. Furthermore, it's a good idea to include extra space beyond that along a fenceline for access and maintenance.
As an example, dwarf apple trees are expected to reach 8-10 feet wide. But there are a few considerations depending on your goals:
Certainly, you want maximum spacing along the fenceline, so use 10-foot spacing, which should prevent fruit from dropping in your neighbor's yard. On the other hand, to add privacy, you could plant a row of evergreens along the fenceline, with apple trees in front of them. Where a property line isn't a concern, 8-foot spacing for apple trees provides a more compact planting. (See: 5 Steps to Planting Fruit Trees.)
Continuing with the apple tree hedgerow example, you may want to include shrubs for privacy, or edible fruit for humans or wildlife. For instance, you might plant shrubs about 10 feet from an apple tree (for sufficient sun exposure and space for harvesting), 8 feet from a property line (so they don't grow through a fence), or 6 feet from each other (for a compact planting).
It all depends on the plants, their expected size, your goals, and even whether you plan to prune them to a different size. In fact, you'll save yourself some headache if you figure this out before planting. It's a bit of a puzzle to put together a hedgerow, and that's why it can be useful to draw it out on paper before getting started.
Choose the Support Plants
Shrubs, herbs, flowers, and ground covers all make up the support species of your hedgerow. One point often overlooked is planning the planting of the second tallest plants. In general, plant them staggered between your foundation plants, and toward the south/west side for sufficient sun exposure (northern hemisphere).
Support plants that face south or west receive more sunlight over time (in the northern hemisphere) than plants facing north or east. Choose appropriate plants for the sun exposure. You may weave a walking path into the design so you can easily visit and maintain the area without stepping on plants or compacting soft garden soil.
For instance, to plant hazelnut shrubs in an apple tree hedgerow (expected 10 feet wide at maturity), plant them 13 feet away from the base of an apple tree to allow space for harvesting.
Perhaps you would like to add red currant bushes to this melee, which are expected to reach 3-5 feet wide. Consequently, you could stagger them about 15-18 feet in front of hazelnuts to accommodate both plants' mature size, as well as space for harvesting.
Similarly, continue adding plants according to diminishing height and width away from the property line, OR toward the south and west for sufficient sun exposure.
You can create layers and add depth to the hedgerow as a result of planting shade-tolerant herbs underneath the trees and shrubs. Additionally, you could grow mushrooms in the understory.
Meanwhile, sun-loving wildflower seeds and clover can be sprinkled throughout a new hedgerow to grow until your plantings become established. This is an especially good way to create biodiversity and attract wildlife and beneficial insects to your new planting.
Start Small
You don't have to plant the entire hedgerow at once. In fact, planting it in sections or in layers—one length of fence at a time, or all foundational trees first—keeps you from feeling overwhelmed.
Are you ready to learn more about using the power of plants to improve the biodiversity of your garden, reduce maintenance, and increase yield?
You'll find loads of information just like this in my award-winning book, The Suburban Micro-Farm.

When to Plant a Hedgerow
Hedgerows contain mostly perennial species, which are best planted in the cool seasons of spring or fall. However, if you must plant during hot weather, select a cloudy day to reduce shock. Equally important, water and mulch well after planting to protect fragile young plants from the harsh sun.
What to Plant in a Hedgerow
The plants you choose will depend on the function and location of your planting. However, a mixed hedgerow that includes a variety of trees, shrubs, nitrogen fixing plants, herbs, and flowers often creates a healthier ecosystem.
To create a self-sustaining ecosystem, choose plants that perform more than one function.
For example, a holly bush can be a windbreak, privacy screen, and bird habitat. Likwise, yarrow attracts pollinators and beneficial insects, helps to break up clay soil and accumulates nutrients for fertilizer.
Below is a list of various plant species that do well in a hedgerow, but this isn't an exhaustive list, and your hedgerow need not be limited to these suggestions. There are many more plants beyond these suggestions. Therefore, you'll need to do more research to find plants that are appropriate to your climate.
*Plant a Fedge: A food hedge (a hedgerow made of edible species) can also be referred to as a fedge. To that end, I've noted species below that have edible components with an asterisk.
Would you like to grow more food with less effort? Check out my mini guide, The Permaculture Inspired Vegetable Garden.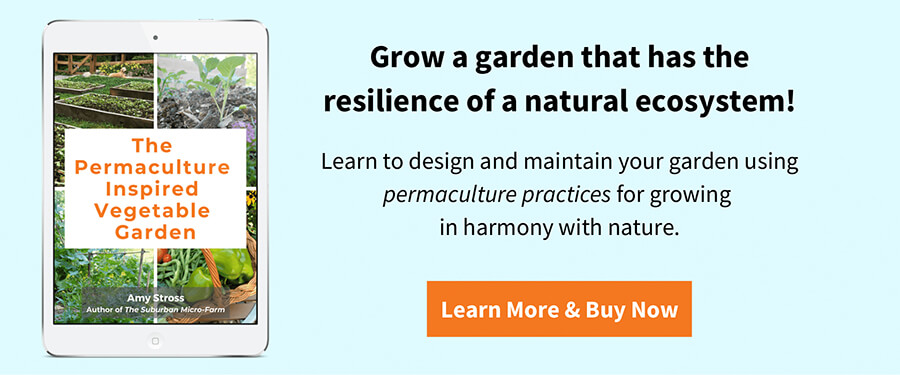 Hedgerow Plant Lists
Tall Windbreak Trees
Alder
Black Locust (This wood is often used for farm projects like building raised beds and fence posts.)
Hackberry*
Oak*
Poplar
Walnut*
Evergreen Trees (for Privacy, Noise Reduction, Windbreak, and Wildlife)
Boxwoods
Holly Bushes
Junipers
Mahonia*
Yews
Edible Species (For Wildlife and Food Forests)*
Understory Trees:
Consider dwarf or semi-dwarf for small hedgerows.
Understory Bushes/Shrubs:
As an example, have you thought of growing a jelly garden? Any of the examples above would be excellent addition to a "jelly-themed" hedgerow garden.
Flowering Plants (For Beauty, Fragrance, Beneficial Insects & Pollinators)
Understory Trees & Bushes:
False Indigo
Flowering dogwood*
Lilac*
Maryland Senna
Red Osier dogwood
Witch Hazel*
Herbs and Flowers for Sunny Edges :
Nitrogen Fixers
Nitrogen-fixing plants convert this essential nutrient from the air into a useable form in the soil and can potentially benefit the plants around them.
Furthermore, it's recommended in permaculture circles that 50% of your plantings be nitrogen fixers. For example, if you plant three fruit trees, three berry bushes, and three herbs, then you might consider interspersing an equal number of nitrogen fixers throughout the area. That's a lot!
But I'd say don't let the perfect get in the way of the good. Include a few, but don't worry too much. Here's a nice list of nitrogen fixers.
Trees:
Shrubs:
Herbs:
Crimson Clover*
Lead Plant
Round Headed Bush Clover
White Prairie Clover
Yellow Bush Lupine
Nutrient Accumulators (make nutrient-rich mulch)
Apple*
Black Locust
Clover*
Dandelion* (Clover and dandelion are two of my favorite weeds to actually let grow in the garden!)
Flowering Dogwood*
Russian Comfrey
Walnut*
Yarrow
Plants for Wet & Erosion Prone Areas (Riparian zones)
Cattail*
Elderberry*
Flowering Dogwood*
Gooseberry*
Hazelnut*
Highbush cranberry*
Lilac*
Miscanthus grasses (native, non-spreading)
Pussy Willow
Staghorn Sumac*
Shade Tolerant Plants
Currant*
Elderberry*
Flowering Dogwood*
Gooseberry*
Hazelnut*
Serviceberry*
Spicebush*
Staghorn Sumac*
Witch Hazel*
Photo Credit: free photos Flickr
Deer Resistant Plants
Read: NOT Deer Proof. Protect while young.
Trees:
American holly
Birch
Buckeye
Mimosa
Pawpaw*
Pine*
Shrubs:
Barberry
Boxwood
Cypress
Holly bushes
Juniper
Leatherleaf Mahonia*
Red Elderberry
Staghorn Sumac*
Viburnum
Herbaceous Plantings*:
Plant a medicinal garden in your hedgerow!
Fennel, lavender, and lemon balm are some of my favorite herbs for the medicine garden. However, there are many others to choose from.
Hedgerow Maintenance
Although perennial hedgerows can be lower maintenance than a vegetable garden, they do, in fact, require more regular maintenance in the first 1-4 years.
Sufficient watering is key, to be sure. Certainly, you'll want to water regularly during dry periods. Therefore, you might consider planting in a rain-harvesting swale or installing an irrigation system. Similarly, mulching helps to maintain lock in moisture as well as control over the weeds.
Once the system is established at full size, the hedgerow should be somewhat of a self-maintaining ecosystem that requires little maintenance.
Additional Resources:
What will you plant in your hedgerow?
READ NEXT: