Are you determined to have a bigger and better garden this year? In this January Garden Guide, find out what to do this month to have a successful garden.
This page may contain affiliate links. Please read my disclosure for more info.
In this January Garden Guide, you'll see how I get organized for the garden year, what I'm harvesting this month, and some of the gardening maintenance tasks I work on at this time of year.
Click here to see my Year-Round Gardening Calendar.
January is one of my favorite times of year because I love the opportunity to start anew, make new agreements with myself about how I will spend time in the garden, and determine what kinds of experiments I will run to continue learning and improving.
As an example, this is a sample January calendar based on my gardening year in USDA hardiness zone 6b. You may need to make adjustments for your climate. See below under 'Garden Planning' for more ways to adjust this schedule for your needs.
1: January Harvest (from Under Protection Outdoors)
When I block out time for garden tasks, I always harvest first.
That's because when I don't, I usually get distracted by other things and run out of time! However, the goal of all of this gardening is to harvest fresh, healthy food for my table. so to make sure that happens, I prioritize harvesting over other tasks.
In the previous fall, I sowed winter crops and covered them with row cover or a cold frame. You could also use a hoop house, greenhouse, or some other kind of protection to suit your needs.
For example, cold frames are wonderful little contraptions for extending the harvest throughout winter, as well as getting a jumpstart on spring planting. Learn more about cold frames here.
Here is what I harvest in January from under protection:
Beet family: beets, spinach, swiss chard
Cabbage family: Brussels sprouts, collards, kale, radish, turnips
Carrots
Leeks
Lettuce
2: January Garden Planning
Here are some things you'll need to do to prepare for the garden season.
Design your garden
Decide what to plant and how much
Make seed & supply purchases
Figure out when to start seeds and plant seedlings
Would you like some help with your planning? Read about four essential garden planning tools that will help you kick off your garden season.
Meanwhile, another thing that I do in January is to set up my indoor seed starting system. Here is my step-by-step guide.
Grow a garden that's both productive and manageable with my Complete Garden Planning System, which includes practical tools for planning your season from seed to harvest.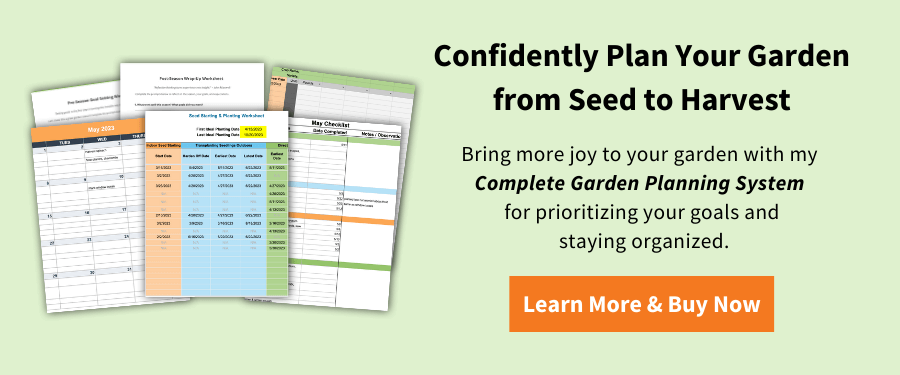 3: January Garden Maintenance
I try to complete the following garden maintenance tasks in fall, but sometimes that doesn't happen! Completing them in January will make subsequent months run much more smoothly.
Cut back dead plant matter. If it was diseased I put it in the trash, otherwise I compost it. Actually, I like to compost in place by chopping the organic matter into smaller pieces that will feed the soil and break down easily. Leaving the roots intact feeds the soil life as they decompose. See my article Building a Compost Bin (5 Ways) to take advantage of the free organic material you have available to you.
Weed garden beds.
Add soil amendments to inactive gardens with a digging fork. Now's the time to add compost soil.
Rake leaves and make leaf mulch, or save them for composting.
Cover beds with a deep mulch. I like shredded leaf mulch because it's free, but chemical-free straw is good, too. For more of my mulching tips, see Mulching in the Permaculture Garden.
Clean, repair, and replace tools.
An Example: Tidying the Garden
Did you leave last garden season in a huff, leaving the mess until spring? Get a jump on this year's garden by getting outside in January, weather permitting, to do some clean up work.
Here is an example of how I cleaned up a part of my front yard garden:
1: I left it at the end of last season and it looked like this…
2: I used my garden scissors to cut back the dead plant matter, leaving the roots intact…
3: Here is what it looked like all cleaned up…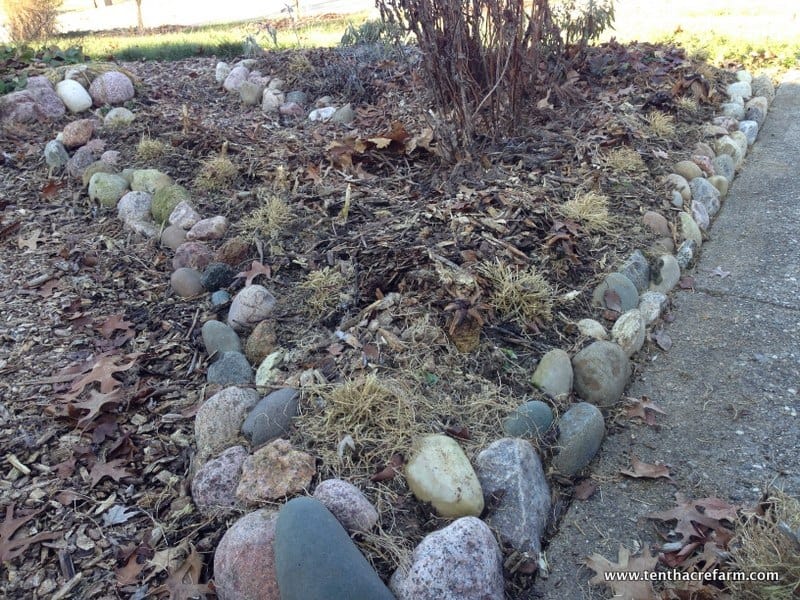 4: This is how much dead plant matter I trimmed off…
5: No garden bed should be left with bare soil, so my garden scissors came in handy to chop this into 3-inch pieces and reapply it as mulch to the same bed…
Looks the same only much tidier, and done in under an hour. And because the mulch is just sitting on top, it will be easy to push aside for planting new things in the spring!
Another note: I didn't pull out the old plants, I cut them off at the base. Why? Because their roots will biodegrade, enrich the soil, and feed the next plants to be planted here. This is how to manage the soil in a no-till garden.
What gardening tasks do you tackle in January?
READ NEXT:
>>> Get my free 19-page Guide to Organic Soil Amendments for more ideas: