A cold frame can help you to continue growing through fall, winter, and spring. Learn about these season extending structures for growing a four-season garden.
This page may contain affiliate links. Please read my disclosure for more info.
For many gardeners, the growing season doesn't begin or end with warm weather. In this article I'll share tips for using a cold frame successfully. In addition, I'll share resources for other structures, like the greenhouse, hoop house, and polytunnel. All of these structures allow you to extend the season into fall and winter, or get a jump on spring.
Cold Frame: Small Greenhouse
A cold frame is an unheated, temporary, small greenhouse that sits on top of existing garden beds. It's an affordable alternative to a permanent greenhouse for extending the harvest while helping to insulate cold-hardy vegetables against a killing frost.
The most notable feature of this structure is the front "face" that is angled toward the sun (south in the northern hemisphere).
There are a few products on the market as well as lots of DIY models.
Buy a Cold Frame
In 2010, I received a prefabricated cold frame as a gift. I was excited—one less thing to build! This model protects crops down to 24° F, and can protect them even farther when the crops are mulched well and covered with row cover.
It has withstood the test of time and is still in great shape! It's also easily disassembled for storage when not in use. I highly recommend it, but unfortunately, this model is no longer for sale.
So what's a winter gardener to do?
If you're short on time or building skills but have the cash, then you might want to seek out a prefabricated, season-extending structure. The two most important features to look for are size (make sure it fits your garden bed) and storability. You should be able to pack it up when not in use.
In addition, be sure to read the product reviews. There are a lot of poor quality options out there.
Alternatively, you can easily build your own using things like old windows and straw bales! Beware that straw is often contaminated with herbicides so it's super important to do your homework before using straw bales in your garden.
Would you like to yield delicious harvests while partnering with nature? Check out my mini guide, The Permaculture Inspired Vegetable Garden.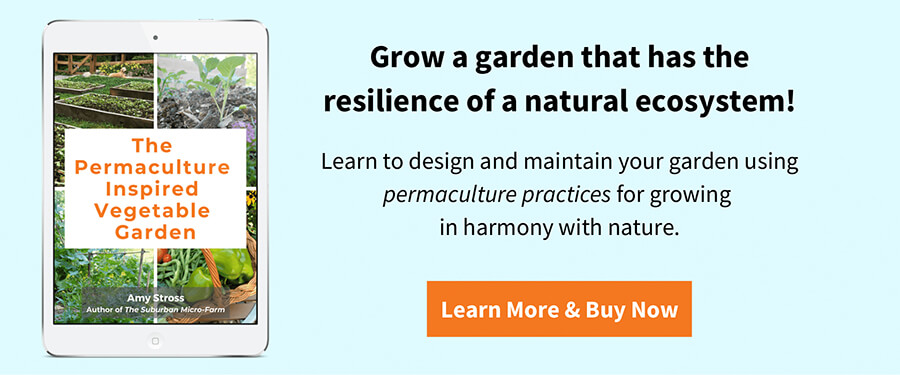 Tips for Using a Cold Frame Successfully
1. Weigh It Down
Be sure to tack down your structure so that the winter wind doesn't whisk it away. My cold frame cover is made out of polyethylene greenhouse fabric, and is weighted down on all sides with heavy rocks and bricks.
2. Choose the Right Over-Wintering Crops
Here are my favorite, cold-hardy, winter crops. In fact, these veggies should have no problem surviving the winter temps in a protected environment:
3. When to Close and When to Open the Cold Frame Window
Cold frames can heat up quickly, and hot temperatures can kill your cold-loving vegetables. Set a thermometer inside your cold frame to monitor the temperature. Even when the outside temperature feels chilly, the inside of the cold frame will heat up…like a greenhouse 😉
32° F is your guide:
OPEN the cold frame when the INTERIOR temperature rises to 32°.
CLOSE the cold frame when the INTERIOR temperature drops below 32°.
4. Ventilate
Excess moisture can encourage soil-borne fungal diseases that kill seedlings, so ventilation is important.
Cold frames with a synthetic cover like mine above usually have "windows" that can be tied or propped open when temperatures rise above 32°.
Or consider an automatic vent opener, which opens the door when temperatures rise above 55°, as a fail-safe in case you forget or go out of town.
5. Additional Protection for Temperatures at 20 degrees and Below
When temperatures drop below 20°, additional protection inside the cold frame is necessary to protect your winter crops.
As I mentioned above, I like a combination of shredded leaf mulch and row cover.
Alternatives to row cover:
plastic milk jugs (bottom cut off, turned over plant, lid off. Add lid if temps are really cold.)
baskets that lie flat
terracotta flower pots turned upside down over plants
old sheets, blankets or rugs
milk jugs filled with water and set among the crops (water stores heat)
*Don't forget to remove additional covers when temperatures rise above 20°!
6. Get a Jump on Spring Crops
Experiment with sowing crops inside the cold frame in December. You never know, you might get lucky!
For example, try spinach, Swiss chard (try Fordhook Giant variety), carrots (try Scarlet Nantes variety), and Asian greens.
Other Season Extension Structures
There are a few other types of structures that can provide protection for winter crops.
A hoop house is a temporary structure that can be built over existing garden beds. It's like a cold frame, just a different shape. It can usually accommodate taller plants than a cold frame.
A polytunnel is a portable greenhouse that you can walk into. Check out the polytunnel at The 104 Homestead.
A geodome greenhouse is a another take on a walk-in greenhouse that can withstand the weight of heavy snows, though it's a more permanent structure. Check out the geodome greenhouse at the Northern Homestead.
How do you extend your harvest season?
READ NEXT: