Are you determined to get a jumpstart on the gardening season this year? In this February Garden Guide, find out what to do this month to have a successful garden.
This page may contain affiliate links. Please read my disclosure for more info.
In the January Garden Guide, we discussed designing our gardens, buying seeds, a few things to harvest from a cold frame or other protected growing space, and a few maintenance tasks if the weather's right for working outside.
Click here to see my Year-Round Gardening Calendar.
February is when I start getting antsy for spring. Like me, your garden may be covered in snow but at least February is the month to collect seed starting supplies and dig in. All in all, February is a fairly tame entry into the gardening season.
As an example, this is a sample February calendar based on my gardening year in USDA hardiness zone 6a. You may need to make adjustments for your climate. See below under 'Garden Planning' for more ways to adjust this schedule for your needs.
1. February Harvest (from under Protection Outdoors)
Crops that were sown in early fall, covered by row cover, cold frame, hoop house, greenhouse, or some other kind of protection, can be harvested throughout the winter.
2. February Garden Planning
While you may still be deciding on what to plant and how much, you can go ahead and get some seeds started both under grow lights and in a cold frame. Whether you want to start seeds indoors or sow seeds outdoors, this spring guide covers planting times for 30 popular crops. Don't forget I'm gardening in USDA hardiness zone 6a – you may need to make adjustments for your climate.
Start Seeds Under Grow Lights
The following seeds can be started indoors. For details about starting seeds indoors, see my step-by-step guide.
Grow a garden that's both productive and manageable with my Complete Garden Planning System, which includes practical tools for planning your season from seed to harvest.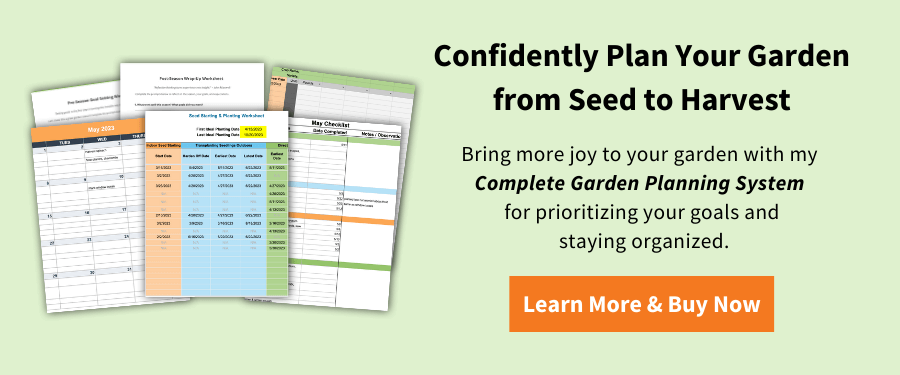 Start Seeds in a Cold Frame
If you've got a cold frame, this is the month to get stuff growing!
3. February Garden Maintenance
If I didn't get to these tasks in January, I try to complete them this month.
An Example: Building a New Bed
If the February weather allows, try building a new bed using the sheet mulch method. Sheet mulching is an easy way to convert grass to vegetable beds.
Here is an example of how I built a new bed, which I covered with a cold frame:
1. I covered an area with cardboard, making sure to overlap the ends to cover the ground completely.
2. I added organic matter – compost soil, coffee grounds, worm castings, aged manure, etc.
The minimum rule for the thickness of the organic matter is 12 inches, but go thicker if you have access to enough organic matter.
3. I covered the new bed with a cold frame. This allows me to get a jump on the season and sow a few crops earlier than I might have otherwise.
That's it, congratulations on a great start to the gardening season!
What did I miss? What do you do in February in your climate?
READ NEXT: