Saving cilantro seeds, also called coriander, is super easy! Here's how to save and grow this delicious herb for yourself as well as beneficial insects.
This page may contain affiliate links. Please read my disclosure for more info.
Cilantro Herb and Coriander Spice: From the Same Plant
Coriandrum sativum is an annual herb that is popular in kitchen gardens. I use cilantro leaves in Mexican salsa as well as Thai-inspired dishes and grow coriander seeds to make curry powder for Indian-inspired dishes.
Did you know that cilantro and coriander refer to the same plant?
Cilantro refers to the leaves (the herb), while coriander refers to the seed (the spice). So technically what we're talking about here is saving coriander seeds.
Would you like to yield delicious harvests while partnering with nature? Check out my mini guide, The Permaculture Inspired Vegetable Garden.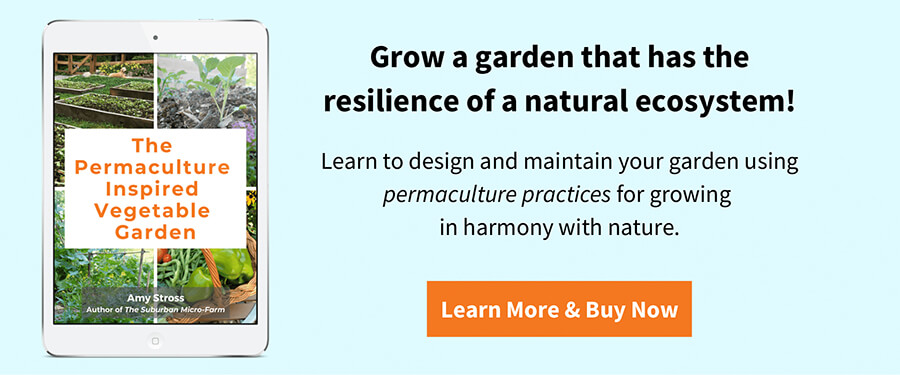 Cilantro is an Eager Volunteer
How often do you get edible volunteer plants in your yard? Volunteer crops are so fun, but do you know what is even better?
Saving the free seeds! And saving cilantro seeds is about as easy as it gets.
I like to grow a lot of different herbs in my front yard strawberry bed, including cilantro.
Cilantro flowers provide nectar and pollen for pollinators and beneficial insects, which helps to reduce pests and increase biodiversity. It's why cilantro is one of my favorite flowers to grow in the vegetable garden.
When I allow it to flower and set seed, some of the seeds drop right where they are to sow next year's volunteer plants. No-work gardening!
There are always plenty more seeds to collect for sprinkling this delicious and useful herb all around the garden.
How to Save Cilantro Seeds
Allow cilantro flowers to develop. Once cilantro flowers die back, they produce clusters of round, brown-colored seeds.
To harvest and save cilantro seeds, wait until there is a stretch of dry weather. It's never a good idea to harvest seeds after a rain because moisture is the greatest enemy to storing viable seeds.
Even if I harvest the seeds after a dry spell, I still allow them to sit in an open container in a dry room for up to a month before transferring them to an air-tight container for long term seed storage.
Harvesting cilantro seeds is simple:
Hold a container below a cilantro seed head.
Gently rub a dried seed head between two fingers.
The round seeds drop easily into the container below.
Follow my instructions for storing seeds long-term. Save some for the spice rack and some for planting!
Easy harvest and free seeds for many years to come!
Growing Cilantro
How exciting it is to sow seeds that you've collected from your own garden!
Plant cilantro seeds in the spring by sowing them directly in the garden. Here are the seeds I bought, and now I never have to buy cilantro seeds again!
I like to sprinkle them throughout the garden in a random way, but you can also sow the seeds in rows. Once the seeds sprout, you can thin them to 6-inch spacing.
Alternatively, you can start cilantro seeds indoors in pots or in a container herb garden.
This herb prefers to grow in the cooler weather of spring and fall, and those are the best times to harvest the leaves. In the hot days of summer, it flowers and sets seed to produce coriander spice.
Succession planting is a good idea for cilantro. This means that I sow cilantro seeds throughout the garden about once a month. That way, I have a continuous supply of cilantro leaves and coriander spice for the kitchen, as well as flowers in the garden.
Cilantro is in the carrot family, and the carrot family flower is an umbel—an umbrella shape with a mass of tiny flowers. Cilantro flowers are a favorite of beneficial insects, such as tachinid flies, hoverflies and parasitoid wasps, which is why it makes a great companion plant.
Watching this plant swarm with beneficial insects is reassuring, knowing that they'll do my gardening work for me.
Summary
Saving cilantro seeds is an easy way to grow your own cilantro herb and coriander spice. In addition, you can save money and attract beneficial insects.
What seeds do you enjoy saving from your garden?
READ NEXT: