Strawberries are a favorite in the garden. Here's how to grow your best strawberries using herbs like chives to fertilize and deter pests.
This page may contain affiliate links. Please read my disclosure for more info.
Strawberries are darlings of the homegrown garden because they are delicious and quick to yield. Since strawberries have the highest amount of pesticide residue compared to other fruits and vegetables, growing your own can be beneficial to your health.
It can also be economical, costing less than 50 cents per quart to grow your own, compared to paying $5 a quart for pesticide-free, store-bought berries.
Did you know that I've grown strawberries in my front yard? Read more about creating an edible landscape.
Are you ready to grow your best strawberries?
Nutrients for Healthy Strawberry Plants
To grow your best strawberries, you'll want to nurture their nutrient needs as well as deter the pests that are attracted to the sweetness of the berries. Humans aren't the only ones who find them delicious!
Strawberries require nitrogen, potassium, calcium, magnesium, and a few other trace elements to thrive.
Supply Strawberries with Nutrients Through Herbs
Herbs are actually very nutritious in small amounts, not only to humans when we add a pinch or two to our dinner, but also to other plants. This is great news for us, because it means that by growing herbs, we can grow a lot of our own fertilizers to supply the nutrients our food crops need.
This is a cornerstone of permaculture gardening, which is a type of design for growing food efficiently and in harmony with nature. So, using herbs as fertilizer can save time and money.
Here are just a few of many herbs which fertilize or enrich soil naturally:
I also love growing cilantro with strawberries.
Tired of generic permaculture design advice that you can't apply to your specific goals? If so, check out my Permaculture Design Program and get the tools and support needed to create and implement your own permaculture design.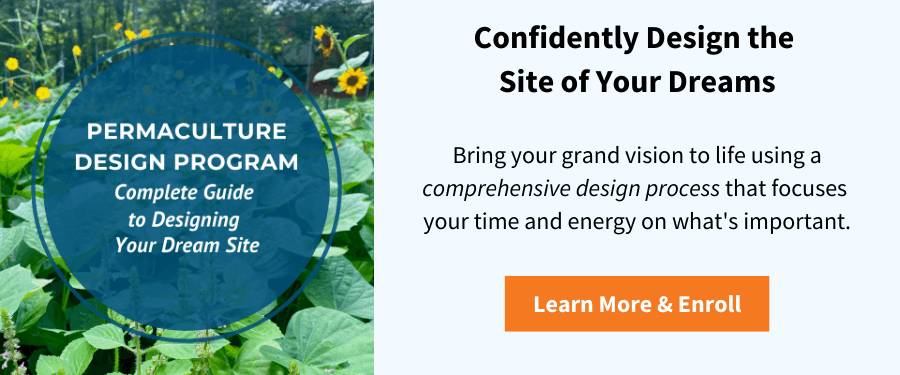 Growing Chives for Fertilizing
Chives are another plant on my list of fertilizing herbs that I grow right in the strawberry bed.
When the chives are finished flowering they can be trimmed for a tidier look. In fact, I chop and drop the nutrient-rich, green trimmings as mulch around the strawberry plants.
To try it, simply give the chives plants a haircut and sprinkle the trimmings throughout the strawberry bed while the fruits are developing.
And don't forget to plant a variety of herbs to chop and drop throughout the strawberries to add an array of nutrients.
Read more about the benefits of chives in the garden.
Here are the seeds I purchased to begin growing chives around my garden. After the first year, you'll be able to save seeds from the dried flower heads, and never have to buy chives seeds again!
Deter Pests
Another benefit of growing chives with strawberries is their pest-deterring qualities. The strong scent of chives screens the sweet smell of the berries, deterring slugs and confusing the pests attracted to the sweetness.
For all of these fertilizing and pest-deterring reasons, chives are often grown in fruit tree guilds and food forests.
Strawberries for the Edible Landscape
I grow a variety of strawberries called Seascape. While June-bearing strawberries reduce berry production after three years, Seascape is a longer-producing variety. Also, the plants produce fewer runners, which means fewer bare spots in the edible front yard.
Have you grown chives to improve your strawberry harvest?
READ NEXT: