Flowers in the vegetable garden can reduce pest problems and improve biodiversity. Here are six of my favorite flowers to grow for healthy garden crops.
This page may contain affiliate links. Please read my disclosure for more info.
I love pollinators and pretty flowers, too, so many years ago I started growing flowers in all of my vegetable beds. I liked the way it looked, and I felt happy growing food for me and food for the bees and butterflies.
However, I didn't anticipate the power of bringing habitat for beneficial insects right into the places where I needed them.
Ladybugs were devouring aphids on the calendula, while the kale and broccoli nearby were pest-free. Beneficial braconid wasps covered the sweet alyssum and patrolled nearby crop plants. I was instantly hooked on this practice of integration!
Why Use Flowers in the Vegetable Garden?
Many experts encourage gardeners to plant a border of flowers around the perimeter of the garden. I do this, but I also encourage you to plant the following flowers among the crops. This can attract beneficial insects directly to where they're needed.
That's because in the permaculture garden, this practice integrates different aspects of the garden to make the overall ecosystem more biodiverse, efficient, and low maintenance.
Learn about bumble bees and several facts about their life cycle that you didn't know!
This integration increases the chance that beneficial insects will locate pests on your crops and keep things in balance.
Read more about permaculture design.
Further, it's not only the above-ground pests that flowers can help with. Flowers also help to maintain a healthy garden ecology by holding the soil in place (less erosion) and by feeding the beneficial soil organisms when their roots die back.
See: How to Prevent Soil Erosion in Gardens and On Farms
Tired of generic permaculture design advice that you can't apply to your specific goals? If so, check out my Permaculture Design Program and get the tools and support needed to create and implement your own permaculture design.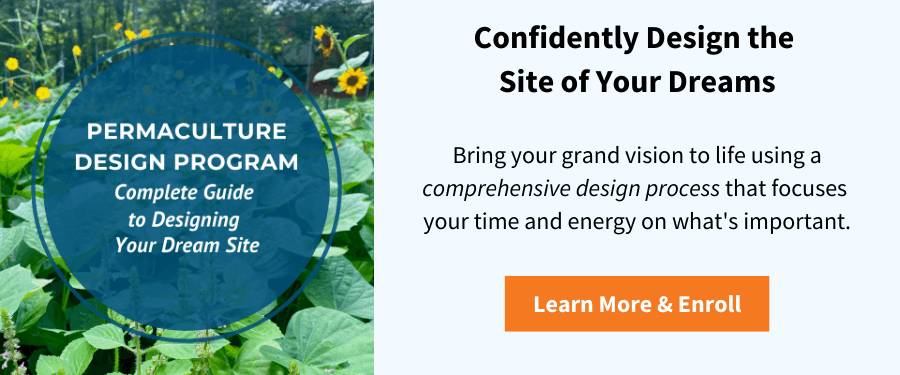 How to Use Flowers in the Vegetable Garden
I use annual flowers in the vegetable garden. Although many annuals self-sow in following years, each year they can be sown anew within the garden wherever it makes the most sense for that particular year's arrangement of crops.
Rows of flowers can be alternated with rows of vegetables, or every couple of rows. Sprinkle flower seeds in the spring when the rest of the garden is being planted. Flowers used in this way are considered a living mulch.
Read more about using living mulches in the permaculture garden.
How you alternate your flowers and vegetables depends on many things such as the size of the bed, crop selection, and the types of flowers you choose. The height of the crops and the flowers, as well as sun exposure all play a part.
In a 3-foot-wide garden bed, there are typically three rows of crops. Here are some examples for a bed with the long side facing south (northern hemisphere):
Example 1: Tomatoes are grown as the tallest crop in a bed. To do this, plant tomatoes along the north side of the bed, with medium-height flowers in the middle, and a shorter crop, like carrots, in the southern-most row.
Example 2: Lettuce is the primary crop of a bed. Plant lettuce in the middle row, with shorter flowers in the southern-most row, and a taller or similarly sized crop behind it on the north side, such as radishes. Or plant taller flowers behind it on the north side, with a similarly sized crop in front of it on the south side, such as onions.
My 6 Favorite Flowers in the Vegetable Garden
Although there are quite a few flowers that can benefit the vegetable garden, the following are my favorites because they are annuals, which means that I can rearrange them every year to correspond with the crops I intend to grow.
All of these flowers work well in the edible landscape, too. Get more edible landscaping tips here!
The following selections are also especially good at:
attracting beneficial insects
holding the soil in place
They are edible and aren't too tall.
I reserve tall flowers and perennial flowers for the outskirts of the garden. See: 8 Reasons to Grow Perennial Sunflowers in the Permaculture Garden.
Wanna know what weeds I let grow in my garden? See my article 5 Weeds You Want in your Garden.
1. Calendula (Calendula Officinalis)
Calendula might just be my favorite annual flower to grow in the vegetable garden, but don't tell the other flowers!
This annual herb with a cheerful, yellow, daisy-like flower can grow 18-24 inches tall. It exudes a sticky sap that traps pests like aphids and whiteflies, and keeps them off of nearby crops.
It attracts many types of pollinators and beneficial insects like ladybugs, hoverflies, and green lacewings who enjoy not only the flower nectar, but also the buffet of their favorite pests.
Calendula can even be grown like a cover crop over the winter to hold the soil in place.
For more information about calendula, see my article 7 Reasons to Grow Calendula or buy calendula seeds (these are the seeds that I buy).
Calendula seeds are also a great present for any new gardener! My Gift Guide for Permaculture Gardeners includes more of my favorite products that will help make gardening with nature a fun and rewarding experience.
2. California Poppy (Eschscholzia californica)
I recently planted perennial flowers in the front yard flower garden that were going to take a year to establish and develop flowers. In the interim, I sowed California poppy in the empty spaces of the bed because it is quick to bloom.
I was fascinated by the deep roots of this plant that mine the clay soil and soften it, as well as the bright yellow flowers that tell you when it's going to rain by closing up. (They also close up at night).
The lacy foliage is a favorite of beneficial insects.
For all of these reasons, I started sowing it in my vegetable garden and enjoyed the beauty and healthy vegetable harvests.
It will grow to about 12 inches.
Buy California poppy seeds (these are the seeds that I buy).
Would you like to yield delicious harvests while partnering with nature? Check out my mini guide, The Permaculture Inspired Vegetable Garden.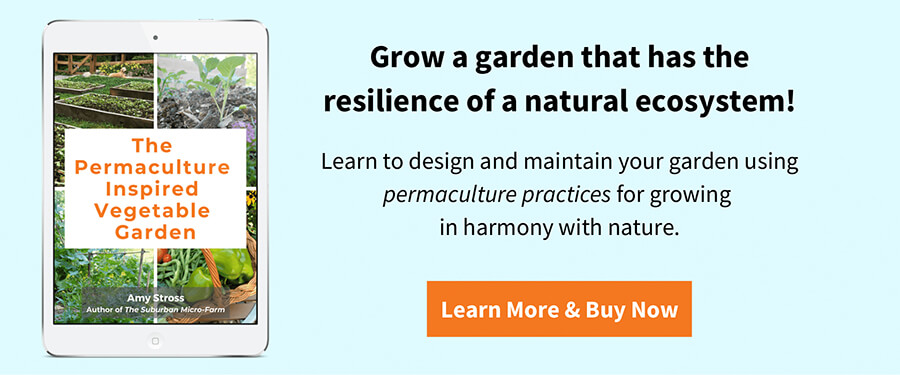 3. German Chamomile (Matricaria chamomilla or Matricaria recutita)
These cute-as-a-button dainty flowers with their lacy foliage attract pollinators and beneficial insects. It is one of my top wild herbs to grow in my backyard pharmacy.
Growing to about 12 inches, chamomile is a prairie plant that has deep roots which dredge up nutrients. When the season is finished, cut the plant back to allow the nutrient-rich plant matter to fertilize the soil.
Buy chamomile seeds (these are the seeds that I buy).
4. Cilantro (Coriandrum sativum)
It seems everyone has a strong opinion about the taste of this herb—either you love it or hate it.
Whether or not you enjoy eating cilantro, it can still be a useful herb in the garden. That's because its strong scent can help to repel pests.
As a member of the carrot family, its roots reach deep into the soil, loosening as it goes (nature's free tilling service!). Read more about the no-till garden here. Also as a member of the carrot family, the flower and lacy foliage attract a wide number of beneficial insects.
Cilantro/Coriander grows to 2-3 feet tall. Although it's a tall flower for the vegetable garden, I find that its upright growth habit allows sunlight to get through to shorter crops around it.
Read more about saving and growing cilantro seeds.
5. Nasturtium (Tropaeolum majus)
Nasturtium is an annual herb that has peppery leaves and flowers. Giving off a strong scent, it repels pests.
Its dense, low growing habit (12-18 inches) makes it an excellent living mulch as it covers the soil underneath taller crops, and feeds the soil as it dies back.
The showy flowers and foliage are a favorite in the edible landscape.
6. Sweet Alyssum (Lobularia maritima)
Sweet alyssum is a low-growing plant that is popularly grown in landscape borders. It has a pleasant scent.
Although there are many colors to choose from, the white flowers attract the most beneficial insects. I have never seen so many hoverflies as when I've planted sweet alyssum in the garden!
It is effective as a living mulch because its shallow roots hold the soil in place.
My favorite way to grow it is in the edible landscape with Swiss chard. Find out more about this winning edible landscape combination!
What to do at the end of the garden season with flowers in the vegetable garden?
Using flowers in the vegetable garden is a really great idea, but you might be wondering how to clean up your garden beds at the end of the season.
For one thing, you can improve the ecology of your garden by leaving the roots of the flower plants intact. Cut them off at the base, rather than pulling up the spent plants, when you're cleaning up at the end of the season.
The plant matter can be chopped and dropped in place to act as a mulch. Roots left intact will decay and feed the soil life, becoming rich soil. For more soil improvement ideas, see these articles:
The Following Spring
The following spring, these old roots may still be present when you're ready to plant.
No worries, simply adjust your planting a little to the left or right to avoid the root. Your row might not be the straightest line, but the plants sown directly next to the old root will reap the benefits of the biological activity and richness of the decaying root.
Do you grow flowers in the vegetable garden? What are your favorites?
READ NEXT: