Welcome to March! Can you feel spring in the air where you live? Are you ready to start digging in the dirt? In this March Garden Guide, I share what you need to know to have a great spring garden.
This page may contain affiliate links. Please read my disclosure for more info.
In the February Garden Guide, I discussed planning your garden, collecting seed supplies, starting seeds in a cold frame, and a few maintenance tasks to help you get a jumpstart on spring.
Click here to see my Year-Round Gardening Calendar.
March is when the gardening season increases in intensity, and deadlines loom: Seeds are started indoors and out, fruit trees are planted and pruned, and procrastination for building new garden beds has reached its limit. Yet the crisp, fresh air holds a steady hopefulness and excitement for a bountiful garden season.
This is a sample March calendar based on my gardening in USDA hardiness zone 6b. You may need to make adjustments for your climate. See below under 'Garden Planning' for more ways to adjust this schedule for your needs.
1. March Harvest (from under Protection Outdoors)
Crops that were sown in early fall, covered by row cover, cold frame, hoop house, greenhouse, or some other kind of protection, can be harvested throughout the winter and early spring. Here is what I harvest in March:
2. March Garden Planning
Weather dictates actions more than annual calendars. Some years I'm waiting until the snow melts to do a lot of these items, while other years Mother Nature gives me the green light early. Whether you want to start seeds indoors or sow seeds outdoors, this spring guide covers planting times for 30 popular crops. Don't forget I'm gardening in USDA hardiness zone 6b – you may need to make adjustments for your climate.
Start Seeds Under Grow Lights
The following seeds can be started indoors. For details about starting seeds indoors, see my step-by-step guide. If you need to purchase seed starting materials, check out my reviews and recommendations for seed starting supplies.
Grow a garden that's both productive and manageable with my Complete Garden Planning System, which includes practical tools for planning your season from seed to harvest.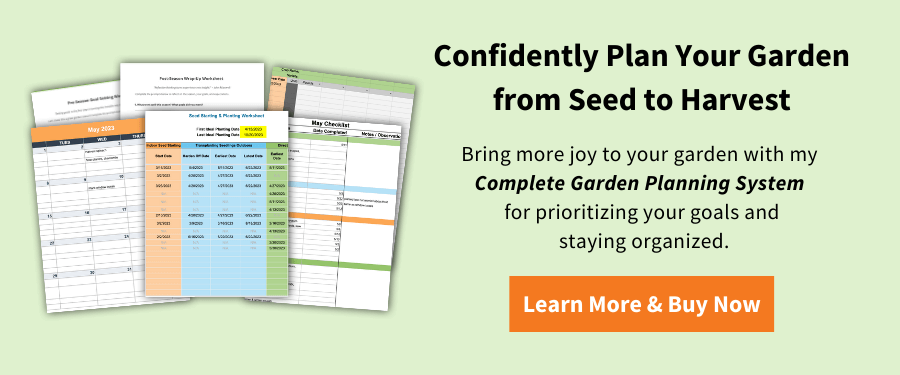 Start Seeds in a Cold Frame
If you've got a cold frame, this is the month to get stuff growing! (Please see my note above about hardiness zones.)
Sow Seeds Outside
Sow the following seeds, which can handle the early spring weather.
Plant Outside
3. March Garden Maintenance
Here are a few things to make time for this month.
Build Infrastructure
Prune Perennials
Improve Soil Fertility
I find it super easy to get overwhelmed in March but knowing what I want to accomplish, and planning for it, definitely helps. Instead of trying to do everything, I focus on what's important to me to ensure a bountiful garden season.
Are you having a good start to the gardening season? What do you have going on in March?
READ NEXT: