September feels different. The kids are back to school and the change in light seems to signal that autumn is on the horizon. September is for harvesting, preserving, and seed saving as well as tidying up the garden for winter.
This page may contain affiliate links. Please read my disclosure for more info.
In the August garden, we prioritized harvesting and preserving summer garden crops while planting the fall garden. Many gardens start winding down this month so it's not quite as hectic as August.
Need more tips? Check out my Year-Round Gardening Calendar.
Following are some ideas for how to prioritize your activities in the September garden. These tasks are based on my gardening in USDA hardiness zone 6b. You may need to make adjustments for your climate.
1. September Harvest
Prioritize the harvest, food preparation, and preservation—don't let your harvest go to waste!
Harvesting Cool Weather Crops in September
Beets (Don't forget to harvest and use the greens!)
Brassicas

Brussels sprouts
Cauliflower
Collards
Kale
Kohlrabi
Radishes
Turnips (Greens are super tasty, too)

Carrots
Celery
Garlic (Learn when to harvest and how to store garlic)
Lettuce
Onions (Cure for 2 weeks before storing)
Potatoes (Also cure for 2 weeks before storing)
Peas
Spinach
Swiss chard
Harvesting Warm Weather Crops in September
Harvesting Herbs in September
Grow a garden that's both productive and manageable with my Complete Garden Planning System, which includes practical tools for planning your season from seed to harvest.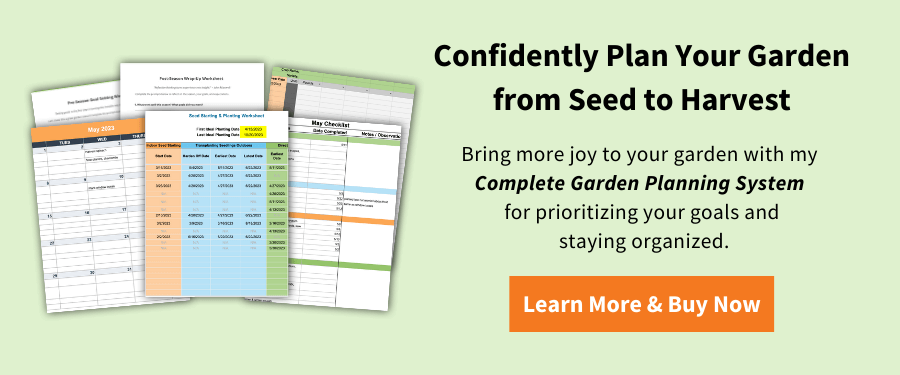 Harvesting Perennial Crops in September
Apples
Figs
Pears
Quince
Strawberries
2. September Planting
Here are the planting tasks that I typically focus on this month. Don't forget I'm gardening in USDA hardiness zone 6b – you may need to make adjustments for your climate.
Sowing Seeds Outside in September
Getting Ready for October Planting
October is the time to plant garlic (Chesnok Red hardneck variety is one of my favorites), fruit trees, berry bushes, and rhubarb, so order them now!
3. September Garden Maintenance
There's lots of maintenance to do in the garden over the next few months. Start in September so you're not overwhelmed this winter!
Cleaning Up
Cut spent herbs and flowers or leave seed heads to feed the birds through the winter.
Watch out for beneficial insects such as ladybug/lacewing larvae, and garden spiders.
Remove diseased plant matter and dispose in garbage.
Fertilizing
Cut back herbs and use them as fertilizer.
Pruning
Many varieties of brambles (i.e., red raspberry, blackberry, black raspberry) require a fall pruning. Here's how I prune my black raspberries.
Seed Saving
Fall is a good time to collect and save herb, flower, and vegetable seeds. Here's how I save cilantro seeds and here are my tips for collecting calendula seed heads.
Be sure to store your seeds properly.
Watering & Weeding
Is your garden season coming to an end, or are you preparing to have a great fall garden?
READ NEXT: